Facebook
HAMILTON — Smiles and tears came over the faces of Tim Bosma's family and friends while a celebration erupted outside the courthouse after a jury found two Ontario men guilty of first-degree murder in the killing of the Hamilton man who vanished three years ago after leaving home with two strangers on a test drive in a truck he was trying to sell online.
Gasps of relief rang out in the Hamilton courtroom Friday as Justice Andrew Goodman read the verdict against Dellen Millard, 30, of Toronto, and Mark Smich, 28, of Oakville, who had pleaded not guilty to the charges.
Bosma's family members, including his widow, Sharlene Bosma, gathered outside to a raucous crowd of friends, strangers and a deluge of media and blasted her husband's killers
"For over three years we have waited for justice for Tim," she said. "For three years we have been in and out of this courthouse to look at and breathe in the same space with the utter depths of depravity in our society. We have had to endure being near the two men that walked down my driveway that took away the bright life that is Tim."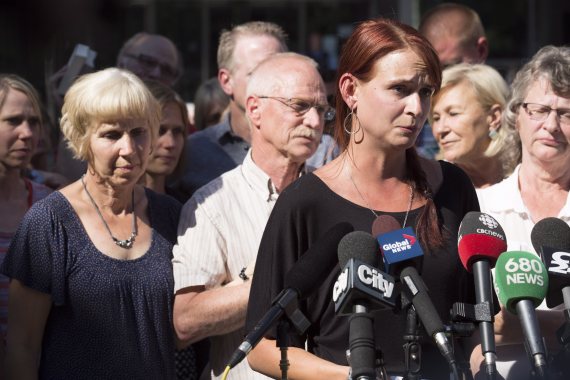 Sharlene Bosma, with her family and that of her late husband Tim Bosma, makes a statement, June 17. (Photo: Peter Power/The Canadian Press)
The jury deliberated for five days before coming to a decision Friday afternoon.
The conviction carries an automatic life sentence with no chance of parole for 25 years, which means Millard and Smich won't be eligible for parole before 2038 after being credited for time already spent in custody. Both men declined to comment when given the chance to speak to the court.
Bosma's disappearance on May 6, 2013 made headlines across Canada and sparked a massive week-long search that saw more than 100 police officers scouring Millard's properties in the Waterloo Region.
Millard, the heir to an aviation empire, was arrested before Bosma's charred remains were found. Smich was arrested more than a week later, just hours before a memorial service that saw hundreds pay tribute to the Hamilton man.
The two men are also charged with first-degree murder in the death of Laura Babcock, a 23-year-old Toronto woman who vanished in the summer of 2012. Police say Babcock, whose body was never found, was romantically involved with Millard. The trial into her slaying is expected to begin early next year.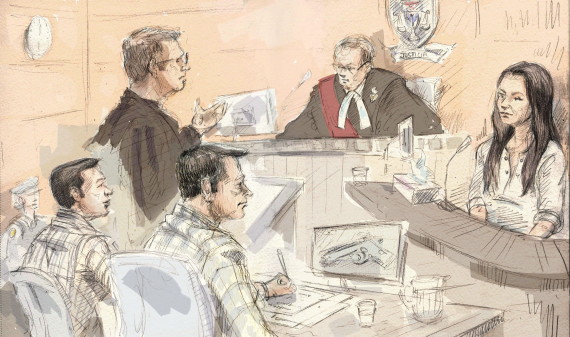 Mark Smich, Crown Anthony Leitch, Dellen Millard, Justice Andrew Goodman and Millard's former girlfriend Christine Noudga appear in court, April 27. (Photo: Alexandra Newbould/The Canadian Press)
Smich intends to plead not guilty to those charges. It is not known how Millard will plead in that case, but he has said he plans to represent himself at trial. Millard also faces first-degree murder charges in the death of his father, Wayne Millard, in November 2012, which was initially deemed a suicide. A date for that trial hasn't been set yet.
Prosecutors in the Bosma case have alleged Millard and Smich — then a drug dealer — planned for more than a year to steal a truck, kill its owner and incinerate the body.
The trial, which began hearing evidence on Feb. 1, has pitted the two former friends against each other as each man said the other had carried out the fatal shooting.
Smich, who was the only accused to take the stand, told court they were "scoping" out trucks Millard wanted to steal when they went on the test drive.
With his friend at the wheel and Bosma in the passenger seat, Smich testified that he got out of the truck early on and followed the two men in Millard's truck.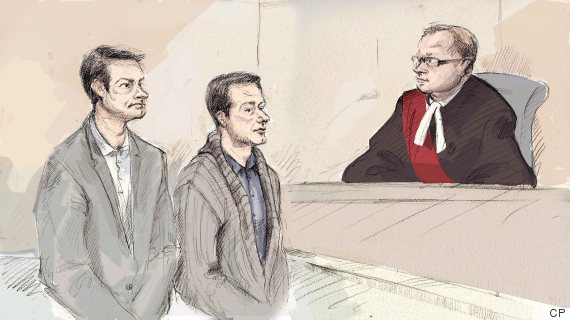 Dellen Millard (left) and Mark Smich appear in court in front of Justice Andrew Goodman in Hamilton, Ont. on Jan. 18, 2016. (Photo: Alexandra Newbould)
It was only after they both got out of their trucks at the side of the road that Smich saw Bosma slumped on the dashboard, with blood splattered everywhere and a bullet hole in the passenger window, he told the court.
Shocked and terrified, Smich said he followed Millard's orders and helped burn Bosma's body in an animal incinerator dubbed "The Eliminator" and strip and clean the truck.
Millard's lawyer Ravin Pillay gave an entirely different account, laying blame for the murder at Smich's feet.
In his closing arguments, Pillay argued that Smich, desperate for money, pulled a gun on Bosma, who was fatally shot by accident as he tried to fend off his attacker.
Millard, Pillay said, feared he'd be blamed for the death and helped his friend cover it up.
Jurors heard from more than 90 witnesses, including a man who went on a test drive with the pair a day before Bosma disappeared and whose description helped police link the two men to the case.
Forensic experts said the slain man's blood was found throughout his truck and on the outside of the incinerator, which was found on Millard's farm near Waterloo, Ont.
Also on HuffPost: