Dr. Paulin Rukiko Polepole greets me warmly in the lobby of his downtown Toronto apartment. He's wearing a natty, navy suit jacket paired with a bright blue button-up, shiny, black leather shoes, a metal watch and stylish socks.
He works at SickKids Hospital, counselling pregnant women and new mothers. He speaks seven languages.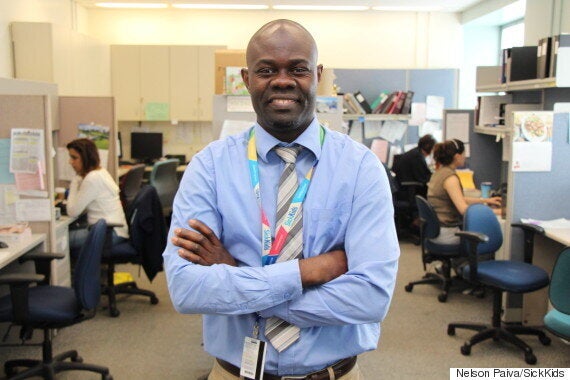 "Thank God, I was able to escape from detention," the 37-year-old Congolese doctor recalled calmly from the comforts of his couch in his new hometown, outlining his incredible journey from the Democratic Republic of Congo.
"I'm here. I don't know anybody. I don't know where to go. But I'm coming to seek safety."

— Dr. Paulin Rukiko Polepole
Headlines on that crisis have since faded, and another humanitarian tragedy from war-torn Syria has gripped the news. In the past year, Canada has admitted 25,000 government- and privately sponsored Syrian refugees.
On an average year, the government usually sponsors about 7,000, while private sponsors — including families, churches and non-profit groups — bring in another 3,000.
But that's not actually how the majority of refugees make it to Canada. While the number fluctuates depending on world events, people like Polepole, claim status at the border. In 2014, 13,500 such refugees asked for asylum. No one knows they're coming, and no one is waiting for them.
This is where Matthew House comes in.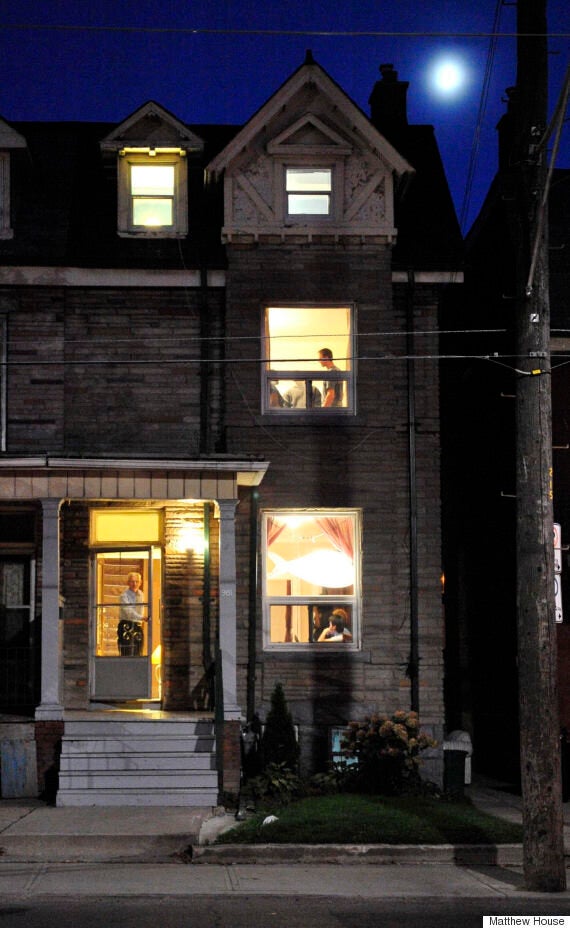 "Our folks are a completely different category, a third category that very few people are talking about, and that is a refugee claimant," said executive director Karen Francis. "They arrive here and there's no system in place to receive them once they get through border services. They're on the streets."
While sponsored refugees are taken care of, claimants are left on their own between their arrival and their refugee status hearing. This can take upwards of three months, at which point they will either be allowed to stay or be deported.
In 2012, Polepole was working in neighbouring Rwanda because the security situation in his homeland made it unsafe to practice medicine in rural areas. He had been running a district hospital and supervising eight satellite health centres that served 500,000 people in western Rwanda, with a particular focus on HIV/AIDS work.
He was commuting between the two countries after his wife Charlotte returned home so their young children could attend school.
Then, the political situation became "volatile," said Polepole. "That made lots of victims, including myself."
He wound up on the government's radar for "working in a so-called enemy country," he said, and was arrested. He begged to be taken to a hospital where he managed to escape.
"I had to leave my family behind," he said, seated beside a photo of himself and his smiling children.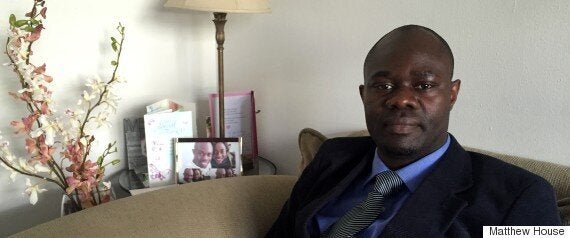 Polepole was fortunate enough to be in possession of a Canadian visa he had received for a medical conference in Vancouver. He was unable to attend but it was still valid for two months.
"I'd heard of the Canadian refugee system, which is one of the greatest in the world, so I said, 'I have to save my head.'"
He flew to Toronto for asylum.
"I presented my situation: I'm here. I don't know anybody. I don't know where to go. But I'm coming to seek safety."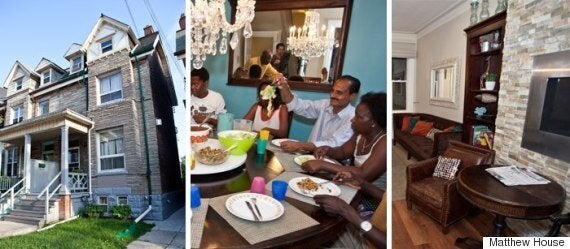 Matthew House — really "houses," as they own and operate three in downtown Toronto — provides shelter and support for these claimants like Polepole. Considered a "refugee reception service," it's named after the bible verse Matthew 25:35: "I was a stranger and you welcomed me."
Since it opened in 1998, Matthew House has welcomed over 1,400 people from 94 different countries.
The success of its Toronto operations has inspired loosely affiliated Matthew Houses in other Canadian communities, including Ottawa, Windsor and Fort Erie.
The primary house looks like any other along the stretch of Dundas Street in Toronto near Trinity Bellwoods Park. Administration is done from the basement offices, while there's room for 12 residents to eat, sleep, and socialize on the two upper floors.
The only way you would notice anything out of the ordinary is if you lived close enough to hear the summer garden parties, complete with live music and dancing, that they host on occasion in the backyard.
Same goes for the other homes. I can actually attest to this, as I live not far from their youth home but only discovered its existence while reporting this story. That house provides community living for unaccompanied minors — young refugees who were either orphaned or their parents paid smugglers to help them escape becoming child soldiers and/or raped or killed.
Unlike the main house, where residents leave soon after their hearings, the youth are allowed to stay until they graduate high school.
The third house, which also lets residents stay longer, is split into five separate apartments for more vulnerable residents, such as those with babies or children with special needs.
"I'm from Eritrea. It's far away. I came in November with the airplane," explains 16-year-old Lulu*. (*All underage refugees in this story have been given pseudonyms to protect their identity.)
"I came here because I was not safe in my country. Young students like me they go for child soldiers. So I ran from this. There was someone who was bringing me, like smuggler. So he was doing all the things."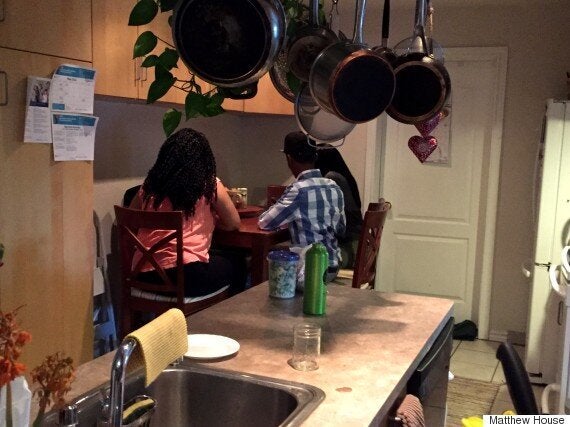 Young refugees are allowed to stay at Matthew House until they graduate high school.
The smuggler, who did not speak a language that Lulu understood, dropped her off in downtown Toronto. Fortunately, he chose Bloor Street, which boasts a number of Ethiopian and Eritrean restaurants.
"She recognized the writing and went in and asked a woman sitting a table, 'My sister, my sister, will you help me?' And that woman did help her and that was how she was connected to Matthew House," explained Francis.
"There's not a lot talk about Eritrea, but my director said the other day, 'If the entire country applied for refugee status, they should be accepted given what's going on in that country.'"
Indeed, while Eritrea recently celebrated its 25th year of independence, it's a secretive dictatorship known as "Africa's North Korea."
According to the Wall Street Journal last year, the UN estimated that 400,000 Eritreans — or nine per cent of the population — had fled, not including those who died during the journey. The newspaper reported that a majority of the 3,000 refugees who drowned in the Mediterranean in 2015 were Eritrean.
Hundreds more perished this spring when ships carrying Eritrean, Ethiopian and Somali refugees sunk en route to Italy.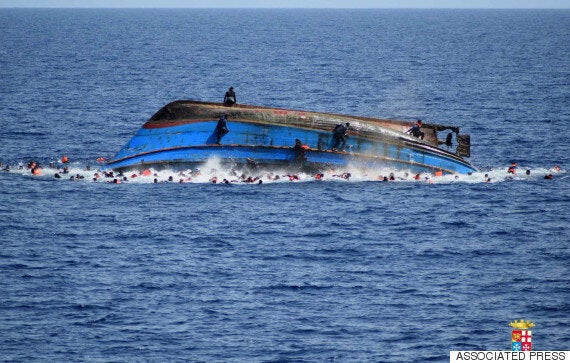 Lulu is seated on a couch beside two other Eritrean girls, Sara and Karen, and they've all just biked home from school. The girls, who live together and attend classes together, act like sisters.
"They are always there for me," Lula said, smiling. "And Matthew House, they are like my parents, they give me everything that I need."
Sara, 17, and Karen, 16, were smuggled to Canada via Sudan just like Lulu. But they actually met on the flight and arrived together last summer.
"I left my country, not because I didn't like it but because I have to. If I were still there, maybe I don't know if I'd be still alive."

— Karen, 16-year-old Eritrean refugee
"We didn't know where to go, so we met a guy at the airport because the smuggler left us there. He was Eritrean and the only one who could speak our language," said Karen. The man called the Red Cross, who sent the girls to a shelter for youth with mental health and addiction issues.
They stayed there two days, scared, until the shelter finally called Matthew House.
"We were so happy," Karen said. "It was traumatic, but in a good way. I left my country, not because I didn't like it but because I have to. If I were still there, maybe I don't know if I'd be still alive."
"At 17 you need to go to the military service but it's so bad, especially for girls, the soldiers, they can rape you and there's no law that can defend you," said Sara. "It's horrible."
Like the others, her parents are still in Eritrea.
"I have a younger brother so I don' think they can [come here]," she said. "Sometimes if there is a good connection there I can call them and speak with them but…" She trails off.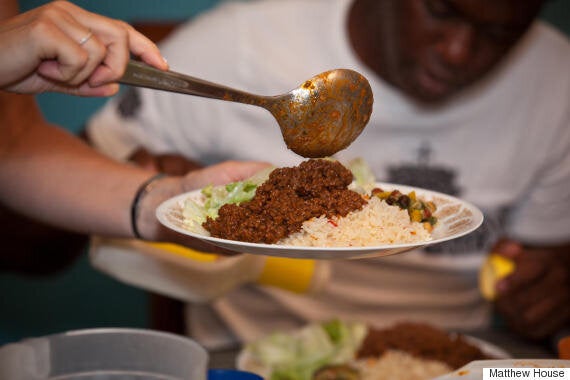 Sara says that the first few months were tough because of the culture shock. Matthew House helped her adjust, but they couldn't help when winter came.
"It was cold, it was so cold. I didn't get used to the cold," she said, then breaks into laughter at the memory. "We went skating. The first time it was funny, I just kept falling down. I've never seen snow back home."
She's now almost done her first year of school here — "It's so multicultural, you meet friends from everywhere and can learn from them!" — and wants to study law after she finishes high school.
She also wants Canadians to know that refugees come from all over.
"I know that in Syria there is like one of the worst situations ever, but I think that Eritrea, it is so bad but there's not that much information about it. It's kind of hidden. You feel like you're not very important. But people in our country are dying. The young, they have no hope."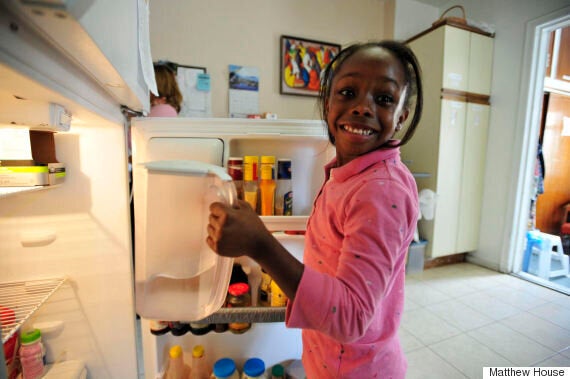 Sitting on a desk chair across from the girls is Sami. He arrived in March after fleeing Somalia, and despite his quiet calmness while recounting it, Sami's journey from Lower Shebelle near Mogadishu to Matthew House in Toronto is the most harrowing of the group.
"The al-Shabaab tried to recruit me, and also I had a clan problem, so these two problems forced me to run away from Somalia," recounted Sami of the al-Qaeda-affiliated terrorist group. "My parents didn't have a lot of money. My father had a farm and he sold that but it was not enough for my expenses."
So Sami's uncle contributed what he could, and that proved enough to pay a smuggler to get the 16-year-old to safety. But on arrival, he wound up in solitary at the Toronto Immigration Holding Centre.
"They say 'You don't have anyone in Canada' so they put me in this place, detention. It was not designed for under-18s. They can accommodate only families or male adults. They did not have a room for me so they put me in a place they called the isolation room."
After 10 days and some bureaucratic process, Sami was released to go live at Matthew House.
"When I came to the airport I felt safe but I was still missing that freedom. Matthew House, they released me from that place. I gained my freedom."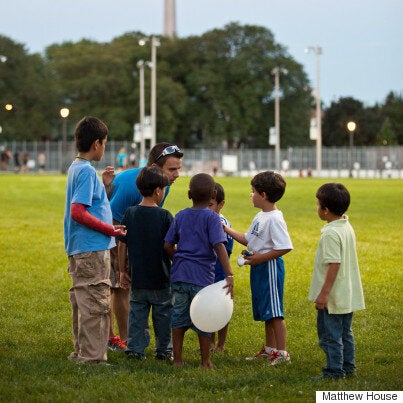 Now safe and sound, he's joined a bike club with his Eritrean housemates, plays soccer with some local Somali boys on the weekends, and is rather proud of a PowerPoint presentation he did for his class recently about Somalia.
And now that he knows he will grow up, he has big plans for his future. "I'm good at science," he says with faint smile, "so computer engineer or scientist."
Matthew House was founded in 1992 by Ann Woolger, who had been working for years at a city-run refugee shelter for claimants with no place to stay. She thought she could do better by giving refugees a "family-like home" while they awaited their hearings.
Though Christian-based and partially funded by church donations and volunteers (as well as individuals and foundations), Matthew House was established on the promise to "welcome all refugees regardless of their race, religion, sexual orientation or political opinion."
Four years later, they bought their first house on Dundas Street, which can house about 12 resident refugees at a time staying from six to eight weeks. The other two houses provide "second stage transitional housing" for longer term stays. All benefit from the camaraderie of shared trauma.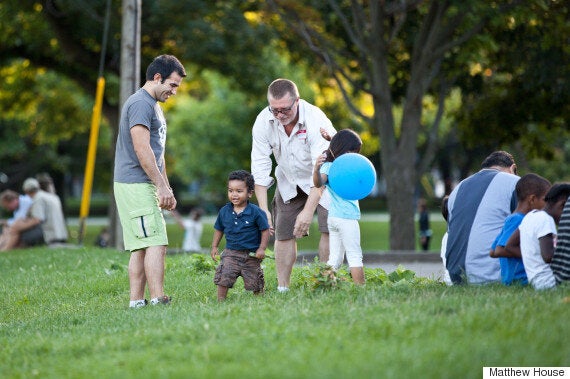 "I found people from multiple countries, who welcomed me as an African," said Polepole. "And I start learning that I may not be the only one person going through this. When I learned all these other people are refugees — coming from Colombia, coming from Afghanistan, coming from Ethiopia — that contributed to my healing.
"It's not a good thing. There should not be refugees. But in certain circumstance you feel happy to see fellows," he said with a laugh. "And then you start learning how the process works."
That is where Matthew House truly stands out. Beyond shelter and community, over the years they've discovered how vital it is to help the refugees navigate the complex refugee system, from filling out paperwork to preparing for their hearings.
Fate lies with immigration and refugee hearings
"Going before a refugee judge, who is deciding on their fate, whether they'll stay in the country or be deported back, is pretty tough stuff. People literally don't sleep or eat, they're so stressed," said Francis. "So we were seeing people go before the judge and the details of their story would be sketchy and they'd fail. But we'd lived with these people, we knew they should be allowed to stay, that their story was legit."
Matthew House staff started staging mock-hearings in the basement, and Francis said they've had such an effect that former Immigration and Refugee Board (IRB) members have joined to help.
"The volunteers and staff are not doing it just as a job; they have a heart to help you be successful in your process."
Data from the Canadian Council for Refugee places the national average for positive IRB decisions at about 60 per cent; Francis said for Matthew House claimants, "We are easily in the 90s."
Polepole, for one, received a welcome to Canada the same day as his hearing. "You can fail it not because you're not saying the truth but because you're not well prepared," he said. "The volunteers and staff are not doing it just as a job; they have a heart to help you be successful in your process."
He moved out after two months, but the folks at Matthew House kept helping him with the paperwork to bring his family over. The process could only begin after he received his permanent resident status a year later. All told, it took 22 months before he was reunited with his wife and children in Toronto.
In the meantime, Polepole had to find work. One of the 100 or so Matthew House volunteers helped him get a job doing first aid at a Christian summer camp in Halliburton, tending to kids' scrapes and scratches.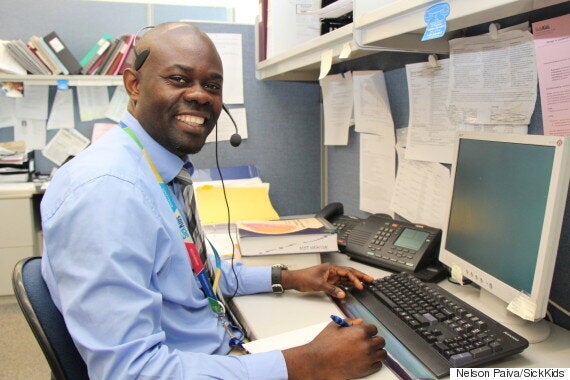 Afterward, he returned to town and took whatever job he could, and boasts of never working under the table. He did factory work, construction, cut grass and emptied garbage, and shovelled snow — a daunting task for someone who grew up where the lowest temperature was 15 degrees Celsius.
"But it's part of building your community, which is good for a doctor," he said.
Eventually he got hired to work in the Motherisk program at SickKids Hospital, advising pregnant women and breastfeeding mothers, and answering their questions about the safety of medications.
"I'm not doing clinical work because I have to undergo the proper licensing, but I'm using my medical skills and I'm happy that it's impacting the community," he said proudly.
There's been a lot of talk about how refugees are a drain on Canadian resources. But Polepole is an example of how they are Canadian resources. He's happy to be contributing to and raising his kids here in Toronto, "where every other person you meet has a different accent, which means he is coming from somewhere."
But, he adds, he does hope to one day return home.
"I am very much looking forward to going back and contributing to the health-care system. I think we will need all the Congolese who left to bring back their expertise and help."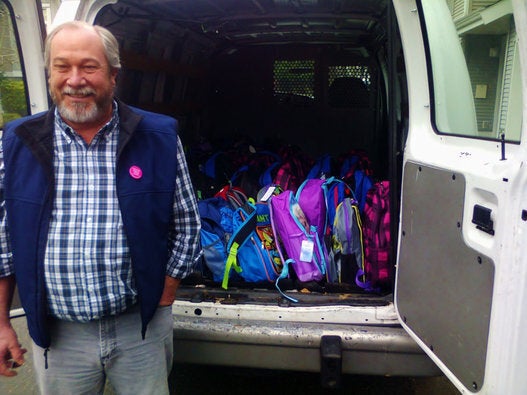 Great Things Canadians Have Done So Far For Syrian Refugees