We hope no one else has to go through what this woman went through.
On Monday, an Australian woman woke up to find a 16-foot, 30 kg python wrapped along a wall in a hallway and making its way into a bedroom.
Trina Hibberd posted a video of the snake on Facebook, so you can see exactly what nightmares are made of.
In the video, which you can watch below, you can see the gigantic snake slithering across picture frames — the end of its body wrapped around a hat rack and its head inside the bedroom. Shudder.
Unlike us, Hibberd doesn't freak out. Instead, her reaction is hilariously calm.
"Ok, we've got a visitor," she says about the snake, who she nicknamed Monty, "and it's fucking huge! I mean, it's very big."
"It is massive, oh God," she says, without screaming or running away. "Oh, jeez," she concludes.
Unfortunately for Monty, he wasn't able to curl up in bed for a snooze. Instead, Hibberd called snake removers at 4 a.m. and they promptly went in and took care of the massive python.
According to Hibberd, Monty has probably been living in her home since at least 2012. Commenting on her Facebook post, she wrote: "First photo I have of him was in 2012 but I'm pretty sure he's been in the roof for a lot longer. He used to slither down into the pool area for a feed and a drink then slither back up just before sunrise unless he had a tummy full of food and got stuck."
She concluded, "Am pretty happy that he's gone. Snake catcher said he was a kangaroo killer!"
According to the Loving Nature Facebook page, Monty is an Amethyst or Amethystine Python, one of the largest species of snake in Australia.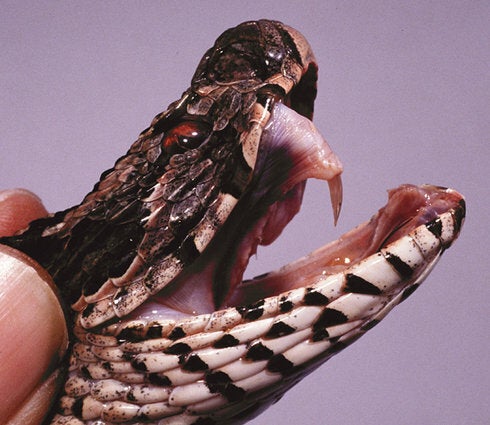 India's 10 Deadliest Snakes