Two federal New Democrats mulling a run for the party's leadership say Justin Trudeau's apparent popularity won't last.
On Tuesday, NDP House leader Peter Julian and finance critic Guy Caron held a press conference in Ottawa to discuss the last legislative session. Unsurprisingly, neither said they were impressed by the new Liberal government.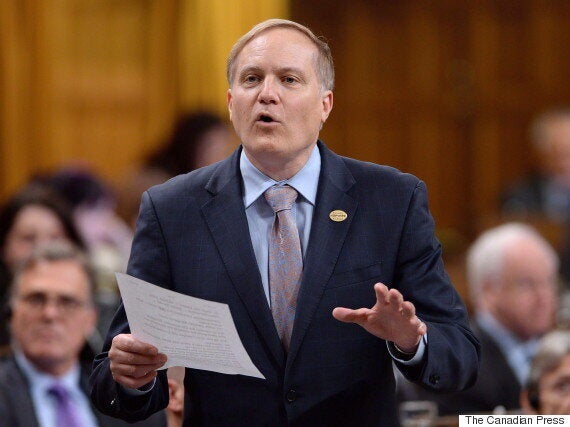 NDP MP Peter Julian speaks during question period in the House of Commons in Ottawa, on May 28, 2015. (Photo: The Canadian Press)
But both veteran MPs faced a number of questions about the NDP's leadership race — and the lack of candidates who've put themselves forward to replace Thomas Mulcair. So far, only Ontario MPP Cheri DiNovo has taken the plunge.
They were asked if the Liberal government's high approval in public opinion polls, eight months after the election, is scaring off would-be leadership contenders.
"It's not scary to take on Mr. Trudeau," Julian said. "I think what we've seen over the last few months since the election is that it's very much business as usual in Ottawa. Not a lot has changed."
Julian said that the mood is different outside the Ottawa bubble. In his British Columbia riding of New Westminster—Burnaby, there remains a concerning level of poverty and debt, and an erosion of good jobs.
"It's not scary to take on Mr. Trudeau."

— NDP MP Peter Julian
"The fact that there is very little change that Canadians have seen doesn't make it scary at all to take on the Liberals," he said.
Julian said the "door's open" to him making a bid, but he plans to take a few months to think about.
Caron, who said he is also in "reflection" about running to replace Mulcair, was quick to note that the NDP leadership campaign doesn't start until July 2. And since a new leader will be chosen about 14 months from then — sometime in October 2017 — there's no "urgency" to jump in right now.
"We had a lot of work to do in the session that just ended," Caron said.
Both say they aren't fretting over polls that consistently show the NDP well back in third, with traditional supporters possibly bleeding to the Liberals in charge.
"Of course, the Trudeau government is still in its honeymoon period, but I'm not worried about this," Julian said.
He said the NDP has been working hard to push the Liberals on issues — whether it's their refusal to decriminalize marijuana before legalizing it or the government's restrictive approach to assisted dying — and the numbers will change.
"It may not have had an impact on the polls as of yet, but it will," Julian said, pointing to the example of late former leader Jack Layton who needed some time before he became more popular in the eyes of Canadians.
Julian also said the "profoundly disturbing" Motion 6 the government tabled last month — which would have given the cabinet unprecedented power to control debate in the House of Commons — showed the current government is not so different from the last one.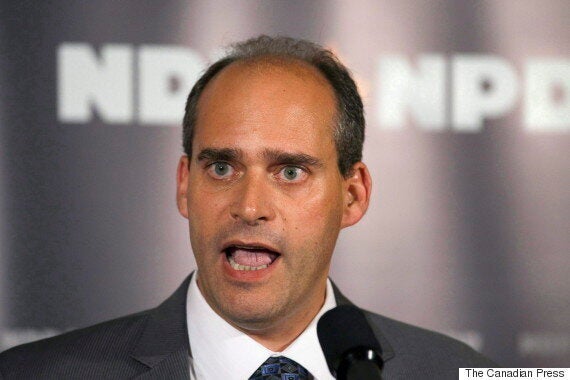 NDP MP Guy Caron speaks to reporters in Quebec City on in 2011. (Photo: The Canadian Press)
Caron added that any polls taken more than three years before an election need to be taken with "a pinch of salt."
"There are many Canadians who are just happy that the Conservatives are no longer in power," Caron said.
Cullen, Leslie not running
Earlier this month, NDP MP Nathan Cullen — seen by some as the one to beat — announced he wouldn't run for the party's leadership. Though Cullen pursued the job in 2012, he said he wants to spend more time with his family and focus on electoral reform.
Megan Leslie, a popular ex-MP from Nova Scotia whose defeat last fall surprised many, has also ruled out a run. Brian Topp, a strategist who finished second to Mulcair in 2012 and now serves as chief of staff to Alberta Premier Rachel Notley, is not launching a bid this time.
Other possible candidates include Manitoba MP Niki Ashton and Quebec MP Alexandre Boulerice.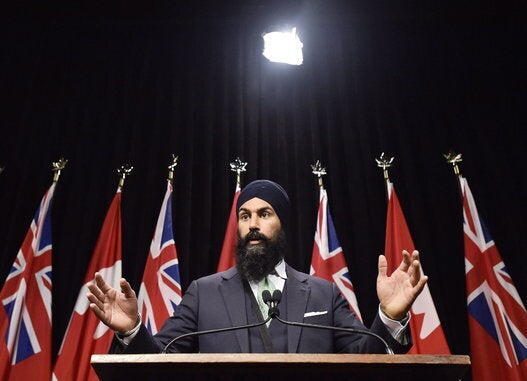 NDP Leadership Race 2017: Candidates