Prime Minister Justin Trudeau marked National Aboriginal Day by participating in one of the most sacred rituals in First Nations culture.
Trudeau and other members of his caucus, including Indigenous Affairs Minister Carolyn Bennett and Justice Minister Jody Wilson-Raybould, started the day with a sunrise ceremony at dawn in Gatineau, Que. against the backdrop of Parliament Hill.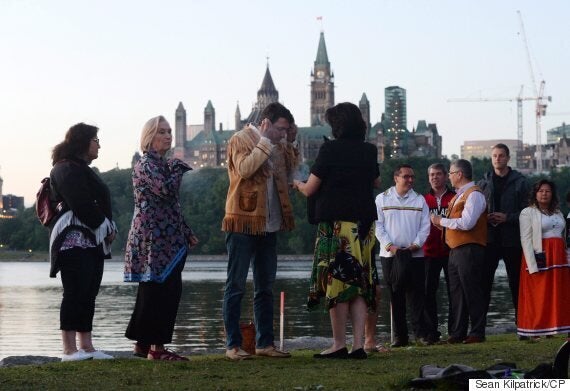 Prime Minister Justin Trudeau takes part in a sunrise ceremony on the banks of the Ottawa River in Gatineau, Que., on Tuesday. (Photo: Sean Kilpatrick/Canadian Press)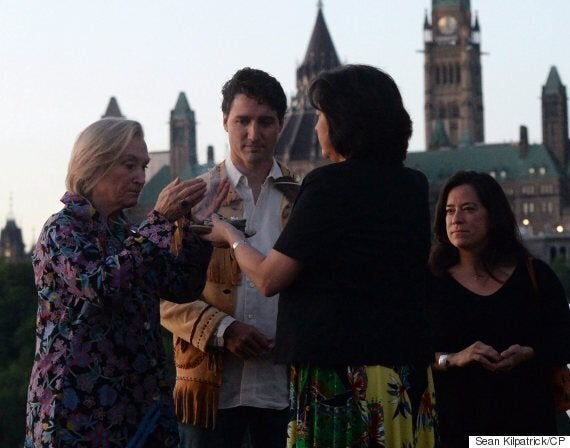 Prime Minister Justin Trudeau looks on as Indigenous Affairs Minister Carolyn Bennett and Justice Minister Jody Wilson-Raybould take part in the sunrise ceremony. (Photo: Sean Kilpatrick/CP)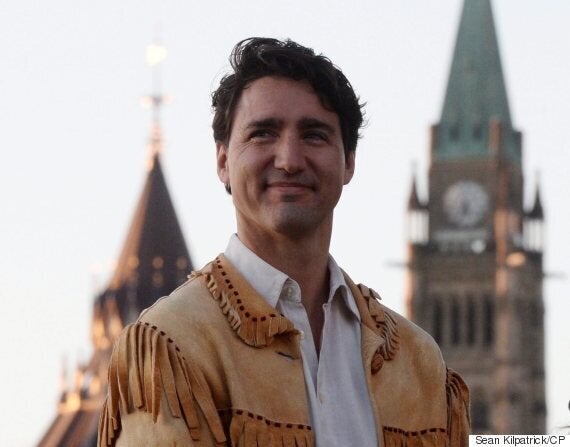 The tradition is meant to be an expression of gratitude at the start of a new day and a period of personal reflection. Participants often smudge themselves with burnt herbs to cleanse themselves of negativity, according to a CBC News explainer.
The ceremony was performed by a First Nations elder Raymond Ballantyne and Elder Madonna Ballantyne. The group was also joined by delegates from the National Inuit Youth Council.
Afterward, Trudeau paddled the Ottawa River in a voyageur canoe, wearing a buckskin jacket and moccasins owned by his father, former prime minister Pierre Elliott Trudeau. He was joined by 12 Métis, Inuit, and First Nation youth.
The occasion seemed to fit prime minister's call for Canadians to take some time Tuesday to celebrate the "unique heritage" of Canada's First Nations, Métis, and Inuit people.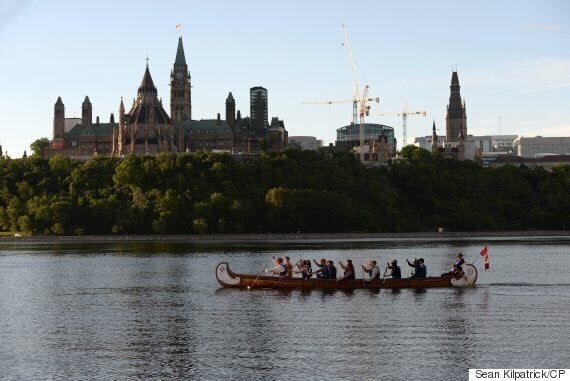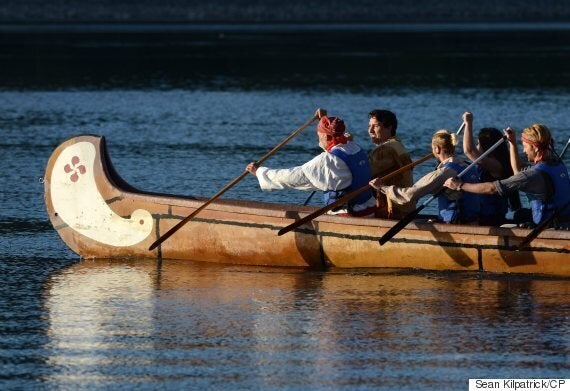 Trudeau's statement marking the day did not gloss over the heartbreak faced by many indigenous Canadians, including the suicide crisis in Attawapiskat and other reserves.
"Events over the past few months – including the loss of life to suicide and the feelings of despair felt in some communities – remind us that we must work in genuine partnership with Indigenous peoples, the provinces, and the territories to better support the well-being of children and families, improve the quality of education for Indigenous students, and ensure health services meet the needs of Indigenous communities," he said.
Trudeau reiterated pledges to adopt and implement the United Nations Declaration on the Rights of Indigenous Peoples and "continue the vital work of reconciliation" outlined in the Truth and Reconciliation Commission. Liberals have promised to implement all 94 recommendations from the TRC report into the shameful legacy of residential schools.
"We understand the importance of reconciliation and the process of truth-telling and healing in this renewal," he said.
He also committed to thinking "seven generations out," as taught by the Iroquois, to address the infrastructure challenges facing indigenous peoples, from much-need roads and bridges to clean water, and to listen to their voices on environmental issues.
"No relationship is more important to our government and to Canada than the one with Indigenous peoples."
The Huffington Post Canada has reached out to the Prime Minister's Office and Bennett's office for more details on the ceremony.
With a file from The Canadian Press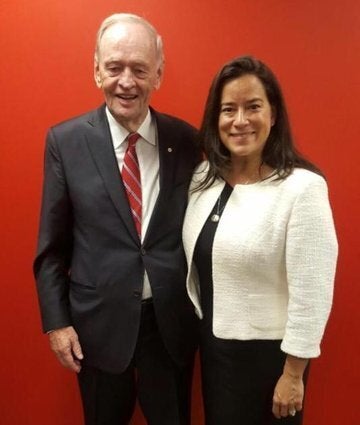 Meet Canada's Indigenous MPs