Sean Fraser was working outside at his dad's gas station in New Minas, N.S. when he was summoned inside — to dance with a customer.
Curious about such an unusual request, the 22-year-old entered the convenience store and came face-to-face with an elderly woman.
"You'd like me to dance for you, would you?" Fraser asked.
"No, no, I want you to dance with me if you wouldn't mind," the woman replied. She told him how she used to love dancing and singing.
"Yes, absolutely," said Fraser. "Where would you like to dance?"
"Well, why not right here?" was the answer.
Fraser turned to a line of waiting customers and got their permission to share a short dance with the woman. He took her purse and held out his hand.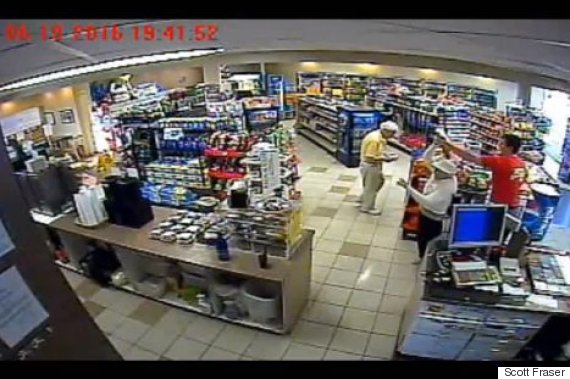 Sean Fraser's dance with a "lovely British lady" was caught on camera Sunday. (Screengrab)
A video taken by the station's security cameras on Sunday shows the pair holding hands and twirling in between rows of candy bars and chips.
"We just thought it was so charming," his father Scott told The Huffington Post Canada.
The family-run business has a local reputation of having friendly staff and service. His employees are "Ambassador of first impressions," he said.
Sean explained he didn't think what he did was anything extraordinary. "It felt like something we do every day for people."
These small charming moments are a normal occurrence, he said. Recently, one of his employees helped a woman with Parkinson's cross the street. But this — this was different.
"That was a really special one," he said.
Also on HuffPost
Heartwarming Notes Found In Used Books