Burger King has tag teamed with snack behemoth PepsiCo to concoct a new fast food Frankenstein: Mac 'n Cheetos.
Bloomberg reports the restaurant chain will sell five deep-fried cheesy macaroni sticks engulfed in the orange powder for $2.49.
But like many food trends, it'll only be available for a limited time. For eight weeks to be exact, at select U.S. locations or until supplies run out.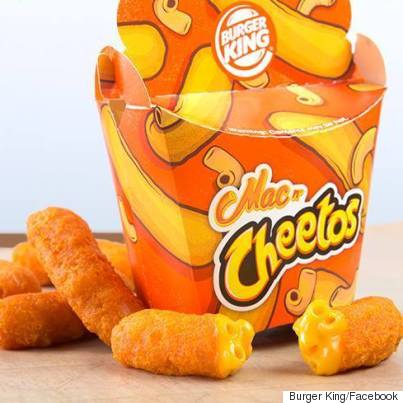 Would you eat this? Or rather, would you experience it? (Photo: Burger King/Facebook)

"It's quite unique," Alex Macedo, president, North America at Burger King, told Bloomberg. He added the two companies are collaborating on other menu items.
This dusty, cheesy experiment will be available June 27, according to a post on the restaurant's Facebook page.
YouTube user Peep THIS Out! got a sneak peek at the orange receptacle. He said he loved the "authentic Cheetos smell."
"The cheese looks like it's a little coagulated on the inside, but it's really holding together pretty nicely with the coating on this."
Check out his review below:
Also on HuffPost
Tim Hortons-Burger King Mash-Ups