"No fats. No fems."
For those unfamiliar with the above terms, they originate from the gay male dating app Grindr — no fat guys, no feminine guys. Men on the app will use deterrents like these on their profiles, often alongside the equally charming "masc 4 masc" (code for: manly man seeking fellow He-Man), "No blacks," "No Asians," "No Arabs," "No Latinos" — you get the idea. (Author's note: This piece is written from the perspective of a cisgender, half-Asian queer male.)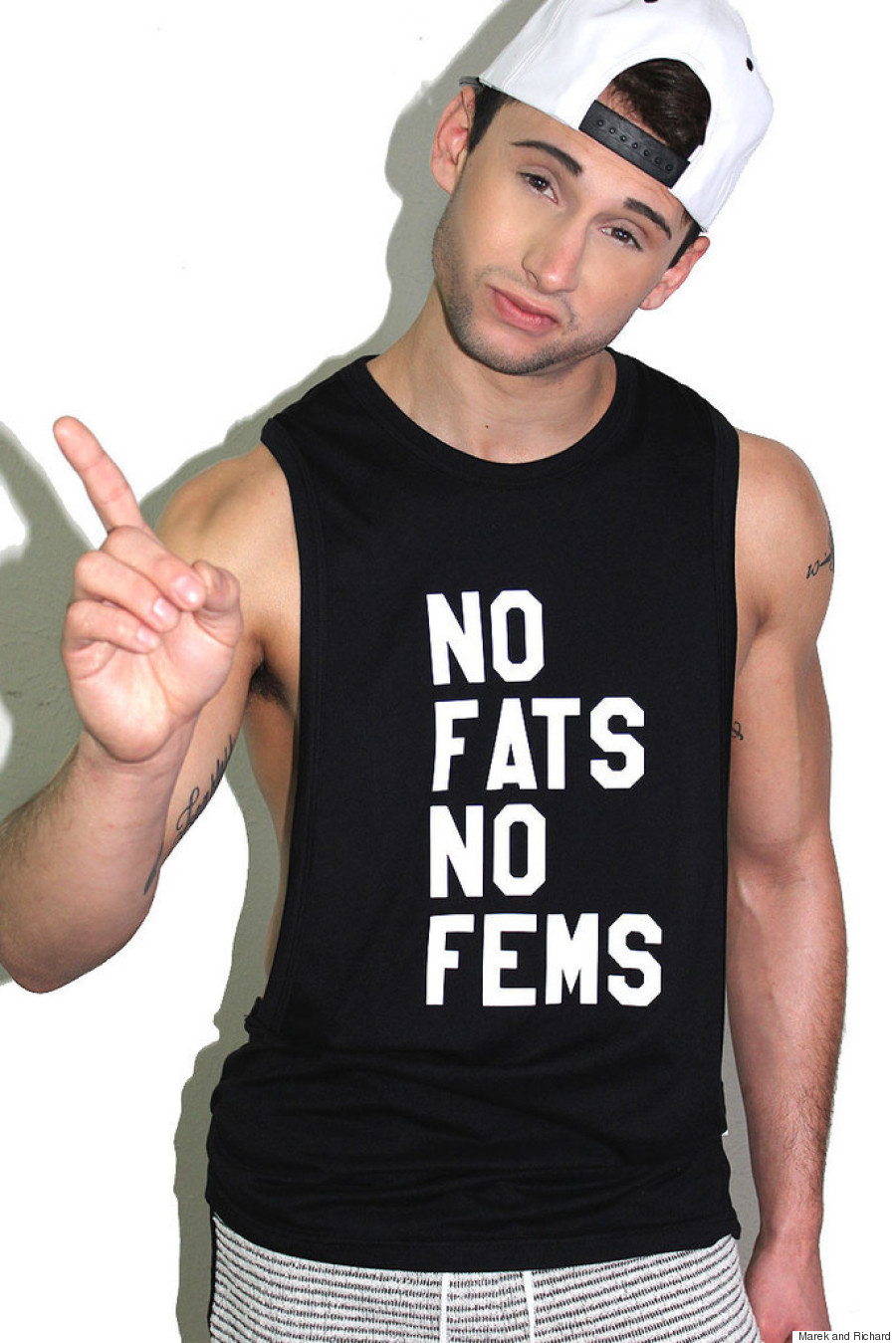 This hateful, discriminatory message existed mostly in the world of gay online dating, until clothing line Marek + Richard decided to produce tank tops printed with the words "No fats, no fems" in April, inciting a visceral and vocal response on social media. (The brand has since taken to Twitter to claim the shirts were satirical.)
Messages can be sent in variety of ways. Satire is one of our favs. 😜 https://t.co/AByQvVtNpA pic.twitter.com/NW4xE6Grs9

— marek+richard (@Marek_Richard) April 28, 2016

It's regressive for a so-called fashion brand — particularly one whose main audience is gay men — to promote some of the community's more unfortunate messaging. As social media is increasingly emphasizing the need for diversity through body positivity, representation of more ethnicities, different abilities and gender fluidity, writing "NO FATS NO FEMS" on a tank top feels a little like putting "BECKY WITH THE GOOD HAIR" on a T-shirt and going to a Beyoncé concert.
What's worse though is there is still a market for clothing like this. An uncomfortable truth is gay men are socialized by the media to view one kind of man attractive — and fashion plays a big role in that.

"[Fashion and clothing] exclude by creating styles that are only fit for particular bodies and images that only glorify one type of body; oftentimes one that is very thin but very toned, white, tall, able-bodied man, and this is seen as the gay ideal," Dr. Ben Barry, a professor at Toronto's Ryerson School of Fashion and the mind behind Refashioning Masculinity, tells HuffPost Canada Style. "And often this man is wearing much more traditionally masculine clothing."
According to Dr. Barry, many gay men are drawn to this imagery as it allows them break away from the stereotype of being feminine, something that is typically associated with being weak.
Clothing deemed "masculine," includes working-class textiles like leather and denim or a crisp wool suit, and flies a flag for traditional notions of maleness: strength, power, status and dominance.
The ideals surrounding "maleness" and "men" often refer to cisgender males. While Vogue declared 2015 the Year of Trans Visibility, fashion and cultural ideals are still dominated by cisgendered images. What it means to be a man, and to look like a man, is often tethered to a prescribed biological sex. Through increased media visibility, trans men like motivational speaker and adult film producer Buck Angel, and Benjamin Melzer (who landed the cover of Men's Health Germany) are slowly helping to revise these notions — but there's still a ways to go.
Complementary to masculine clothing is a "shredded" gym bod, or at least one that is toned and thin — often in an unhealthy way. While being too svelte could be seen as feminine, it still exhibits a mastery over one's body — a quality that is "masculine."

Men whose gender expression is "more feminine" are often ostracized by their fellow males — both straight and gay. A sociologist would call this heteronormative masculinity, or the reinforcing of harmful and (often unattainable) stereotypical ideals of maleness by policing the behaviours of men. IRL, it comes out usually as homophobic and misogynistic slurs.
"A strong, lean body is seen as the essence of masculinity, power and strength. Anything that doesn't represent that is seen as weak, vulnerable and not masculine." — Dr. Ben Barry
A recent study in Psychology of Sexual Orientation and Gender Diversity found one third of gay men had experienced anti-fat bias (the assumption that they're "lazy," "greedy," "unmotivated," etc. because of their appearance), even though most of those surveyed were not considered overweight.
Gay media reinforces these ideals — particularly being physically fit and white. Case in point: earlier in 2016, black queer rapper Mykki Blanco kickstarted a huge Twitter conversation on the issue with the hashtag #GayMediaSoWhite.
How can you see this shit and feel "apart of the community" or even Progressive???? pic.twitter.com/024gitCZYZ

— MYKKI BLANCO (@MykkiBlanco) March 28, 2016

This has left little room, in both fashion and LGBT culture, for men of diverse ethnicities and body types to find ideals or, at the very least, people who even look like them.
Plus-size males in the spotlight
While the fashion industry has historically been fiercely exclusionary, it is now advancing plus-size imagery the most now. Bruce Sturgell, founder of plus-size men's lifestyle website Chubstr, tells HuffPost Style Canada, "In the past few years ... more plus-size people have made it [known] through blogs and social media, that we deserve to be included in fashion, [and] the media has taken notice."

Social media has particularly seen an increasing diversity of body types represented — and celebrated, which Sturgell credits to the women's body positivity movement.
"There's a growing amount of representation [of plus size men's fashion] on Instagram and Tumblr, and I think we'll see that continue in the next few years," Sturgell says. "I don't think any of what we're seeing right now with the interest in plus-size men's fashion would be possible if we weren't seeing such growth in women's plus size-fashion."
Retailers are starting to take notice as well. The plus-size market is worth $17.5 billion in the U.S. alone, and brands like Aerie have seen huge social and bottomline returns by focusing on body positivity and inclusivity. From Zach Miko, Target's first-ever plus-size male model, to plus-size male modelling agencies appearing globally, even the slow-moving monolith that is menswear is changing slowly.
"I don't think any of what we're seeing right now with the interest in plus-size men's fashion would be possible if we weren't seeing such growth in women's plus size-fashion." — Bruce Sturgell, founder of Chubstr.
Sturgell's sentiments are echoed by Matthew Simko, a plus-size men's fashion writer recently named "Social Media Star" by Boston Spirit, New England's premiere LGBT publication.
He believes social media has not only helped bring plus-size gay men's body's to the forefront, but it has also brought subcultural terms like "bear" (a larger, rugged, hairier gay man who projects an image of masculinity) to the mainstream. He notes also that most plus-size men leading the charge for awareness on Instagram are gay.
"For me, being a big guy, being a bear, any time I post a picture where I look a little bigger and my shirt's off, it instantly does better," Simko tells HuffPost Canada Style. "I think people see there's a certain bravery doing that, and a certain freedom as well."

Gay men and body image
For cisgender gay men, body positivity on social media helps fight the "NO FATS NO FEMS" messaging and reduces potential harm to an at-risk population. Gay males are three times more likely than their straight counterparts to have an eating disorder, with 15 per cent reporting experiences with anorexia, bulimia and over-eating. Among people with eating disorders, only one in 10 seek treatment despite it being the most lethal psychological disorder. As Salon notes, this prevalence of eating disorders is supported by a specific group in the gay community where emaciation is validation, and one's only hopes at love and sex lie in being either an Adonis or a twig (or "twink" as the jargon goes).
Fashion can continue to play an active role in changing this culture. Dr. Barry notes Toronto's Glad Day Bookstore has already created rebuttal T-shirts saying "MORE FATS MORE FEMS" to much social media praise.
As we head to the post office, one thing is clear: America loves our "More Fats, More Fems" T-shirts! pic.twitter.com/FWXhrbxQrJ

— Glad Day Bookshop (@GDBooks) June 8, 2016

Fashion's role can be to promote and produce images of men — gay or straight — of all gender expressions and body types, authentically and fashionably.
More men in skirts.

More Zach Miko.

More diversity.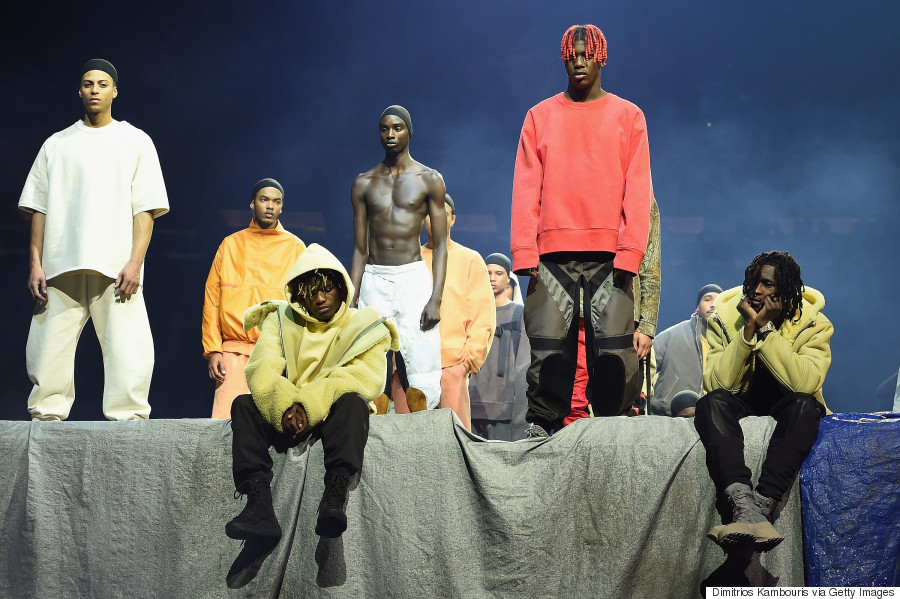 Up until now, fashion has been of part of the problem; it has the power — and the responsibility — to spearhead the solution.
Follow Huffington Post Canada Style on Pinterest, Facebook and Twitter!
Also on HuffPost
Quotes On Why Diversity In Fashion And Beauty Matters