OTTAWA — The Royal Canadian Mounted Police spent nearly $478,000 investigating Sen. Mike Duffy and preparing for his trial, The Huffington Post Canada has learned.
Documents released under the Access to Information Act show a total of $477,858.52 was spent on "Project AMBLE," the Mounties' probe of Duffy. The bulk of the money — $402,901.29 — was spent on the investigation itself: $320,039.80 on salaries and overtime and $82,861.49 on travel and forensic accountants. Court preparation accounted for $49,199.03 and the trial for $25,758.20.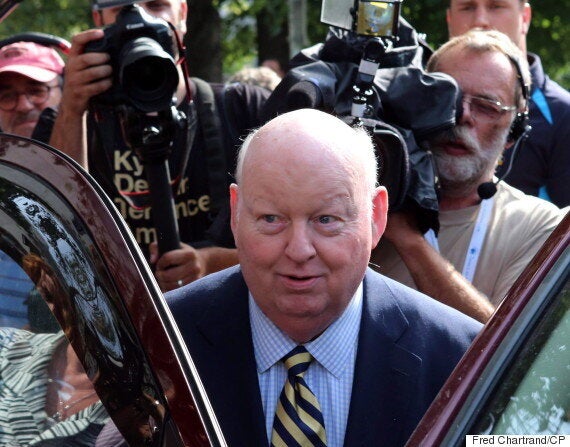 Sen. Mike Duffy leaves the courthouse in Ottawa on Friday, August 14, 2015. (Photo: Fred Chartrand/CP)
But that nearly half a million dollars in RCMP expenses comes on top of the tens of thousands of dollars spent by the province of Ontario in court costs. At least $60,000 was paid to the judge for overseeing the 62-day trial and deciding Duffy's fate — not to mention the rest of the court staff, the Crown attorneys, and security costs.
The Senate also spent $137,784 on an audit looking into Duffy and fellow senators Patrick Brazeau and Mac Harb's travel and living expenses.
Thursday, Duffy referred calls to his lawyer Donald Bayne. Bayne laughed when asked if he thought the taxpayers had gotten good value for their money.
"I'm not going to comment on that," he said. "I guess people can make their own decision based on the judgement of the trial judge."
Judge admonished Harper's staff
Duffy was cleared of all charges by justice Charles Vaillancourt on April 21. The judge admonished former prime minister Stephen Harper's office saying staff had acted in a "mind-boggling and shocking" manner.
In 2014, the RCMP laid 31 charges against Duffy, a former television broadcaster, including multiple counts of fraud and breach of trust and one charge of bribery for accepting a $90,000 cheque from Harper's then chief of staff, Nigel Wright.
Wright's money was intended to repay the living expenses that Duffy had charged to the Senate for sleeping and eating in his long-time Ottawa home. The senator had refused to pay back the funds, believing he had legitimate claim to the expenses under the Senate's rules.
His 62-day trial lay bare the lengths to which Harper's staff had gone to insist Duffy admit wrongdoing and put a politically toxic issue to bed.
Total trial costs under wraps for now
The total costs of the trial will be kept under wraps for now. Brendan Crawley, spokesman for the Ministry of the Attorney General in Ontario, told HuffPost the province wouldn't be able to provide a breakdown.
"The Ministry receives an annual budget, and from this budget we pay for the cost of administering the court system and prosecuting criminal offences," he wrote in an email.
The Ministry's Estimates Briefing Book estimates about $465 million was spent on court services in the province last year.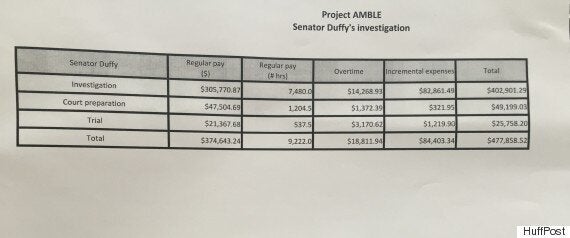 'Project AMBLE' costs for the RCMP. (Photo: Althia Raj/HuffPost)
"These are largely fixed costs that the Ministry incurs which are not specific to a particular matter," Crawley noted in an email. "The cost of a court case includes the salaries and benefits of the relevant justice participants, which may include the judiciary, court staff, Crowns, duty counsel, and victim services, as well as facility costs such as the operation and maintenance of the building, and other direct operating expenses.
"These annual costs are not tracked by individual criminal court matter," he wrote.
The RCMP declined to comment.
Senate committee wants Duffy on hook for more
Late Wednesday night, Duffy's office issued a press release saying the Senate's internal economy committee was after him to repay $16,955 in expenses that an Ontario judge had exonerated him on.
The clerk of committee wrote in a June 8 letter that Duffy released that "new information had surfaced in the public domain'' which warranted an assessment of the eligibility of some expenses and cited seven specific expenses, ranging from $10,000 for a personal trainer to $8 for personal photos — both of which came up during Duffy's high-profile trial.
Bayne told HuffPost "it looked like" some Conservative senators were after Duffy to repay something to justify the Tories' actions. After the Wright cheque became public, Duffy was kicked out of the Tory caucus and suspended from the upper chamber without pay.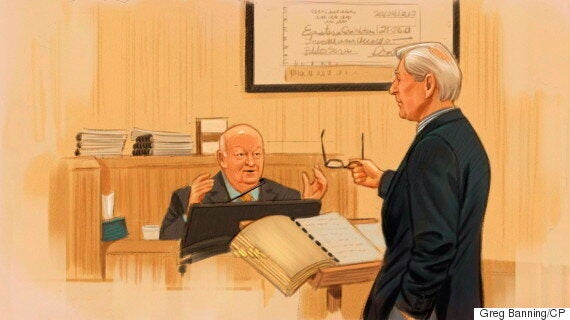 In this artist's sketch, Sen. Mike Duffy responds to defence lawyer Donald Bayne at his trial in Ottawa, Monday, Dec. 14, 2015. (Photo: Greg Banning/CP)
In a letter to the clerk, Bayne wrote that his client has been "fully exonerated'' on the seven expenses in question and called the Senate's persistence "a further compounding of injustice upon injustice, and should be stopped.''
"The man has already paid a penalty that nobody else has paid of $155,000 in foregone salary plus pension, plus all the allowances he was denied, plus the reputational damage," he told HuffPost.
"I think when reasonable senators stand back and look at this, this would be not reflective of their wishes, it makes the Senate look bad, frankly," he added. "He has already paid ten times the value of this."
Bayne, however, told CBC he's still considering legal action to recoup Duffy's loss of salary.
With files from The Canadian Press.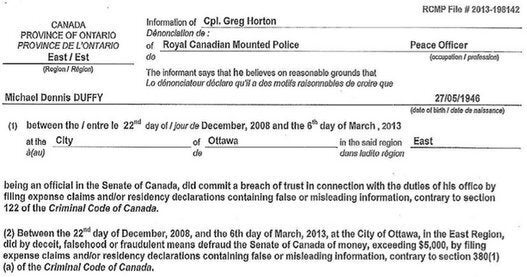 The Charges Against Mike Duffy