On Wednesday night, Prince William and Kate Middleton attended the Taste Of Norfolk charity dinner in support of the new East Anglia's Children's Hospice, The Nook. The Duchess of Cambridge has served as patron for the East Anglia's Children's Hospices since January 2012.
The mom of two joked that the dinner, which was prepared by five Michelin-starred chefs, was something her husband was looking forward to since, as she put it "William has to put up with my cooking most of the time."
Without missing a beat, the Duke teased "it's the reason I'm so skinny," Hello magazine reports.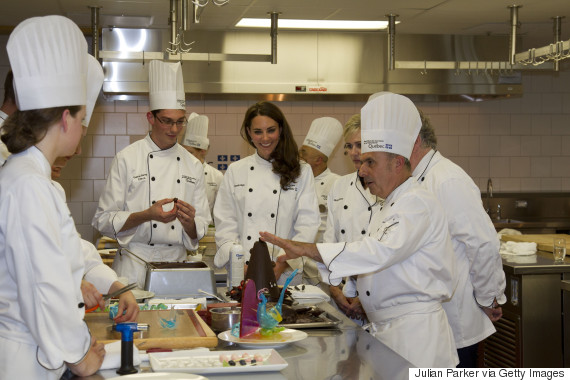 The Duke And Duchess Of Cambridge attend a cooking workshop, and reception, at The Institut De Tourisme Et D'Hotellerie Du Quebec, in Montreal on July 4, 2011.
Though the couple joked that Kate's cooking leaves something to be desired, it's not for lack of trying. In 2013, it was widely reported the Duchess was receiving cooking lessons from the couple's housekeeper, Antonella Fresolone, who worked in Buckingham Palace for 13 years and was famous for her delicious Italian cooking.
A year later, TV chef Rachel Khoo also confessed she took cooking lessons at Leiths culinary academy alongside Kate, Epicurious reports.
Hey, at least she's trying!
Also on HuffPost
50 Perfect Instances Of Will And Kate In Love