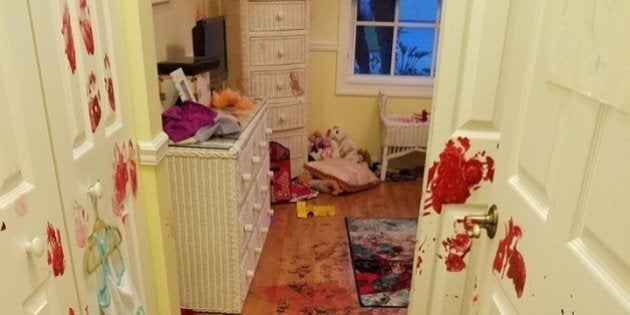 Paul Schettini, of Port Saint Lucie, Florida, was taking care of his two kids – four-year-old Molly and two-year-old James – while his wife Shannon was away at a week-long conference in Tampa. The day before she was supposed to return, disaster struck.
"Everything had been going well. The kids were watching a movie and playing while I was in the kitchen. My daughter asked if they could go play in her room," the dad told ABC News.
Schettini could hear his kids giggling in their room, which he took as a good sign. "Usually when it's quiet you know something's up," he explained to CBS12.
But before he knew it, his son and daughter were both undressed, smeared with paint and tracking footprints all over the floor. Following the trail, Schettini discovered an even bigger mess in their room and posted a photo of the incident to Facebook.
Schettini also posted a video of the disaster. In the short clip, the dad is heard saying: "So this is what happens when you leave two toddlers alone in their own room for seven minutes."
As he pans the room, we can see the walls, floors, furniture and carpet are all covered in the kids' hand- and footprints. But that isn't the worst of it. Molly and James managed to trudge their mess all over the bathroom, and they even got the dog, too.
"Just a warning for all you new parents," the dad later joked in the video. "Have kids, they say. It'll be fun, they say."
Schettini's video has now been viewed over 13,000 times and received plenty of comments from amused and concerned viewers. "Wow. They work fast," one said.
Another wrote: "This is hilarious! I know you didn't feel that way when you first discovered it. Be grateful it was something as harmless as finger paints!"
Luckily, the paint was washable and Schettini was able to clean up the mess before his wife came home.
While most parents' first reactions would be to freak out, Schettini told ABC News that he remained calm the whole time. "I was so shocked, but I never got mad," he said. "I just laughed. It's kids being kids. It's a funny story."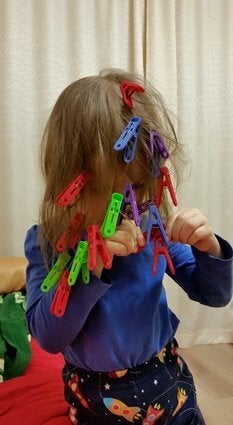 What Happens When Your Toddler Is Quiet