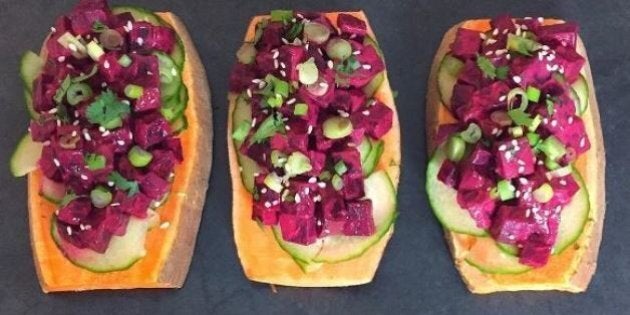 Put down that slice of bread because this summer, it's going to be all about sweet potato toast.
The so-called trend, which is popping on up blogs and Instagram, is simply replacing bread with slices of sweet potato as toast. Yes, you actually can toast a piece of sweet potato in the toaster.
A quick search on Instagram will lead you to everything from sweet potato toast with avocado and egg for breakfast, to asparagus and a burger patty for lunch, to Greek yogurt and peanut butter for dessert.
"I sliced up some taters, made my first sweet potato toast and posted it on my Instagram. I knew that it was an awesome idea and although it doesn't really require a recipe, I had to share it with you!," she writes.
And although you are giving up grains, there are a ton of health benefits to eating sweet potatoes like a high level of beta-carotene, dietitian Nicole Senior told the Huntington Post Australia.
Below, we've rounded up some great ways to hop on the sweet potato toast bandwagon from toppings like hummus and salmon to simple ideas like blueberries and peanut butter. Enjoy!