HUNTSVILLE, Ont. — A 27-year-old man is facing a court date next month after a dog was rescued from a hot car in Huntsville, Ont.
Provincial police say officers responding to a call about a dog left in a vehicle on Sunday — when temperatures hit 30 Celsius — found a group of girls gathered around a black car concerned for a dog inside.
They say the rear window was down a bit, but all of the other windows were up and the husky inside appeared to be in stress.
Officers who managed to unlock the back door and get the dog out say the interior of the vehicle was "extremely hot."
The dog — named Ace — became ill once taken out of the vehicle and was taken to nearby store, given water and police say he improved once inside.
The man is scheduled to appear in a Huntsville court on July 27 to face a charge of causing damage or injury to an animal.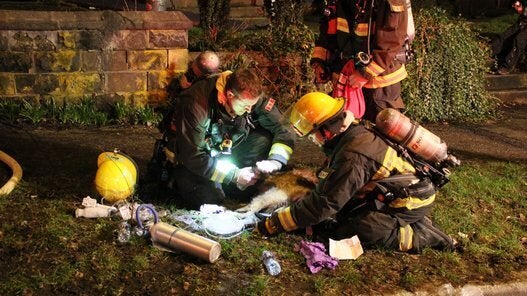 Vancouver Firefighters Save Dog From Burning House