Talk about timing.
Mexican President Enrique Pena Nieto has called for "economic integration" in North America just days after Great Britain voted to leave the European Union in the controversial "Brexit" referendum.
Nieto's remarks came Monday as he visited the Great White North for a "Three Amigos" summit with Prime Minister Justin Trudeau and U.S. President Barack Obama, The Globe and Mail reported.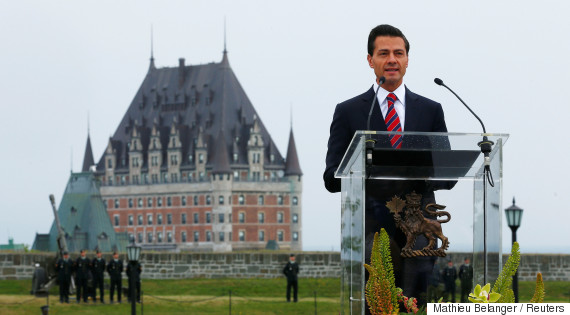 Mexico's President Enrique Pena Nieto speaks at the Citadelle in Quebec City on June 27, 2016. (Mathieu Belanger/Reuters)
"Canadians and Mexicans alike share values and development goals and we also share a single vision of the world we want," Nieto said.
"Let us take stock of our affinity and agreement to bolster innovation and environmental sustainability and also to foster the economic integration of North America."
The summit comes just seven months before Obama is set to leave office — to be replaced by either Democrat Hillary Clinton or Republican Donald Trump, both of whom have talked tough on free trade.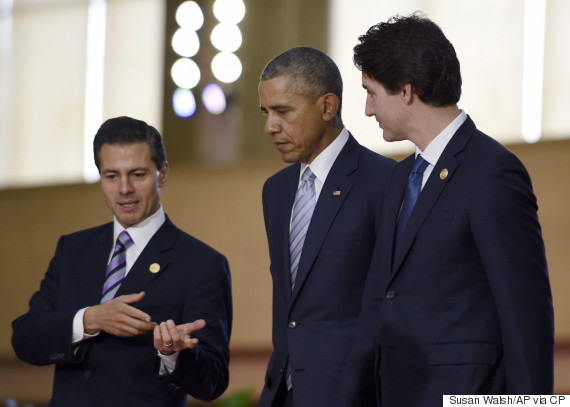 Mexican President Enrique Pena Nieto, U.S. President Barack Obama and Canadian Prime Minister Justin Trudeau at the APEC conference in Manila on Nov. 19, 2015. (Photo: Susan Walsh/AP via CP)
The leaders are expected to discuss free trade — talks that are set to gain added emphasis, in light of the contentious vote by Great Britain to leave the EU.
Obama may find himself offering Canada and Mexico reassurances about any fallout coming after the Brexit, which experts say has "very important implications for North America."
Such reassurances could come during Obama's address to Parliament on Wednesday.
"What he says — or doesn't say — about softwood lumber, the future of North America and world trade after Brexit will be taken as a sign of whether the British exit from the EU is a bump or the first step in a cascade of bad news for Canadian exports," said Christopher Sands of Johns Hopkins University's Centre for Canadian Studies.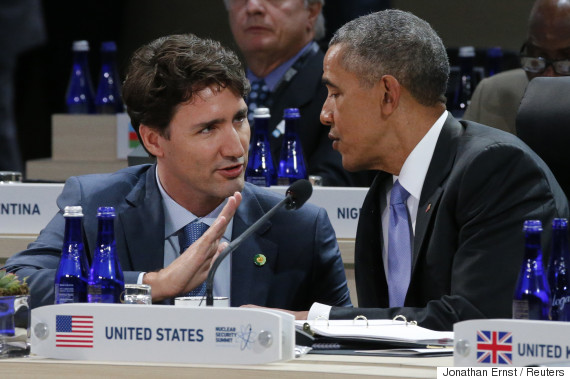 Canada's Prime Minister Justin Trudeau (L) speaks with U.S. President Barack Obama after the start of the second and final plenary session of the Nuclear Security Summit in Washington on April 1, 2016. (Photo: Jonathan Ernst/Reuters)
Economists have long said that Canada's economy should start relying more on exports if it wants to see growth amid the oil price slump.
Approximately three per cent of Canadian exports go to the U.K., some $16 billion annually.
Ontario and Newfoundland and Labrador are most at risk from a slowdown in demand, according to Business News Network (BNN).
And that's just one more concern to add to any existing ones that Canada and Mexico may have about the next U.S. presidential administration.
"Canadians and Mexicans alike share values and development goals and we also share a single vision of the world we want."
Both Clinton and Trump have used some strong rhetoric on free trade — Clinton opposes the Trans-Pacific Partnership (TPP), Trump has said he'll renegotiate the North American Free Trade Agreement (NAFTA).
But economists with TD Bank said last week that free trade criticism during election campaigns often has a bark worse than its bite.
There are questions about how much presidents can actually do about trade agreements on their own, the report noted.
And their free trade talk tends to soften once they end up in office. Obama, for example, made a series of anti-NAFTA statements while running for president in 2008.
Then he supported the TPP.
Also on HuffPost:
Trudeau's Historic Washington Visit