Is it really fair that Americans get to have all the fun with their national holiday outfits?
Okay, yes, admittedly the stars and stripes are way more chic than maple leaves and beaver tails. However, it doesn't always have to be so "Omg, I just got back from a trip to Parliament," when it comes to our Canada Day outfits — unless, that's the look you're vibing. (In which case, do you).
Bottom line is we all have a choice this July 1st weekend. Either we continue to perpetuate the stereotypes that plague our #OOTDS (i.e., keep wearing red and white) or we can follow a few simple steps when updating our approach to being certified cool Canucks:
The Look: Uggs, lululemon leggings, a long Aritzia cardigan, EOS lipbalm, balayage.
The Update: Swap out the sheepskin for cute ankle boots with fun embellishments like pony hair or gold buckles. Trade your leggings for a full-length skirt and pair that with a loose-fitting cotton tank. Grow out your balayage or at least do a top-knot. We love how Vancouver-based blogger Kiara Schwartz finished off her look with a simple crossbody bag from Celine.
The Look: Your ex-boyfriend's OVO owl logo tee, hiked up and tied in a knot at your bellybutton. Denim cut-offs that reveal too much, bandana hanging out the back pocket. Kylie lip kit, heavy contouring, boxer braids. Thighs. Ten-year-old Converse sneakers.
The Update: This weekend if you're blasting #Views while you run through the 6ix with your woes maybe it's time to trade in your OVO merchandise for something a bit more conducive to actually getting Drake's attention. May we suggest go full RiRi? We love her idea of a Drake-worthy outfit with her floor-length striped babydoll and baseball cap.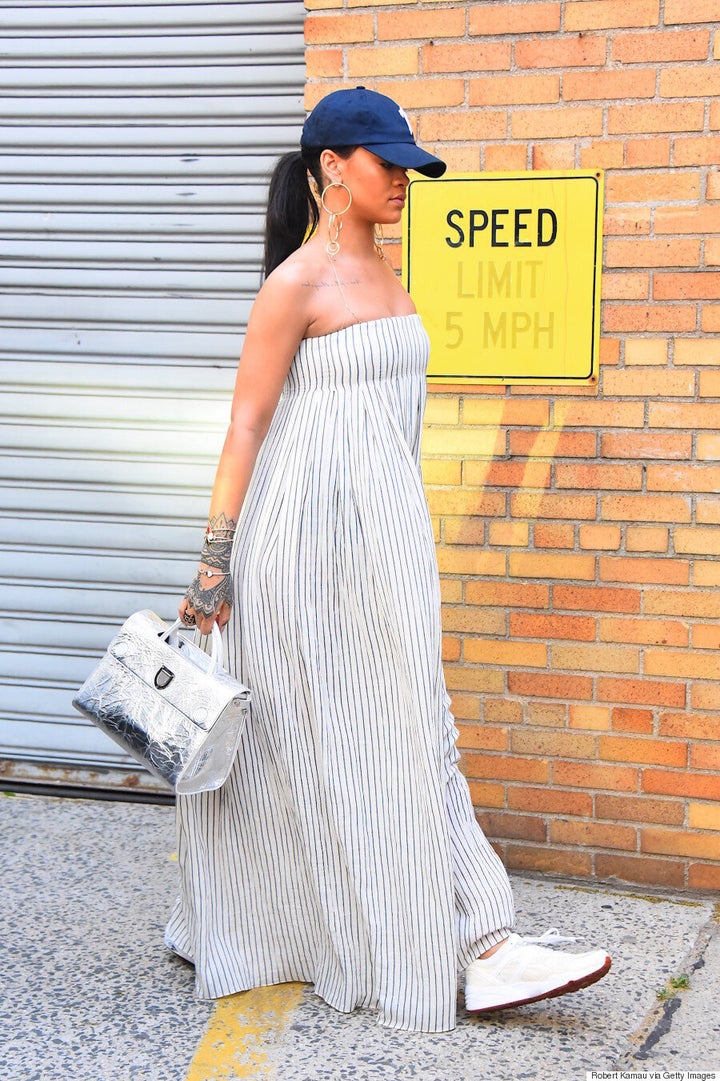 The Look: All black. Conceptual tattooes. No bra.
The Update: Actually, that's already pretty cool. Keep doing you.
The Look: Goyard bag, loose-fitting sweatpants in an obnoxious neon colour, tank top, Tkees sandals, high ponytail that is sort of falling down one side but wouldn't dare re-tie it. Shellac manicure. Only Snapchat filter used on private account whilst driving up in a Range Rover? The dog.
The Update: This look is so 2009. Either you're going to take a page from Arielle Charnas on her way to the Hamptons in full Gatsby attire or you can do comfortable in a chic way.
We love Hunter slides like, so so much. Perfect for Canada Day at the cottage when you can get away with a slight red and white motif. If you must wear sweatpants (and we totally feel you on that four-hour ride home, hungover) trade your neon PINK sweats for a cool unisex pair from Toronto-based brand, Muttonhead.
The Look: Guy or girl, you wear plaid shirts and denim like nobody's business. Natural hair colour. Possibly a well-kept beard. Girls, you love brands like Roots, Drake General Store and would go on a date with a hipster, if need be.
The Update: Good news is we're not asking you to stop wearing plaid and denim. The bad news? You're going to have to say goodbye to your jeggings and trade them for a vintage pair of Levi's jeans or if you're feeling extra stylish, we love Acne jeans. As for your token plaid shirt — if you haven't tried the super soft version by Paige Denim, you're missing out.
Ready to amp up your Canadiana style? Check out our top shopping picks here: