City Of Grande Prairie
A pro-life group is suing Grande Prairie, Alta. for the right to display graphic images of fetuses on bus ads.
The Calgary-based Canadian Centre for Bio-Ethical Reform (CCBER) submitted a banner ad to the city showing fetuses at different stages of development before an image of a smear of blood.
The caption reads, "Growing... Growing... Gone. Abortion kills children."
A city representative said the anti-choice group's ad was rejected because it did not meet its standards.
According to Grande Prairie's website, the city's advertising standards are in place "to protect the public from content that is reasonably deemed by the city to be immoral, vulgar, disreputable, misleading or offensive to the general public."
"In terms of vetting bus ads, we felt this one was inappropriate because the statement on there that abortion kills babies," Grande Prairie's lawyer Robert McVey told the Daily Herald Tribune.
He cited inaccuracies with the images and problems with the statement that "abortion kills children."
"We felt that potentially it was an attack on the women of Canada," said, adding that they have a right to this medical procedure.
"We wouldn't support an ad like that anymore than we'd support a flagrant attack on the anti-abortion group."
Freedom of expression
The anti-choice group behind the ad says Grande Prairie's actions have violated The Canadian Charter of Rights and Freedoms, noting Section 2 which guarantees freedom of expression.
In February, the group sued the City of Peterborough, Ont. for refusing to run its bus ads. The city relented and said the issue was a federal not a municipal one, the Peterborough Examiner reported.
Some Alberta parents outraged
Meanwhile, CCBER is under fire in Calgary, where some local parents are frustrated by disturbing postcards the group is leaving in mailboxes.
Jodi Rempel told CTV News on Wednesday that neighbourhood children were terrified after they came across mailouts with photos of a fetus and a Rwandan child's corpse.
"So our kids are grabbing these and seeing them and then running to us asking questions. Or, in one case, a father came home and his child was sitting at the table or something crying because he had found these images," Rempel said in an interview with the netowork.
Warning, the below photo is graphic and may be disturbing to some viewers.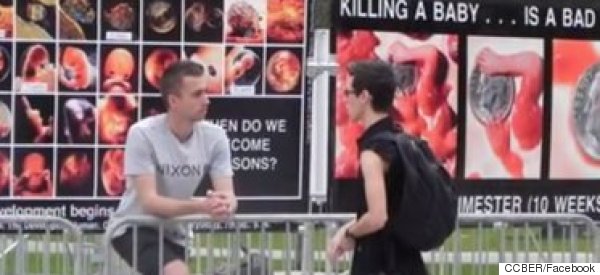 A CCBER volunteer talks with passerby in front of one of the group's displays. (Photo: CCBER/Facebook)
However, despite widespread criticism the group has no plans to change its marketing tactics.
"Overall the polling that we've done shows that when we show people what abortion looks like, they turn against it," said CCBER community outreach coordinator Alex vande Bruinhorst to Airdrie City View.
Also on HuffPost:
10 Myths About Abortion That Need To Be Busted