UPDATE, June 28, 9:51 p.m. ET: Three suspected Islamic State group suicide bombers targeted the international terminal of Istanbul's Ataturk Airport Tuesday, killing at least 36 people and wounding many others, Turkish officials said.
Turkish Prime Minister Binali Yildirim said 36 were dead as well as the three suicide bombers. Justice Minister Bekir Bozdag said 147 were wounded. Another senior government official told The Associated Press the death toll could climb much higher.
The senior official, who spoke on condition of anonymity in line with government protocol, at first said close to 50 people had already died, but later said that the figure was expected to rise to close to 50.
Yildirim said three suicide bombers were responsible for the attack and all initial indications suggest the Islamic State group was behind it
.
"The findings of our security forces point at the Daesh organization as the perpetrators of this terror attack," Yildirim told reporters at the airport, using the Arabic name for IS. "Even though the indications suggest Daesh, our investigations are continuing."
Yildirim said the attackers arrived at the airport in a taxi and blew themselves up after opening fire. Asked whether a fourth attacker might have escaped, he said authorities have no such assessment but are considering every possibility.
The victims included some foreigners, he said, adding that many of the wounded have minor injuries but others are more badly hurt.
ISTANBUL — Two explosions have rocked Istanbul's Ataturk airport, killing at least 10 people and wounding around 20 others, Turkey's justice minister and another official said Tuesday.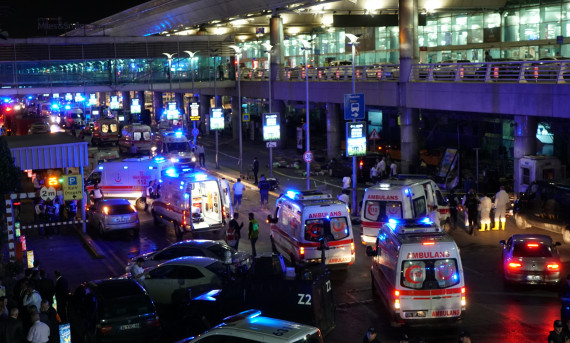 Security and ambulances block the road outside Turkey's largest airport, Istanbul Ataturk, after it was hit by a suicide bomb attack on June 28. (Photo: Mehmet Ali Poyraz/Getty Images)
Bekir Bozdag said that according to preliminary information, "a terrorist at the international terminal entrance first opened fire with a Kalashnikov and then blew himself up."
Another official said two attackers detonated explosives at the entrance of the international terminal after police fired at them.
The official, who spoke on condition of anonymity in line with government protocol, said he was citing information from the interior ministry. It wasn't immediately clear why his account of the number of attackers was different to the justice minister's.
The official said the attackers blew themselves up before entering the x-ray security check at the airport entrance.
Turkish airports have security checks at both at the entrance of terminal buildings and then later before entry to departure gates.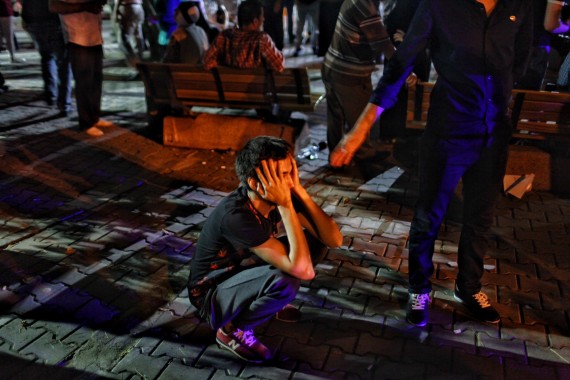 A relative of a victim waits dejectedly outside Bakirkoy Sadi Konuk Hospital in the early hours of June 29. (Photo: Defne Karadeniz/Getty Images)
Eye witness Ercan Ceyhan told CNN-Turk that he saw some 30 ambulances enter the airport.
The private DHA news agency said the wounded, among them police officers, were being transferred to Bakirkoy State Hospital.
Recent attacks in Turkey
Turkey has suffered several bombings in recent months linked to Kurdish or Islamic State group militants.
The bombings included two in Istanbul targeting tourists — which the authorities have blamed on the Islamic State group.
The attacks have increased in scale and frequency, scaring off tourists and hurting the economy, which relies heavily on tourism revenues.
Also on HuffPost
Istanbul airport explosions (June 28, 2016)