MISSISSAUGA, Ont. — One person is dead and nine others suffered minor injuries in an explosion that levelled one home and damaged at least two dozen others in Mississauga, Ont., west of Toronto.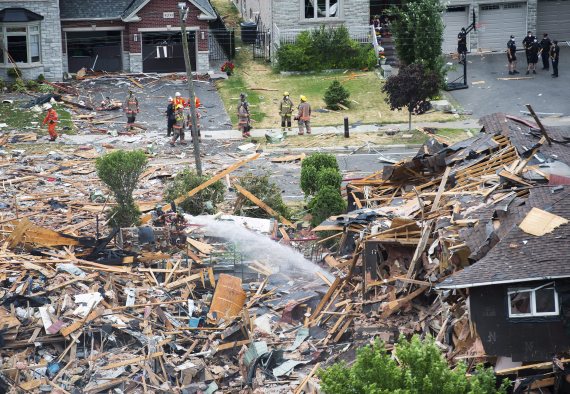 Firefighters and emergency personal work at the scene after a home explosion happened in Mississauga, Ont., June 28. (Photo: Nathan Denette/The Canadian Press)
A Peel paramedic spokesman said Tuesday night that a woman died at the scene and another official said nine people were treated for minor injuries, but none had to be taken to hospital.
One house was destroyed by the blast and neighbouring homes show heavy damage, with debris spread over a wide area.
Police officers set up a large perimeter around the destroyed home and went door-to-door evacuating nearby residences.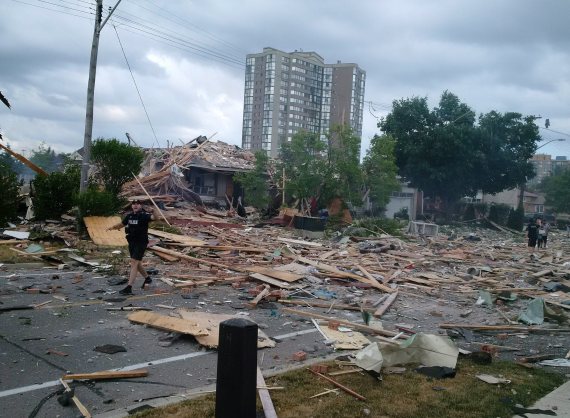 Debris litters a street after a house explosion in Mississauga, Ont., Tuesday, June 28. (Photo: Zeljko Zidaric/The Canadian Press)
Mississauga Mayor Bonnie Crombie says gas and water were shut off to 58 homes in the area and between 50 and 100 people have been evacuated.
Crombie says a reception centre was being set up at a nearby community centre, where they can be provided with anything they need, including medications.
"We're going to encourage all those residents to move into the Burnhamthorpe Community Centre," Crombie said. "It'll be the safest, most comfortable place for them, get them off the street."
She said any residents with friends or family in the neighbourhood were being urged to seek shelter with them as it "may last more than one night, we don't know yet."
"It may have been a blessing that it was 4:23 p.m. and not a little bit later when more people arrived home from work," Crombie said. "We're hoping and praying at this time that it's limited to the one fatality."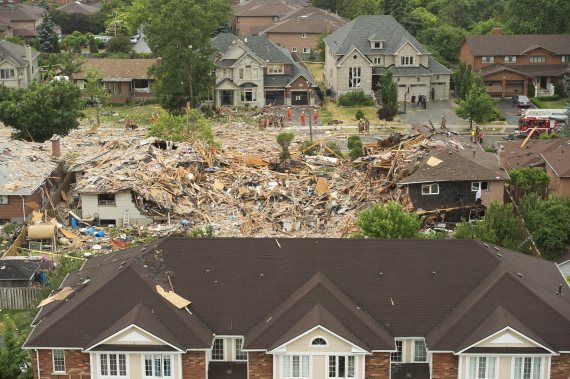 Police are evacuating homes in an area on Mississauga, Ont., as they investigate reports of a house explosion. (Photo: Nathan Denette/The Canadian Press)
Mississauga Fire Chief Tim Beckett told a news conference Tuesday evening that one house was severely damaged due to an explosion, but it was too early to know what caused the blast.
"We have approximately 24 other homes in the area that have damage that ranges from very light damage to extreme damage," Beckett said.
He said crews were working to stabilize the scene before they could begin investigating.
"We have a large debris field in the area … we've totally lost one home so you can just imagine," Beckett said, noting that it was too early to say what caused the blast.
Water, gas and electricity have been shut off to the houses in the affected area, he said.
"The area is safe in terms of any other concerns for public safety," Beckett said when asked if there was a possibility of another explosion.
Peel Regional Police Chief Jennifer Evans said she had no details about the person who was found dead following the explosion.
"We're in the very initial stages of the investigation," Evans said. "We have to determine if this is a criminal investigation or if this is an accident."
Also on HuffPost