Pride Month is wrapping up, but there are still Pride parades to attend in Canada. This year, it is more important than ever to come together, celebrate Pride and support the LGBTQ community. Make sure you are ready all the way to your finger tips with this rainbow ombré nail art design. It is easy to achieve and has some added glam.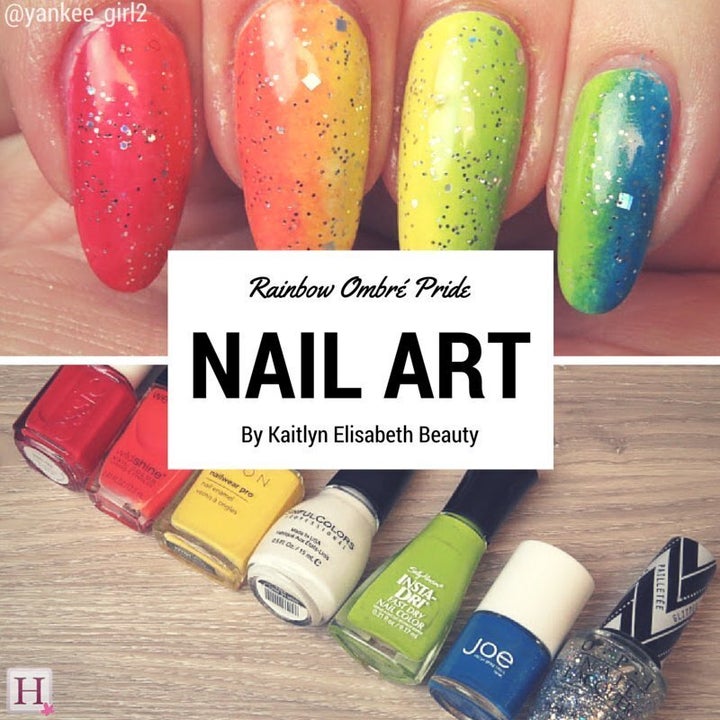 For this design, you will need all of the colours of the rainbow, a wedge makeup sponge, a white polish and a glitter polish.
1. To begin, apply a latex glue or regular white glue around your cuticles. This will help minimize the clean up after doing the ombré. Allow to dry.
2. Next, apply one coat of white polish. This does not have to be perfect by any means. It just helps the colours become more opaque and vibrant faster. Allow this to dry before starting the ombré.
3. For this design, you can fit two colours on each nail. It's easiest to start at one end of the rainbow, and then work across the nails. Cover half of the flat bottom of a wedge makeup sponge with red polish, and the other half with orange polish. Make sure the colours slightly overlap. Start sponging the colours onto your nails. Repeat this process until you reach the opacity you'd like.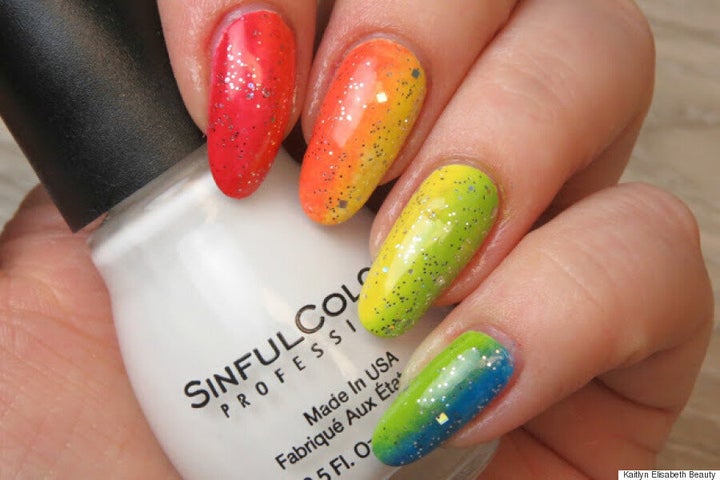 4. Next, take scissors and cut off the part of the sponge that has polish on it (or get a new sponge). Move on to the next colour combination, orange and yellow. Repeat this process until you have painted your nails with all of the colours of the rainbow.
5. Allow the polish to dry for a minute or two. While the ombré is drying, peel off the glue around your cuticles, or take a flat paintbrush and some nail polish remover to clean up around your nails. Apply a glitter nail polish afterwards, and allow to dry for one to two minutes.
6. Finally, apply a topcoat so that your design lasts through all of your Pride celebrations.
Polishes Used: Essie Happy Wife Happy Lift, Wet n Wild Nuclear War, Avon Sunshine, Sinful Colors Snow Me White, Sally Hansen Lickety-Split Lime, Joe Fresh Cobalt, and OPI In True Stefani Fashion.