Prime Minister Justin Trudeau says Canada will be a "strong and firm friend" to Mexico by advocating for human rights in the wake of deadly clashes between Mexican federal police and striking teachers.
Trudeau appeared alongside Mexican President Enrique Peña Nieto at a joint press conference in Ottawa Tuesday where he announced Canada will lift its visa restrictions against Mexican citizens before the year's end.
A Mexican reporter asked Peña Nieto about violence between police and members of a teachers union last week in the state of Oaxaca that killed eight people. The teachers were protesting controversial federal education reforms, including mandatory teacher evaluations, Reuters reports.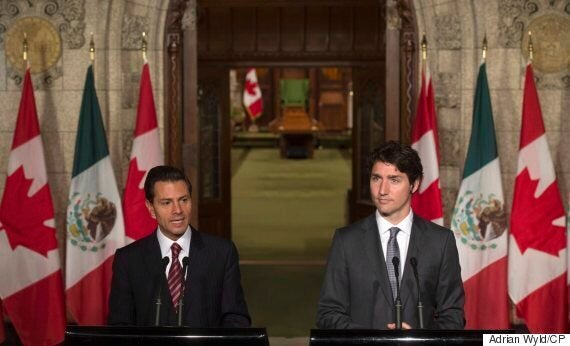 Prime Minister Justin Trudeau listens to Mexican President Enrique Peña Nieto respond to a question during a joint news conference on Parliament Hill in Ottawa, Tuesday, June 28, 2016. (Photo: Adrian Wyld/CP)
At the close of the press conference, Trudeau offered his own thoughts on the matter.
"As a teacher, I had a good conversation with the president on this, on the concerns around the troubling incidents but also the need to engage in constructive dialogue and ensure a strengthening of the rule of law," Trudeau said. "Canada, as always, will be a strong and firm friend and partner to Mexico as it deals with the outcome of these tragedies and these conflicts."
The prime minister said it was important to move toward a "greater respect" and defence of human rights.
"That's part of the things that friends work together on well," Trudeau said.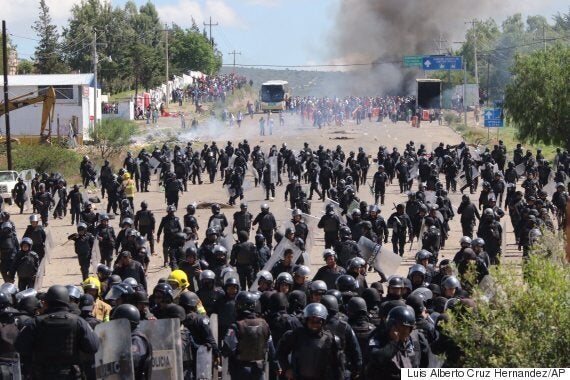 Riot police confront protesting teachers who were blocking a federal highway in the state of Oaxaca, near the town of Nochixtlan, Mexico, Sunday, June 19, 2016. (Photo: Luis Alberto Cruz Hernandez/AP)
According to a translator, Pena Nieto said his government has laid the table for the dialogue needed to diffuse the situation.
"I understand what teachers want but I don't think they're going about it the right way," he said. "I think they should be working to preserve the rule of law."
Pena Nieto said it was a "great shame" the demonstrations have gone beyond mere protest. He added that his government is open to dialogue to overcome issues.
Amnesty International and a group of female Mexican activists publicly called on Trudeau last week to put human rights at the forefront of the Three Amigos summit, including the reported disappearance of 27,000 Mexicans since the start of the country's war on drug cartels a decade ago.
'Mexico is massacring its citizens'
Ackerman says use of force has been "commonplace" since the start of Peña Nieto's administration in 2012, and the deaths of innocent activists makes the issue impossible to disregard.
"In the face of the silent complicity of the U.S. and Canadian governments, civil society in all three countries should use the opportunity of this week's summit to make their voices heard," Ackerman wrote.
"They should forcefully condemn the violent repression and democratic breakdown taking place in Mexico and reach out a helping hand to their brothers and sisters south of the Rio Grande."
With files from The Canadian Press