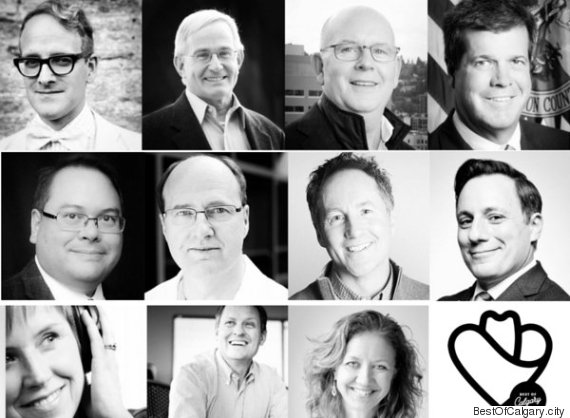 Photos of the panelists at the "inclusivity" -themed event, taken from the Best Of Calgary website. (Photos: Best Of Calgary)
A symposium held Wednesday to honour Calgary's best had what appeared to be only white and mostly male speakers discuss the theme of "inclusivity."
Calgarians spoke out on social media after Best Of Calgary announced its 2016 "Supposium" panel, which consisted of 11 white panelists — nine of whom were men.
@markchopkins—31% of Calgarians are visible minorities—should be better representation at an event discussing the 'best' #becausecalgary

— Janet Bwititi (@bwiTWEETi) June 29, 2016
Best Of Calgary is an initiative that recognizes the best local people and places in the city.
"I think if you are going to talk about diversity, about inclusiveness within our city, then we actually need to include the people we are talking about," said Iman Bukhari CEO of the Canadian Cultural Mosaic Foundation in an interview with The Huffington Post Alberta.
"This is just another example of the lack of inclusiveness within our city."
Many were also outraged at the high admission prices posted online for the single-day event — ranging between $169 and $369. Some noted high prices to be a factor that would that would limit "inclusivity" to Calgarians who could afford tickets.
@becausecalgary The ticket prices ($169.84 - $316.84) don't appear to reflect the "Inclusivity" theme :/

— horrorshow (@__horrorshow) April 18, 2016
The event invitation promised attendees that they would have the opportunity to "join a diverse, topical flow of conversation around this interesting issue [inclusivity] throughout the day."
"How do you plan to create a day for 'ideas, inspiration, change' when you have such little diversity of perspectives represented? Certainly not the Calgary I live in," wrote one critic of the event on Facebook.
"The definition of inclusiveness is asking everyone to take part... You really honestly cannot have this conversation without including them," Bukhari said.
Those who reached out to event organizers on social media to question the panel's lack of diversity did not receive responses.
.@becausecalgary what led to #bestofCalgary16 event w/ all white, 8/10 male speakers? #becausecalgary deserves more, #diversitymatters #yyc

— Yeah, What She Said (@YeahWhatSheSaid) June 15, 2016
A Best Of Calgary representative spoke with The Huffington Post Alberta on Thursday, and clarified that although it had been advertised as such online, the event was not intended to focus on "inclusivity."
The representative also noted that lower-pried tickets were available, although they were not advertised online.
Best Of Calgary shared a statement to Facebook in response to criticism about the panel.
Blocks away from the Calgary event on Tuesday afternoon, Bukhari hosted a documentary screening of "YYC Colours," a film she calls a "solution-based" approach to racism in Calgary.
One of those solutions is pretty simple, the diversity activist said.
"It can be as simple as talking to a person of colour and asking them if they've ever experienced racism," Bukhari said.
Also on HuffPost:
Quotes On Why Diversity In Fashion And Beauty Matters