A new poll suggests while Canadians are split on the direction of this country, many remain optimistic that its best days are ahead.
Angus Reid Institute released numbers Thursday, just ahead of Canada's 149th birthday, revealing a mixed bag when it comes to attitudes in this country.
While Canadians are deeply proud of many aspects of their nation, economic anxieties appear to be making a sizable number of people gloomy about the future.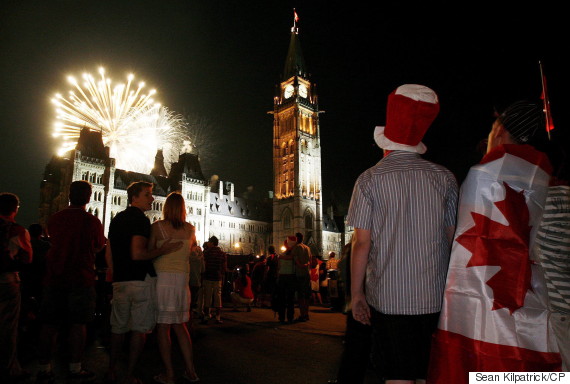 Fireworks explode over Parliament Hill during Canada Day celebrations on July 1, 2008. (Photo: Sean Kilpatrick/CP)
Forty-two per cent of Canadians said they were satisfied with the way things are going — while another 42 per cent said they were not.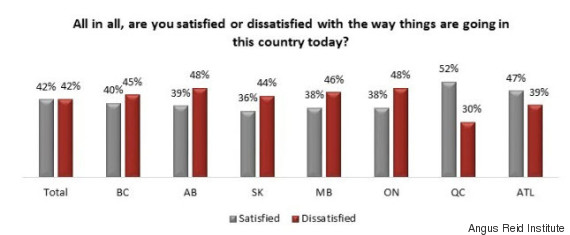 Albertans were the most likely to say they were unhappy with the nation's path — with 48 per cent expressing dissatisfaction. That figure goes head-to-head with the 39 per cent who felt the opposite.
Quebecers are the most content lot in Canada right now, the poll suggests, with 52 per cent saying they were satisfied compared to 30 per cent who are dissatisfied.
And it appears young Canadians are the most hopeful for the future. Forty-eight per cent of respondents between the ages of 18 to 34 feel satisfied with the way things are going, while those over the age of 35 were more likely to report dissatisfaction.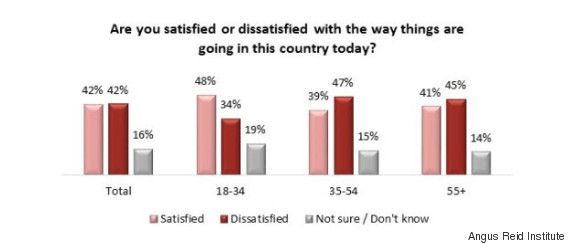 The uneasy state of the economy appears to be driving pessimism in some places, as roughly four-in-ten said economic prospects are worse now than they were 25 years ago. A slim majority — 52 per cent — said they believe future generations will be worse off than Canadians today.
'Golden age' of Canada comparisons
But when asked what decade has been Canada's "Golden Age," many expressed optimism. The largest number of respondents — 23 per cent — said Canada's best days are yet to come.
Seventeen per cent of Canadians picked the 1970s as a "Golden Age" and 14 per cent chose the 1960s — both periods of big changes ranging from the introduction of an official policy on multiculturalism, advancement of women's rights, and a greater focus on equality.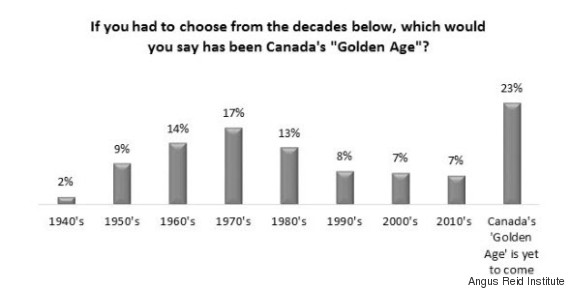 And, regardless of feelings about the future, 70 per cent of Canadians said they plan to celebrate their country's birthday on July 1 in some way. Fewer than two-in-five Quebecers, however, told the Angus Reid Institute they will mark the occasion.
The online poll was conducted between June 13 to 16 among a representative sample of 1,519 Canadian adults who are part of the Angus Reid Forum. It has a margin of error of three percentage points, 19 times out of 20.
ALSO ON HUFFPOST:
What Canada's PMs Have Said About Canada