Ottawa's controversial Saudi arms deal isn't a perfect fit for Prime Minister Justin Trudeau's mandate to revitalize the country's peacekeeping role in the world, and Canada's new representative on the United Nations' human rights committee knows it.
Vancouver-based lawyer Marcia Kran was elected to the 18-member committee last week — marking the first time in over a decade Canada has had a member on the high-profile UN group.
Trudeau celebrated Kran's election with a familiar catchphrase:
The Huffington Post asked the new UN committee member if it's inconsistent for Canada to be on a committee on human rights while the country she represents approved a $15-billion deal to sell military arms to Saudi Arabia.
Acknowledging the deal, the accomplished lawyer said in an interview that she thinks "all countries are developing countries when it comes to human rights," adding there's room for improvement in all nations.
"None of the independent experts that have been nominated for the committee come from countries with spotless or glowing human rights record. All countries have to improve. Some more than others."
Kran's election to the esteemed position adds an extra spring to the Liberals' step. It falls in line with the party's pledge to bring "real change" to Canada's international image and once again win a seat on the UN Security Council.
Real change under the Liberals has, of course, included the introduction of measures to undo controversial Conservative laws, including the so-called second-class citizenship bill and language requirements for immigrants. The new government has also committed to doubling funds to help developing countries tackle climate change.
But the controversial Saudi arms deal has repeatedly dogged Liberals in their first eight months in government.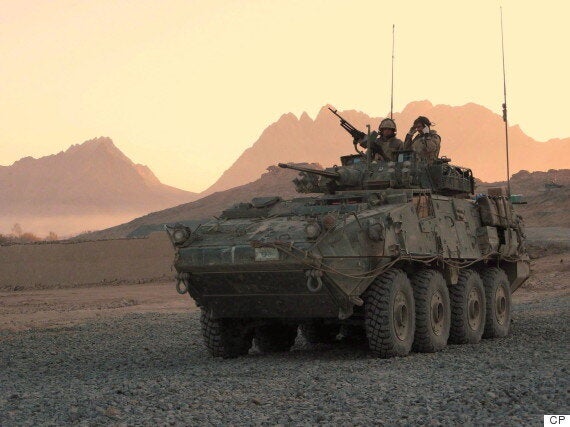 A Canadian LAV (light armoured vehicle) arrives to escort a convoy at a forward operating base near Panjwaii, Afghanistan at sunrise on Nov.26, 2006. (Photo: Bill Graveland/The Canadian Press)
Human rights advocates have been critical of the deal, urging the federal government to cancel it over the possibility the Canadian-made military vehicles may be used against Saudi Arabia citizens through various means of suppressing dissent.
Saudi Arabia has earned itself a reputation as a notorious violator of human rights. With strict codes of religious orthodoxy enforced by religious police — sometimes violently. The Al Saud family continue to rule the country under an absolute monarchy.
The Gulf nation has justified previous arms import deals as necessary to protect itself from so-called Islamic State militants and Iranian forces, Shia Muslim rivals.
An UN report released earlier this year accused the country of violating international law and indiscriminately executing "widespread and systematic" bombing campaigns that killed civilian targets in Yemen.
"We need to ensure that we are respected on the world stage by keeping our word."

— Justin Trudeau
Trudeau defended the controversial deal in April saying, "Fundamentally, this issue is a matter of principle. The principle at play here is that Canada's word needs to mean something in the international community"
Then in May, when pressed on the issue by NDP Leader Thomas Mulcair in a Commons debate, Trudeau said the government needs "to be able to project upon the world that when Canada agrees to something, it sticks to its word."
He finished his point by reiterating, "We need to ensure that we are respected on the world stage by keeping our word."
Recently, Saudi officials have intensified crackdowns on dissent perceived to violate the country's broad anti-terrorism laws.
18 "persons of high moral character"
Kran joins other newly elected members representing Israel, Egypt, South Africa, Latvia, Germany, Mauritania, Paraguay, and Portugal. They join member countries including France, Greece, Italy, Japan, Montenegro, Tunisia, Uganda, and the United States.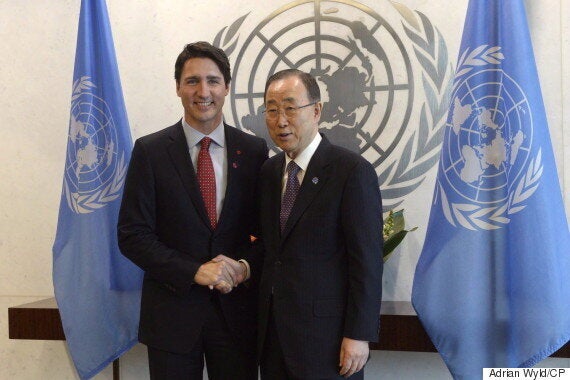 Prime Minister Justin Trudeau shakes hands with United Nations General Secretary Ban Ki-moon at the United Nations headquarters in New York on March 16, 2016. (Adrian Wyld/The Canadian Press)
Foreign Affairs Minister Stephane Dion nominated Kran back in March during a speech to the UN's Human Rights Council in Geneva. One of the advantages to Kran's candidacy was her previous work with the UN in Vienna and Geneva, she said.
Kran's election is "indicative of Canada's renewed commitment to human rights here and abroad, which has been warmly welcomed by the international community," Global Affairs spokesperson Rachna Mishra wrote in an email statement to HuffPost Canada.
She was elected to the position after winning the first of three possible ballot votes on June 23.
The human rights council is different from the committee. Saudi Arabia chairs the council, a separate entity from the committee where Kran sits.
Despite the baggage the Saudi arms deal may bring to Canada's place on the human rights committee, Kran said it's a good forum to bring these kinds of contentious issues forward.
All 18 members must be "persons of high moral character," according to the UN.
"This committee is a very good way of bringing knowledge of so many from different legal systems together to objectively point out what needs to be done in all countries including our own," Kran said.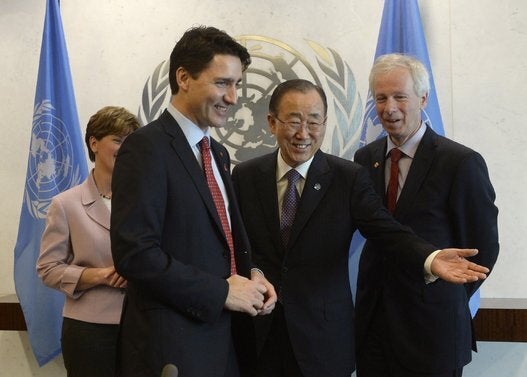 Trudeau At The United Nations