OTTAWA — The youngest daughter of a family of Syrian refugees bears the name Justine — a tribute, of sorts, to Prime Minister Justin Trudeau, who helped them find a new life after escaping civil war in their own country.
Raed Al Shibli and Maysaa Al Nayef moved to Saint-Hyacinthe, in Quebec's Montérégie region, with their six children in January as part of the federal government's refugee program. A seventh child was already on the way.
The baby girl was born on June 27 at 7:14 p.m., at Honoré-Mercier de Saint-Hyacinthe hospital.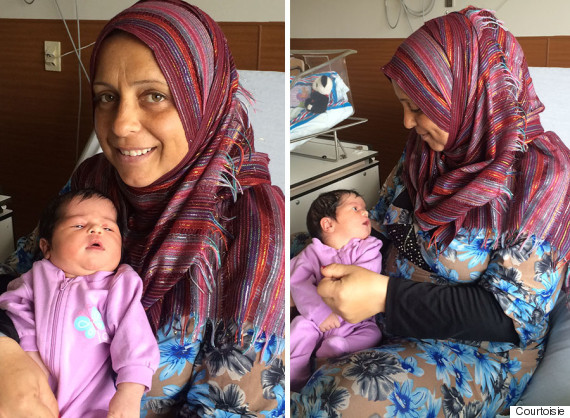 Justine in her mother's arms. (Photo: Supplied)
The name on her birth certificate reads Justine Al Shibli, a nod to the man who opened Canada to 25,000 Syrian refugees between Nov. 5, 2015 and Feb. 29. She is the only one among her siblings with a Canadian first name.
"It's our way of saying thank you to Prime Minister Justin Trudeau. He did a great thing by welcoming Syrian refugees when other countries refused them," mother Maysaa Al Nayef said through an interpreter.
While certain politicians prefer to close their countries' doors to refugees, U.S. President Barack Obama used his address to Canada's Parliament this week to deliver a message of peace and tolerance.
"Being Canadian and being American is not about what we look like or where our families came from, it is about our commitment to a common creed," he said, reminding his listeners that everyone in North America — except for indigenous populations — is, or was descended from immigrants.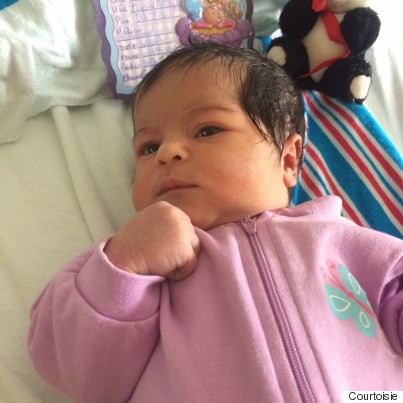 Justine Al Shibli. (Photo courtesy of Al Shibli family)
As Justine prepares to spend her first summer in her birth country, the Al Shibli family has a special message to send to Trudeau and all Canadians.
"Thank you so much, prime minister. We appreciate so much what you've done for us. You saved our lives. Every time we call our girl Justine, we'll remember that. She's so lucky to be able to grow up in a democratic country like Canada."
Special thanks to interpreter Nahla Hemissi
This story was translated from a French version on The Huffington Post Quebec.
Also on HuffPost:
Trudeau Greets Syrian Refugees