GASPE, Que. — Former Quebec deputy premier Nathalie Normandeau is innocent of the fraud charges she faces and needs money to cover her legal expenses, an ex-Liberal riding association president said Monday.
Fabrice Bourque and others from the Gaspe region have started a fundraising drive to pay for Normandeau's bills.
"For us, Ms. Normandeau is innocent," Bourque said. "She did what she did within her functions as a minister, with her discretionary power. She never took public money to enrich herself."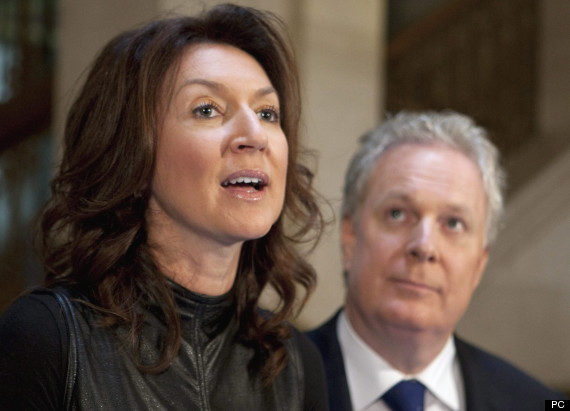 Quebec Deputy premier Nathalie Normandeau resigns as Quebec Premier Jean Charest looks on, on Sept. 6, 2011 in Quebec City. (Photo: Jacques Boissinot/Canadian Press)
Normandeau served as a Liberal member of the legislature for a riding on the Gaspe peninsula from 1998 to 2011 and held key cabinet positions as well as being deputy premier from 2007 to 2011.
She was one of seven people arrested in mid-March in a scheme in which political financing and gifts were allegedly exchanged for lucrative government contracts between 2000 and 2012.
Bourque, who was Normandeau's Liberal riding association president in Bonaventure for eight years, says he wants to collect a minimum of $300,000 to ensure the former politician has a "full and complete defence."
'Things aren't rosy for her'
All the money collected in excess of the cost of her legal fees will be given to a local non-profit group, he said.
After Normandeau left politics she co-hosted a popular talk radio show in Quebec City but was fired after her arrest.
Bourque said his ex-boss was "more or less warm to the idea" of the funding drive.
"We knew that Normandeau wasn't someone independently wealthy," he said. "Things aren't rosy for her."
ALSO ON HUFFPOST:
Least, Most Popular Premiers (May 2016)