One driver's decision to cut off a motorcyclist in Connecticut scored her Internet fame — and two decent-sized tickets to boot.
In a now-viral YouTube video filmed on June 28 by the man on the motorbike, the driver, who police identified to WFSB as Michelle Lynch, pulls up to the right of the motorcyclist as her lane is about to disappear and cuts him off.
The biker, David Bafumo, holds down his horn while he yells at Lynch.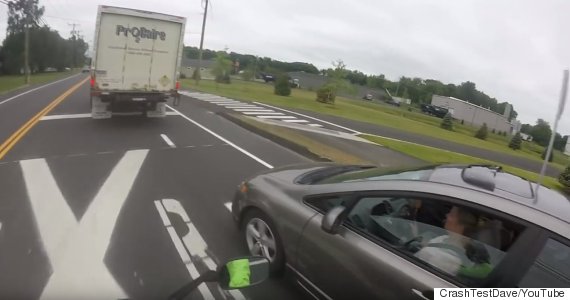 "I'm fucking right here, learn to fucking merge you dickhead," he says.
"It goes right, left, right, is that fucking hard to understand?"
Lynch appears to grin as she responds with a "yes."
He then edges in front of her as he reads aloud her license plate.
Spotting a police SUV in a parking lot up ahead, he waves to get the cop's attention and stops beside him.
"She tried to run me out of my lane at the merge," he tells the officer. "I have it on video."
The cop, Sgt. Mike Prescher of South Windsor Police, then tells Bafumo to follow him and pulls Lynch over, according to JournalInquirer.com.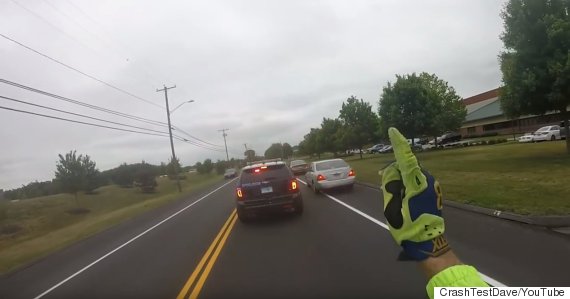 She was given two tickets, for passing on the right and making an unsafe lane change, the website reported.
WFSB said the infractions carry US$264 (C$343) in fines.
Footage of the encounter has racked up over four million views as of Tuesday.
Prescher told the Journal Inquirer while Lynch cooperated with police, she "was ultimately kind of indifferent" and that her account of the incident didn't match the video footage.
But while some may see the officer as a hero helping out a vulnerable biker, YouTube commenters were split on Bafumo's own reaction to Lynch's risky move.
"I won't take sides but you're both wrong," wrote Matthew Tran.
"Sure she made the mistake of (supposedly) running you off the road. But when you drive aggressively on your motorcycle and try to get ahead of her, you have already put yourself in a very bad position."
Who do you think was right and wrong in this situation? Let us know in the comments below.
Also on HuffPost
The Worst Drivers Of All Time