It's like Where's Waldo, but far more upsetting.
A lifeguard at the Whirlin' Waters Adventure Park in North Charleston, S.C., managed to spot a three-year-old girl drowning in the middle of a wave pool, among dozens of other swimmers.
In a video posted to YouTube by Lifeguard Rescue, the girl, in a bright pink bathing suit, slips out of her inner tube only to disappear under the water and reappear at the surface, flailing and splashing.
Even though there are several other patrons obscuring his view, the lifeguard notices the child in less than ten seconds.
He blows his whistle and jumps in the pool to pull her to the side.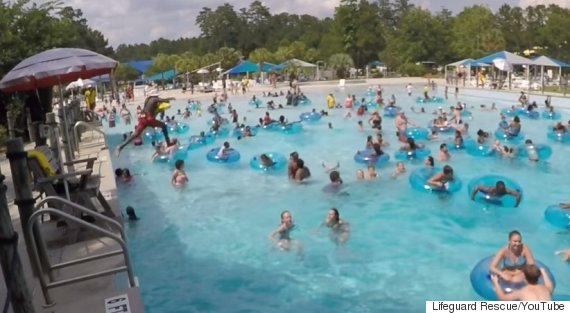 In a comment on YouTube, the guard wrote that he had to walk around with the three-year-old to find her family, who had no idea she was gone.
"I have been doing this for 18 years and I am still amazed by the lack of supervision some kids get around the water," he wrote.
He clearly has keen eyes, but this isn't the first impressive rescue the park's employees have pulled off.
The Lifeguard Rescue channel is filled with dozens of other videos of Whirlin' Waters lifeguards rescuing pool patrons, like this one of a guard jumping in to save a small boy who had fallen out of his inner tube and begun to drown.
"All of the videos I post on my YouTube channel are real scenarios that occur in the wave pool over the course of a day. Nothing is faked or set up," manager Kevin Rowlands told ABC News last year.
"I started taking them for training purposes and now people all over the world see them for lifeguard training sessions."
Rowlands told WCIV back in 2012 that he decided to install a camera beside the pool after he couldn't find any videos of real rescues online.
The Red Cross says that drowning is one of the leading causes of accidental death for Canadian kids aged one to four. A child can slip under the water in seconds, and it only takes enough water to cover their mouth and nose for one to drown.
The organization also says that small children are at highest risk for near drownings — for every death, there are about four or five incidents where the child lives but is sent to the hospital and may have brain damage.
The Red Cross recommends adults always supervise their children around water and that non-swimmers wear lifejackets.
You can watch video of the rescue above.
Also on HuffPost
15 Children's Health Studies All Parents Should Read