A 12-year-old in Texas is in big trouble after she led police on a speedy chase in her grandmother's car during rush hour.
A judge in Conroe ruled Tuesday that the girl will remain in juvenile custody for 10 days. Police said they spotted her driving the vehicle with her five-year-old sister in the passenger seat on June 30, according to Click2Houston.
She didn't stop for police and led them on a lengthy chase through traffic. One of the pursuing cop cars reached a speed of 202 km/h, Montgomery County Attorney J.D. Lambright told the outlet, and still couldn't catch up.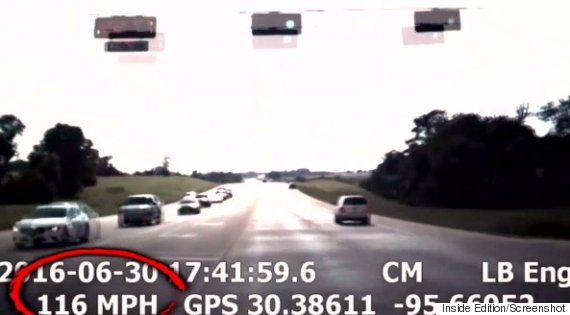 A still from police dash cam video shows the speed of a pursuing police car.
According to ABC13, the girls' grandmother had called 911 after she noticed they and the car were missing, worried they'd been kidnapped.
The vehicle's OnStar system helped officials track it.
The girl hit two other vehicles and ran red lights during the pursuit, according to Fox4. In police dash cam video, the car can be seen on the wrong side of the road, barely managing to squeeze past two cars travelling the opposite way.
"I am amazed no one was killed or seriously injured."
The chase ended when OnStar took control of the vehicle, slowed it to about 97 km/h and stopped it at a high school.
Click2Houston reports that a police source told them the girl wanted to visit her boyfriend.
But he may not see too much of her for awhile — the outlet said she has been charged with theft of property over $30,000, and more charges are coming.
Lambright told ABC13 he was stunned by her recklessness.
"I am amazed no one was killed or seriously injured," he said.
You can see the crazy footage in the video above.
Also on HuffPost
The Worst Drivers Of All Time