OTTAWA — The Liberal government is launching yet another round of consultations with industry to find a new fighter jet for Canada.
Defence Minister Harjit Sajjan announced the approach on Wednesday, as he told industry representatives that only about half of Canada's existing CF-18 fighter jets are capable of flying at any given time.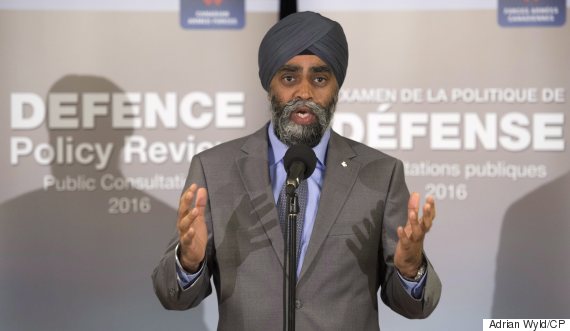 Defence Minister Harjit Sajjan speaks during a news conference in Ottawa, Wednesday July 6, 2016. (Photo: Adrian Wyld/CP)
Sajjan says the government will sit down with fighter jet companies to determine what their aircraft will cost, what economic benefits they can offer Canada and how fast they can deliver.
The minister emphasized the need for speed, warning that Canada can't currently meet its commitments to both NATO and North American defence.
The previous Conservative government launched a similar round of consultations with industry several years ago, when it pushed pause on plans to buy the F-35 stealth fighter.
The results of those consultations, which included a review by an independent panel of experts, were largely favourable to the F-35 — which the Liberals promised during the last election they wouldn't buy.
ALSO ON HUFFPOST:
Current MPs With Military Experience (2016)