Hey Internet trolls, Ashley Graham has no time for you or your unwanted, cruel opinions.
The 28-year-old size sexy model hit back at her haters in a powerful, body positive Instagram post on Wednesday, in which she shared a totally gorgeous series of unedited photos of herself in a long-sleeved, black sheer swimsuit.
"Someone once told me my thighs were 'cellulite city.' But I now realize these thighs tell a story of victory and courage," Graham wrote. "I will not let others dictate what they think my body should look like for their own comfort, and neither should you. #beautybeyondsize #effyourbeautystandards."
Yeah, eff your beauty standards, troll!
And this isn't the first time the Sports Illustrated Swim star has dealt with critics going after her size. In a recent interview with People magazine, Graham told the tale of an agency telling her to drop some pounds.
"I had agencies telling me that I had to lose weight," the Addition Elle lingerie designer told the magazine. "I had one that waved money in my face and said, 'If you lose more pounds you can make a lot more of this,' and he was waving $20 bills in my face."
Ashley refused to do that. Instead, she gained more weight in order to avoid being an "in-betweener" in the "plus-size industry."
"He was trying to encourage me to lose weight but it didn't work, because I was that person where if you told me to go on a diet and lose weight, I'm just going to gain weight."
The top model has managed to overcome the negativity surrounding her by changing her outlook on life.
"A lot of taking care of my body and my mind and my soul had to do with talking to myself and actually giving myself affirmations," she told People. "It got me out of my funk. I still had cellulite, I still had back fat, I still had jiggly arms, and I decided to love every part of it."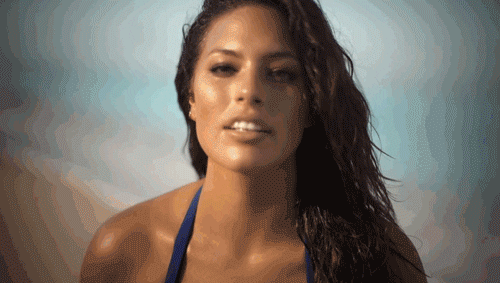 And we love every part of you, Ashley. Never change who you are!
Follow Huffington Post Canada Style on Pinterest, Facebook and Twitter!
Also on HuffPost