The family of a University of Toronto student detained in Bangladesh is appealing to the federal government for help.
Tahmid Khan was rescued, along with 12 other hostages, from a violent attack on a Dhaka cafe on July 1, according to CBC News. The Islamic State has claimed responsibility for the siege, which killed 20 people and two police officers.
Khan has been detained ever since and is being interrogated on suspicion of having involvement in the attack, according to the National Post.
'Limited' options
His family sent a letter to Foreign Affairs Minister Stephane Dion, asking him to extend consular services for Khan.
But a spokesman told the broadcaster because Khan is a permanent resident, and not a Canadian citizen, there are "limits" to what the ministry can do to help him.
Marlys Edwardh, a lawyer who wrote the letter to Dion, told CBC News that Khan's lack of citizenship does not exclude the government from offering consular assistance.
"It really depends on whether the Bangladesh government will extend that courtesy," she said.
Khan's cousin Rasheek Irtisam told The Canadian Press he's worried Bangladeshi authorities will present a case against him.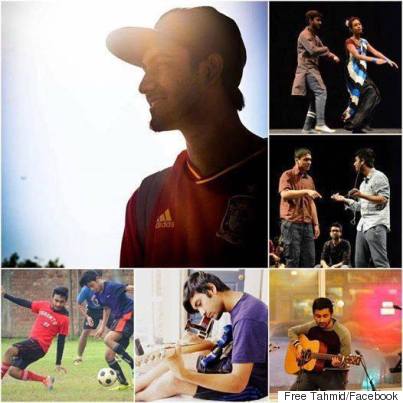 A collection of photos of Khan posted to a Facebook group called Free Tahmid. (Photo: Free Tahmid/Facebook)
If that happens, "it will take years" for the case to go through the system, he said.
Khan's family is worried authorities may think he's linked to those behind the attack.
"We are thinking that he's being interrogated because he's of the same age group as other terrorists, so we think they might think he has a link," said Irtisam. "He was definitely not involved."
Supporters recently launched a Facebook group called Free Tahmid to push for his release.
"The only thing right now that can stop the tears of his mother is the safe return of her son," the group's info page states.
"How can we let his mother go through such agony as she is constantly blaming herself that she inadvertently brought this upon her son by making him come home? Can't we do anything to soothe her agony?"
With files from The Canadian Press
Also On HuffPost:
Bangladeshi Factory Survivors