A study of rodeo bulls at the Calgary Stampede has found that few show signs of fear or distress before a rodeo performance.
The study, conducted by animal welfare experts at the University of Calgary and co-authored by renowned agriculture expert Temple Grandin, was the first ever to study the emotional state of bucking bulls.
Researchers followed 14 bulls over a two-year period and charted their emotional states, looking for different types of behaviour that signalled stress or fear.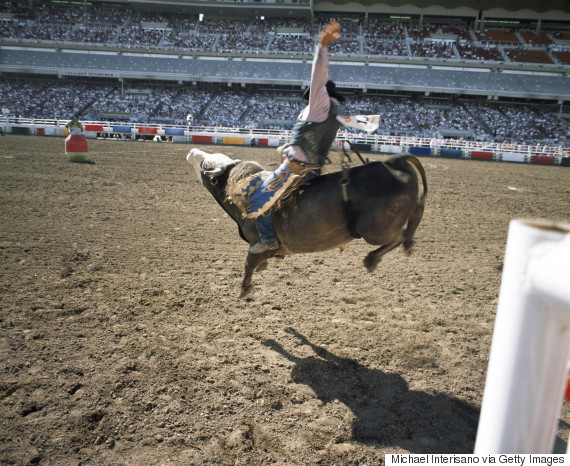 A bull rider does his best to hang on at the Calgary Stampede. (Photo: Gettystock)
The bulls, who spent an average of 36 minutes in the chute before entering the arena, were mostly calm. Seventy per cent did not show any behaviours associated with aggression or wanting to escape, according to the study.
Bulls that did show those signs were mostly irritated by human behaviour. Researchers said that finding could help improve the bulls' experience before they head into the arena.
The Calgary Stampede has faced criticisms regarding animal welfare over the years. An FAQ page about animal welfare on the organization's website says bucking animals are not coerced into throwing riders off — rather, the bull's natural inclination to shake off a rider is encouraged.
Ed Pajor, the study's author, says his research is an important step to understanding the bulls' perspective.
"People argue all the time about whether animals should be used for these types of activities," Pajor told the University of Calgary's UToday.
"That's not what this research is about. This research is about if we are going to use animals in rodeos, we have a responsibility to try to do it in the most humane way possible."
He told 630 CHED that his findings have been shared with the Calgary Stampede.
Also on HuffPost: