A protest at this year's Toronto Pride Parade led by Black Lives Matter has rattled the public and the aftermath has people questioning if Pride is the right place to stage a protest.
Black Lives Matter Toronto, the community organization chosen to lead the 2016 Pride Parade, halted the march and refused to continue until Pride organizers met their demands.
Their list was focused on making Pride celebrations more accessible and inclusive to black, brown and indigenous LGBT communities.
After 25 minutes, Toronto Pride's executive director, Mathieu Chantelois, signed the demands, and the revellers were on their way again. (In a CP24 interview, however, Chantelois later backtracked and said Black Lives Matter's demands, particularly about excluding police floats from future parades, would be open to discussion.)
But a number of community members were peeved at the demonstration.
In the days that followed, organizers said they were flooded with hate mail from people who disagreed with their demands and tactics.
Among other criticisms, many have said that the parade was not the time, nor the place, for a protest.
However, the majority of LGBT Prides around the world were born out of protests. Queer activists took to the streets defiantly, demanding fair treatment, rather than as part of an organized street festival.
Here's what one of the original organizers of Pride has to say about @BLM_TO. #PrideIsPolitical pic.twitter.com/jz2YC5kC2k

— Amneezy (@amneetbali) July 6, 2016
Some took to Twitter posting the hashtag #PrideIsPolitical to remind critics about the origins of the parade.
One of Toronto Pride's original founders commended Black Lives Matter for "recapturing Pride's activist roots" in a CBC interview.
Here's a look at the issues that fueled some of today's most well attended Pride celebrations:
New York
The Stonewall Inn, a prominent gay bar in Greenwich Village, was raided by police officers in the early morning hours on June 28, 1969. At the time, raids were common, but on this night, patrons and bystanders fought back physically.
Marsha P. Johnson, a well-known black drag queen, is credited as one of the people who sparked the resistance, after she threw a shot glass at a mirror and called out, "I got my civil rights!"
Another woman who was being arrested and shoved into a police car looked at the crowd and said, "Why don't you guys do something!"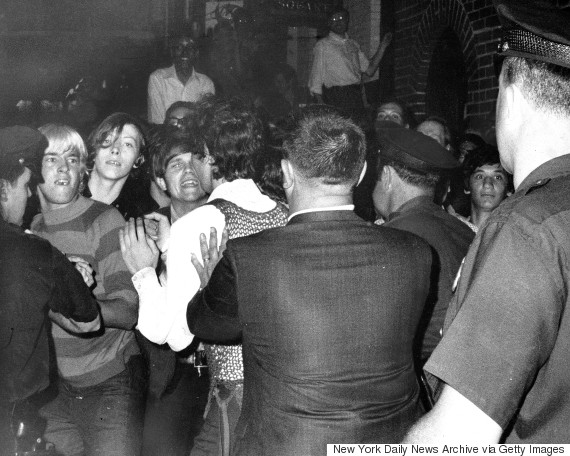 Stonewall Inn nightclub raid. Crowd attempts to impede police arrests outside the Stonewall Inn on Christopher Street in Greenwich Village. (Photo by NY Daily News Archive via Getty Images)
Hundreds rioted that night, and it continued over the next six days with more action in the streets and more clashes with the police.
The following year on the anniversary of the raid, the Christopher Street Liberation Day March was organized, and is widely considered the first gay pride event in New York.
Solidarity marches were organized around the world including San Francisco, Los Angeles, Sydney, London and Stockholm.
Currently, New York's Pride events are called marches and not parades to pay respect to these roots, the managing director of NYC Pride, Chris Frederick, told Mashable.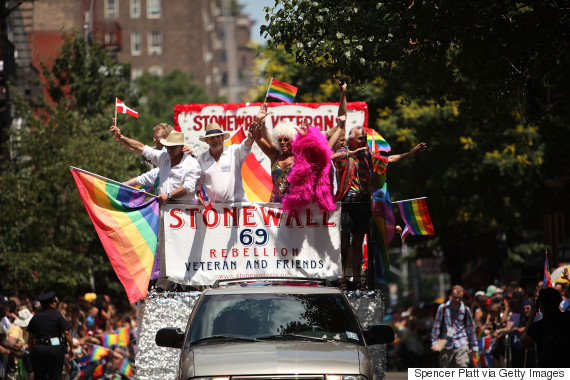 NEW YORK - JUNE 28: A float commemorates the 40th anniversary of the Stonewall riots.
Philadelphia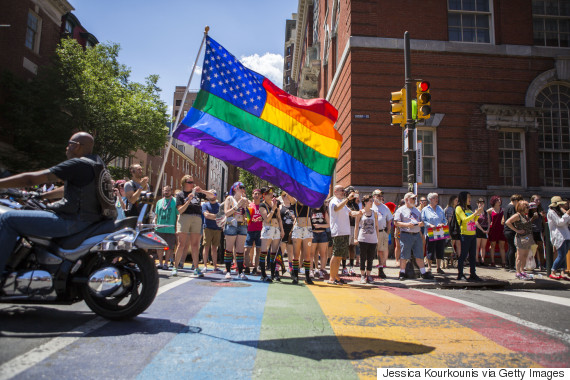 PHILADELPHIA, PA - JUNE 12: Participants of the 2016 Pride Parade march through downtown on June 12, 2016 in Philadelphia, Pennsylvania. The mood was celebratory despite news of the mass shooting this morning in a gay club in Orlando, Florida. (Photo by Jessica Kourkounis/Getty Images)
Before Stonewall, starting in 1965 every Fourth of July, homophilic groups would lead pickets called "Annual Reminders" at Independence Hall in Philadelphia, where U.S. independence was declared.
These demonstrations were to remind U.S. citizens that the LGBT community did not have the same civil rights as straight citizens.
After Stonewall, the organizers decided to expand and helped plan the city's first gay liberation parade.
Toronto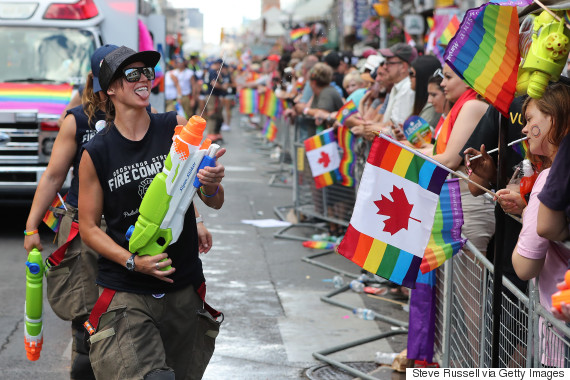 TORONTO, ON- JULY 3 - Fire Fighters spray the crowd during the the 2016 Toronto Pride parade along Yonge Street in Toronto. July 3, 2016. (Steve Russell/Toronto Star via Getty Images)
The catalyst for Toronto's Pride events was the Bathhouse Raids that occurred on Feb. 5, 1981. Police stormed four gay bathhouses in the city as part of what they called "Operation Soap," and arrested just under 300 men. For the majority, charges were later dropped or dismissed.
Rallies were held in response to the injustice and it was these mass protests that evolved into the first Toronto Pride celebration that was officially recognized by the city.
To this day, "Operation Soap" is one of the largest mass arrests in Canada and it was only 35 years later in 2016 that Toronto's police chief formally apologized for the raids.
Edmonton
Similar to Toronto, on May 30, 1981, police conducted a raid on Pisces Health Spa, an Edmonton gay bathhouse, and arrested 56 men.
Edmonton City As Museum Project writes that this raid empowered Edmonton's LGBT community and led to them to become more visible and less tolerant of this sort of infringement on civil liberties.
Pride parades became a regular feature in Edmonton in the 1990s.
South Africa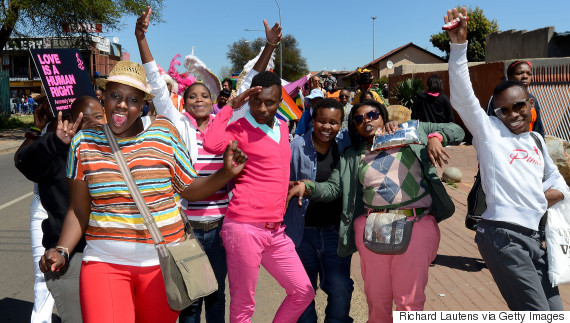 Three hundred participants came out to the 8th annual Soweto Gay Pride Parade. This parade would have been unheard of 20 years ago. In addition to people being openly gay in public, there was also a small number of white gays and lesbians mixing with their black counterparts.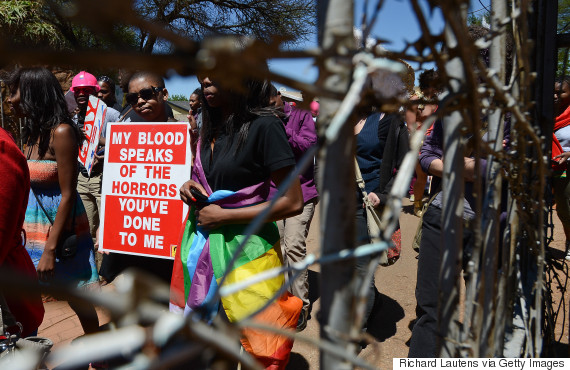 South Africa was the first country in Africa to host a Pride parade in 1990. There was some disagreement among organizers about the intent of the parade, but most recently, committees have reaffirmed that the parades are meant to advocate against LGBT hate crimes. Despite being the fifth country in the world to legalize gay marriage, social stigma and violence are still prominent.
India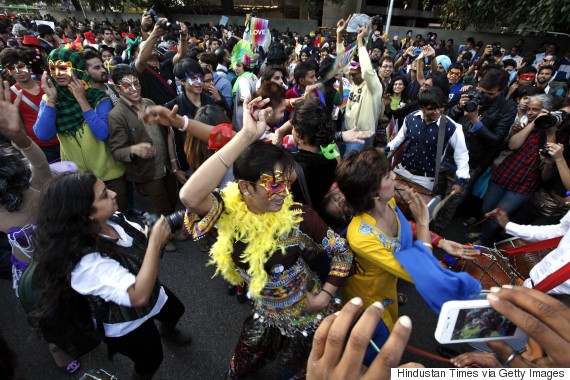 NOVEMBER 30: Indian members and supporters of the Lesbian, Gay, Bisexual, and Transgender (LGBT) Community hold placards and dances during a Gay Pride Parade, on November 30, 2014 in New Delhi, India. Nearly a thousand gay rights activists marched to demand an end to discrimination against gays in India's deeply conservative society. (Photo by Arun Sharma/Hindustan Times via Getty Images)
In 2014, homosexuality was re-criminalized in India but LGBT activists still held a pride parade in New Delhi, as they had in previous years. Organizers and marchers told the Independent that they were there to help change attitudes and make the broader community realize they exist. However, this year, the Supreme Court agreed to reconsider the decision.
Also on HuffPost
21 Facts About LGBT Pride You Probably Didn't Know