Prince George has already led an illustrious life. How many adults can say they've met Obama in a bathrobe or have their face on a stamp?
Now, the world's most powerful toddler can add piloting a fighter jet off to his list of milestones.
Just last month, George was mesmerized with airplanes flying over his grandmother's 90th birthday bash.
The royal family must have noticed his fascination. On a recent trip to the Royal Air Force Air Tattoo Show in Gloucestershire, Prince William and Duchess Kate brought their son along. The air show appearance was Prince George's first public engagement in the United Kingdom.
The Duke and Duchess of Cambridge and Prince George arrive @airtattoo #RIAT2016 pic.twitter.com/Ppujy4Q8vj

— Kensington Palace (@KensingtonRoyal) July 8, 2016
But with the whizzing jets and buzzing motors, the Duke and Duchess of Cambridge soon had a cranky prince on their hands.
What a cutie! Prince George didn't seem too sure about the noise at the Royal International Air Tattoo today 💙 pic.twitter.com/Dmh42tbkKk

— Lorraine on ITV (@ITVLorraine) July 8, 2016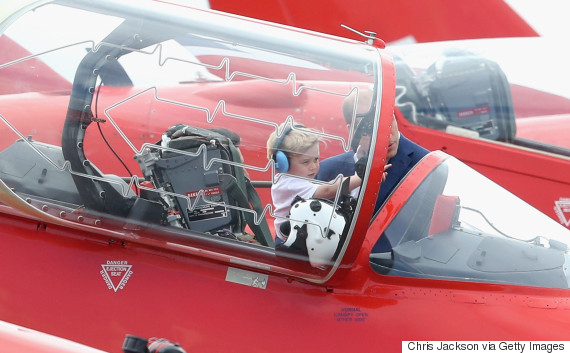 Luckily, it was nothing noise-blocking ear protectors couldn't fix.
Prince George is 100% ready to listen to your problems. pic.twitter.com/qKXHiPPTiu

— Stats Britain (@StatsBritain) July 8, 2016
The young royal then found himself in a Royal Air Force (RAF) Red Arrow Hawk fighter jet, handling the aircraft along with his equally aviation-obsessed father.
Prince George takes a seat in a @rafredarrows Red Arrow Hawk #RIAT2016 pic.twitter.com/YlxsorDawE

— Kensington Palace (@KensingtonRoyal) July 8, 2016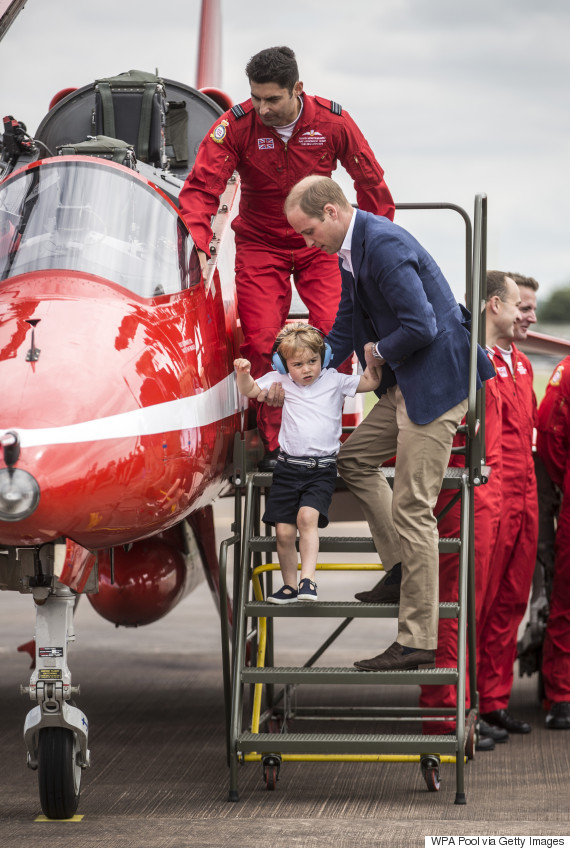 George also clambered into the cockpit of a Squirrel Helicopter -- the same helicopter his father and Prince Harry had trained in when they were stationed in RAF Shawbury in 2009.
George's airplane fascination clearly runs in the family.
Plane cute! Like father, like son...Prince William in 1986 and Prince George in 2016 taking a ride on a helicopter. pic.twitter.com/YjTXsRZRHc

— TODAY (@TODAYshow) July 8, 2016
The Duke of Cambridge, whose training has dubbed him "Flight Lieutenant William Wales," must have taught his son a thing or two from his time at flight school.
"He [Prince George] knew what that was called and kept saying, 'tail rotor.' It was good to see his technical knowledge! Some training going on early!" Flight Lieutenant Jim Hobkirk told People.
Hobkirk told Daily Mail that Prince William said he was jealous that Hobkirk still got to fly.
"The Duke said he missed flying, he wishes he could fly more and he said he was envious of me," Hobkirk said.
As for Prince George, his flying days might be on the horizon.
Air Commodore Dawn McCafferty told the Daily Mail that George was invited to join the cadets in 10 years' time.
Also on HuffPost
All The Times Prince George Proved He Was Two