Toronto Fashion Week's abrupt cancellation Thursday has left many in Canada's fashion industry reeling with disappointment, but the news isn't unexpected.
Although the fashion week was the second largest in North America, Toronto Fashion Week (TFW) was pulled because organizers say there was no local funding to keep it sustainable. Up until 2015, World MasterCard was a major sponsor of TFW.
The Insider Perspective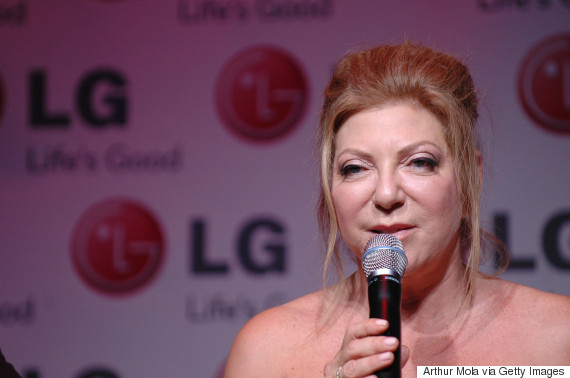 Toronto Fashion Week founder Robin Kay. (Photo: Getty/Arthur Mola)
Robin Kay originally founded TFW. When TFW was sold to IMG, Kay says she believed IMG's experience managing fashion weeks internationally would prove to be an asset in taking it to the next level. Instead, the event remained stagnant.
"The week had not evolved over the last four years, while fashion consumption and consumer demand has changed greatly," Kay told HuffPost Canada Style in an email. "Not unlike the Canadian film industry, unless we support our own artists, it simply becomes impossible to sustain."
Glen Baxter, a former host of CTV's InFashion, was saddened by yet another fashion week upheaval, referencing Montreal Fashion Week's merge with the city's Fashion + Design Festival in 2013.
"First Montreal, now Toronto...this is a huge blow to the Canadian fashion industry, not only for our designers, but also for the many models who gain valuable experience on that catwalk," Baxter wrote in an email to HuffPost Canada Style, adding that he hoped a "passionate Canadian hand" would take the hand of a future TFW.
Fashion writer Sabrina Maddeaux told HuffPost Canada Style calling off TFW was a huge setback for the community.
"Toronto Fashion Week is the biggest fashion showcase in the country and is responsible for introducing many emerging designers to consumers, media and stylists," she said.
"This is a huge blow to the Canadian fashion industry, not only for our designers, but also for the many models who gain valuable experience on that catwalk." — Glen Baxter
Madison Schill, a former model-turned-writer, told HuffPost Canada Style the cancellation wasn't a surprise, and TFW itself was more media circus than an incubator for emerging talent.
"We consistently held Toronto Fashion Week too late in the season to allow for buyers to truly react and attach themselves to a label, so at a point, the shows simply became a platform for social media advertising and general industry networking," Schill wrote in an email to HuffPost Canada Style.
"The spectacle of a fashion show naturally attracts those who love to be seen, but without the presence of strong power players to take our work seriously beyond the week's festivities, we find Instagram likes and comments championing over real and enduring economic growth."
Sponsors 'Shocked' By Cancellation
According to a spokesperson for Maybelline New York — a major sponsor of TFW for recurring years — the company did not see the announcement coming.
"While we are shocked by the news, we feel that there are many opportunities to continue to support Canadian fashion and translate the beauty trends from catwalk to sidewalk for the consumer," Genevieve Ringuet, Integrated Communications Manager from Maybelline New York and essie Canada, said in a statement to HuffPost Canada Style.
Jack Ingraham, the general manager of Redken Canada, Toronto Fashion Week's official hair sponsor, says the brand is "excited about the future of fashion in Canada and what's to come."
The Designer POV
Designer Sebastian Guarin had previously designed his clothing line, Atelier Guarin, for the Mercedes-Benz start-up competition, which was co-sponsored by IMG World.
Winning the competition came with a $30,000 bursary and a runway show in Toronto. An IMG representative told CBC the organization will no longer be sponsoring the competition.

Once Guarin heard the news about TFW, he knew all the months of planning he had put into a debut on this year's runways would be wasted.
"This shakes up my own plans, and also many other designers working on their collections.... we need to find new solutions to making a bigger impact on the world with Canadian Fashion," Guarin told told HuffPost Canada Style. "I hope this gets resolved and we don't just end Toronto Fashion Week forever."
Designer Som Kong debuted his clothing line at TFW 2015. In a Facebook post, Kong paid tribute to TFW with a picture of him with model Winnie Harlow.
For Kong, TFW was a financial setback, but one that he learned from.
"After showcasing my collection, my gut knew something was off," Kong wrote in his post. "TFW did not guarantee any form of financial return, if anything it had put me in hot waters. And I am so thankful for that because I will never forget through those tough experiences and challenges."
Why Did Fashion Week Fold?
Style and beauty blogger Justine Iaboni says that everyone in Toronto's fashion industry is to blame for the cancellation.
"We can't point fingers, we need to look inward and really ask: What am I doing for the industry? How can I make a difference? It's time," Iaboni told HuffPost Canada Style.
"At the end of the day I can't say that this wasn't in the foreseeable future. It was bound to happen sooner or later ... It's analogous to what's happening to the Canadian fashion industry. If we keep shitting on it and looking for instant gratification, and only celebrating designers who make it abroad, eventually the entire system will crumble."
Some believed the cancellation signaled a lack of passion for local fashion.
IMG pulling out of Toronto Fashion Week says alot about the fashion business in Toronto

— Nickesha McFarlane (@hionfashion) July 8, 2016
Toronto Fashion Week cancelled; with Montreal Fashion Week and Ottawa's now dead, fashion in Canada is on life support #Fashionweek #Toronto

— JamesCummins (@JamesCummins) July 7, 2016
IMG Called Out For Lack Of Support
Since 2012, TFW has been run by IMG Canada — its parent company, IMG World, manages fashion weeks internationally in New York, Sydney, and Tokyo. IMG took on the reins after non-profit organization Fashion Council of Canada sold TFW to IMG World after producing it for 13 years.
Twitter users have voiced criticisms of how IMG Canada ran the fashion week.
Truthfully? I'm not surprised. Where was the international support IMG promised? Where was the legit coverage? What did we benefit? Not much

— Christopher Turner (@Turnstylin) July 7, 2016
IMG never cared about Canadian fashion. Never cared about the designers. They only care about raking in sponsorship $$$. #TFW

— Sabrina Maddeaux (@SabrinaMaddeaux) July 7, 2016
IMG has quit Toronto Fashion Week. They were about as 'good' for Canadian industry as private equity investors.https://t.co/KI73Uj9S7O

— Nathalie Atkinson (@NathAt) July 7, 2016
What's Next For Toronto's Fashion Scene?
Fashion Magazine editor-in-chief Bernadette Morra seemed optimistic about the news, and took to Twitter to call for more organizations to run their own local fashion programming.
IMG pulls the plug on Toronto Fashion Week. But this opens the door for others. I'm talking 'bout you @FSNCollections

— Bernadette Morra (@BernadetteMorra) July 7, 2016
Others also believe the cancellation could be a blessing in disguise ...
Toronto Fashion Week needs a leader with the right vision to execute a world-class event as well as compassion for the local industry #TFW

— Daniel Carman (@DCRainbowJeans) July 8, 2016
Sad to hear that IMG is quitting Toronto Fashion Week. Seen so many versions of this event over the years & no doubt more to come.

— Lisa Tant (@LisaTant) July 7, 2016
Stylist Talia Brown is hopeful that Toronto's fashion scene can band together and propel Canadian fashion forward in another way.
"We need to find any and all the ways we can support or local talent. Canada is ready to make a mark in the world of fashion. There are so many talented designers," Brown told HuffPost Canada Style. "If designers are giving the right tools to succeeded they will do so."
For Kay, TFW's demise could be an improvement for local industry.
I know it is inevitable from every viewpoint for a new event to be built for this vital contributor of [fashion] culture and commerce in our own country," Kay said. "We are in a massive fashion disruption and the timing is perfect for an event that we all benefit from. "
Also on HuffPost