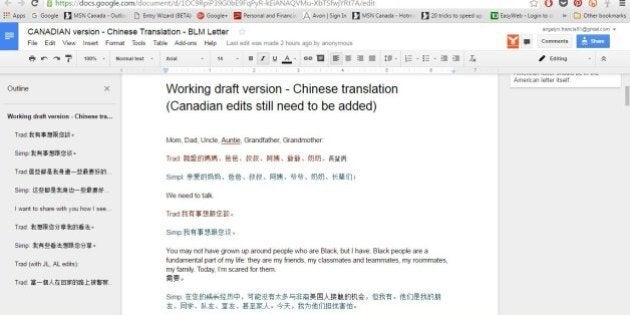 "Dear Mom, Dad, Uncle, Auntie, Grandfather, Grandmother: We need to talk."
In somewhat of a role reversal, second-generation Asian-Americans are trying to start a conversation with their elders about Black Lives Matter.
After two black men in the United States, Alton Sterling and Philando Castile, were killed by police officers, Christina Xu called on herself and other Asian-Americans to be proactive about addressing these tragedies with their families.
Xu proposed the idea of a letter on Twitter to help with what is sometimes a difficult conversation about the Black Lives Matter movement, especially with elder immigrants who speak a language other than English primarily.
She opened a Google Doc and more Asian-Americans joined in to add, edit and translate the letter into other languages, including Vietnamese, Korean, Hindi, Arabic and Farsi.
"You may or may not have had Black neighbours, friends, co-workers, here as well as back 'home.' Black people are a part of my life: they are my friends, classmates, teammates, roommates, partners, and my family," the letter begins. "Today, I'm scared for them and have been for a while."
For this version, contributors edited some of the language and examples to relate more to issues that have happened north of the border.
Ren Ito, one of the Canadian letter's co-writers, tells The Huffington Post Canada that they decided to make a Canadian version because they "recognize that anti-black racism isn't just an American issue" but it's not often talked about.
Using this letter as a conversation starter, Ito says they hope counter explicit racism they see in their communities, but also encourage their families to speak up about anti-black racism, rather than staying silent.
Some who have already shared the message with their parents have received positive reactions.
Translations for both the Canadian and American versions of the English letter are still ongoing with 29 versions in the works.
Organizers are still looking for help with translations from anyone looking to contribute.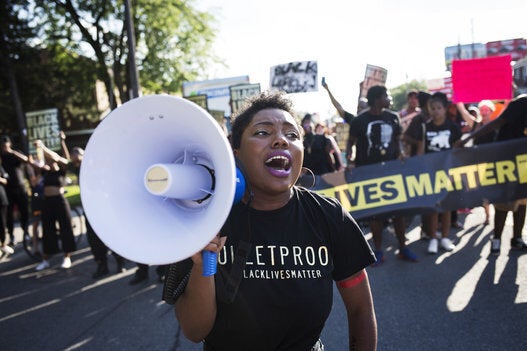 Black Lives Matter Toronto