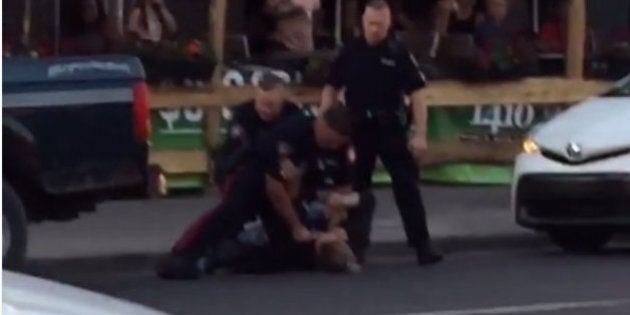 Calgary Police Service responded to a viral online video Saturday showing an aggressive takedown by three officers. But a witness says the police explanation doesn't match up.
The altercation happened Friday evening outside of a restaurant a few kilometres away from the Calgary Stampede grounds.
In the video of the arrest, one officer pulls the suspect to the ground and begins punching him in the head while two officers hold the man's feet and legs down.
The video was posted on Instagram by a user named jk00ks.
CPS did not confirm the video under review is the one posted to Instagram.
According to the statement, the officers were doing ID checks at bars and restaurants in the area when a road rage incident between a driver and a pedestrian caught their attention.
Police say they were aggressively approached by the man in question, and he refused to co-operate when asked for ID.
The unnamed man was issued a ticket for stunting for unsafe driving and has since been released after his arrest, according to the police.
Different account of what happened
According to that person, prior to what is shown in the video, three pedestrians crossed the street and cut off the man driving his truck, who pulled over and started yelling at them.
The suspect, seemingly oblivious to what has happening, walked about 10 steps before being tackled to the ground, the witness told the broadcaster.