SAINT-DENIS, France — The Latest from the European Championship (all times local):
___
11:32
Portugal wins the 2016 European Championship, after substitute Eder scored in extra time to give his team a 1-0 win over France.
Eder's long-range shot that beat the despairing dive of France captain Hugo Lloris has sealed a first ever major tournament win for Portugal, beating the hosts despite losing captain Cristiano Ronaldo to a first-half injury.
Eder shook off Laurent Koscielny and fired a low, right-foot shot to break French hearts in the 109th minute after the match at the Stade de France had ended level at 0-0 after 90 minutes.
Ronaldo was taken off on a stretcher off in the 25th minute after he failed to recover from a heavy challenge by France's attacking midfielder Dimitri Payet. He returned to sit on the bench, his left knee bandaged, and limped onto the pitch to encourage his teammates at the start of both periods of extra time.
___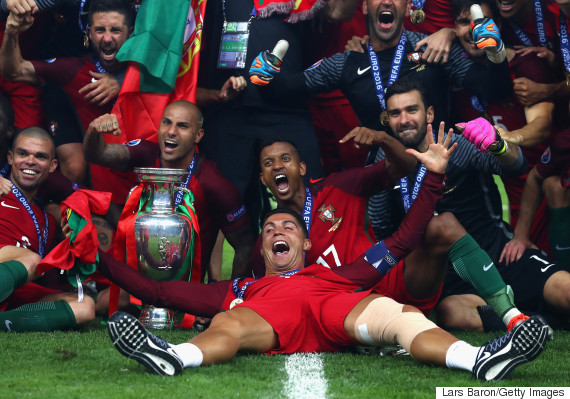 The Portugese soccer team celebrates their UEFA European Football Championship win with trophy on Sunday in Paris. (Photo: Kai Pfaffenbach/Reuters)
10:21 p.m.
Eder has finally broken the deadlock in the 109th minute of the final, giving Portugal a 1-0 lead over France when he cut inside from the left, brushed off a challenge by Laurent Koscielny and fired a low shot into the bottom corner from 20 metres.
Injured teammate Cristiano Ronaldo came off the Portugal bench to congratulate the Lille midfielder.
___
11:18 p.m.
GOAL: Eder scores for Portugal in the 109th minute. Portugal leads France 1-0.
___
11:12 p.m.
The stalemate between France and Portugal has continued through the first period of extra time in the final, with the scores still locked at 0-0.
Portugal captain Cristiano Ronaldo, his left knee strapped, limped onto the pitch at the end of the match to gee up his teammates, hugging players before making his way back to the bench, but his team looked happy to take the match to penalties.
William Carvalho snuffed out a promising French attack in the 97th minute by bringing down Kingsley Coman, earning a yellow card from referee Mark Clattenburg.
The best chance of the half to fell to Portugal's Eder, with his close-range effort being saved by Hugo Lloris following a corner.
___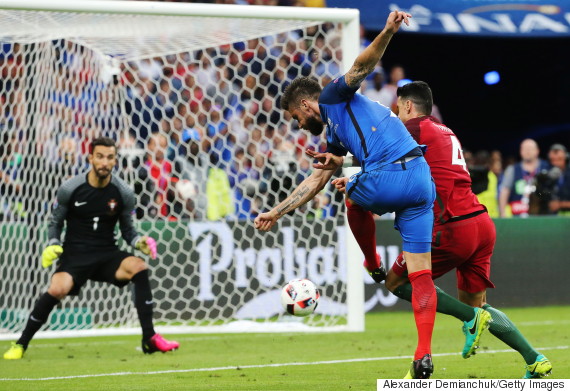 Portugal's goalkeeper Rui Patricio, Jose Fonte defend against France's Olivier Giroud in their 2016 UEFA European Football Championship final match at Stade de France. (Photo: Alexander Demianchuk\TASS via Getty Images)
10:51 p.m.
France and Portugal will play extra time after their European Championship final ended 0-0 after 90 minutes.
Despite Portugal captain Cristiano Ronaldo being carried off on a stretcher in the first half, Didier Deschamps' team couldn't find a way through the Portugal defence and its standout goalkeeper Rui Patricio.
France's Antoine Griezmann has so far failed to add to his tournament-leading six goals and was guilty of a bad miss in the second half when he headed over from close range after a cross from the left by substitute Kingsley Coman.
Portugal rarely threatened and it wasn't until the 80th minute that France captain Hugo Lloris was called upon to make his first saves, blocking a cross by Nani and then a spectacular effort on the rebound by Ronaldo's replacement, Ricardo Quaresma.
France's best player, Moussa Sissoko unleashed a powerful long-range drive in the 84th minute, but Rui Patricio again got down well to block the shot.
France's best chance came in stoppage time when substitute Andre-Pierre Gignac hit the post.
Ronaldo left the match in the 25th minute after he failed to recover from Dimitri Payet clattering into his left knee.
___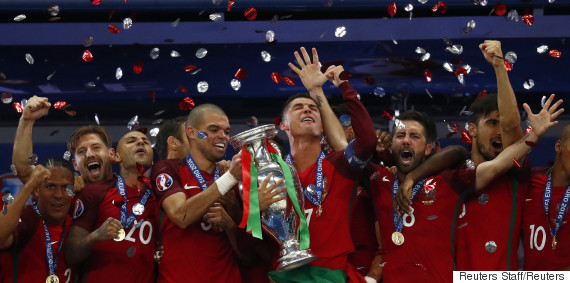 Portugal's Cristiano Ronaldo celebrates with team mates after winning the 2016 UEFA European Football Championship. (Photo: Kai Pfaffenbach/Reuters)
10:35 p.m.
France has squandered two clear chances in the second half of its European Championship final against Portugal and the match is still locked at 0-0.
Tournament top scorer Antoine Griezmann missed probably the clearest chance of the final in the 66th minute when he shook off defender Raphael Guerreiro in the penalty area and leapt to meet a cross from the left by Kingsley Coman, but could not keep his header down and saw it fly over the bar.
A few minutes later, Olivier Giroud then saw his powerful shot saved by Portugal goalkeeper Rui Patricio, who is on outstanding form.
___
10:20 p.m.
The second half has begun with host France still dominant and pushing for the opening goal, but Portugal, even without its injured captain Cristiano Ronaldo, occasionally looking dangerous on the counterattack.
With the scores still locked at 0-0 in the 58th minute, Didier Deschamps brought off Dimitri Payet, whose foul in the first half ended Ronaldo's match, and brought on Kingsley Coman in an attempt to inject more pace on the flank.
France failed to mount a serious challenge on Rui Patricio's goal early in the half, with Paul Pogba's long-range effort sailing harmlessly over the bar and Antoine Griezmann's shot from the left easily saved by the Portugal goalkeeper.
A fan ran onto the pitch early in the second half. The man, who was wearaing a white shirt, was quickly tackled by stewards and dragged off the ground.
___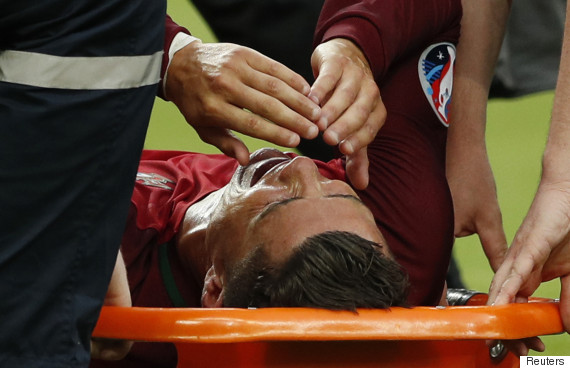 Portugal's Cristiano Ronaldo is taken off the field on a stretcher during the 2016 UEFA European Football Championship in France on Sunday. (Photo: John Sibley/Reuters)
9:50 p.m.
After Portugal captain Cristiano Ronaldo was carried off on a stretcher in the 25th minute of the European Championship final, France and Portugal were drawing 0-0 at halftime.
Ronaldo injured his left knee after France midfielder Dimitri Payet clattered into him near the halfway line in the seventh minute. After treatment, the Real Madrid star tried to play on, but even with his knee bandaged he eventually sat down and called to be substituted.
France dominated early and Antoine Griezmann came close to adding to his tournament-leading six goals with a looping header that Rui Patricio athletically tipped over his bar.
France midfielder Moussa Sissoko was a constant threat with powerful runs from the midfield. He came close to breaking the deadlock in the 34th minute when he cleverly turned Portugal defender Adrien Silva and shot powerfully, but Rui Patricio got down well to his right to block the effort.
___
9:35 p.m.
Paris police report there have been clashes with young troublemakers underneath the Eiffel Tower and that police have used tear gas to disperse them.
The clashes happened about 100 metres from a huge fan zone and giant screen relaying the final of the European Championship between France and Portugal.
There only appeared to be a few dozen troublemakers, who seemed to want to break into the fan zone, which contains about 80,000 people watching the game.
Some garbage was set alight in the street under the massive tower, which dominates the Paris landscape.
___
9:30 p.m.
Cristiano Ronaldo leaves the match on a stretcher in the 25th minute and is replaced by Ricardo Quaresma. The Portugal captain was taken off after handing his armband to Nani.
Ronaldo had briefly left the pitch in tears at the Stade de France, minutes after a clumsy challenge by Dimitri Payet left him screaming in pain and clutching his left knee.
Portugal medical staff bandaged their captain's knee on the sideline and he returned to the game for a few minutes, but was unable to continue.
___
9:15 p.m.
France has dominated the first 15 minutes of the final against Portugal, with tournament top scorer Antoine Griezmann sending in a looping header that forced an athletic diving save from Rui Patricio.
Despite France pressing forward early, Nani had the first serious shot on goal in the fourth minute, running onto a long pass by Cedris Soares but firing over Hugo Lloris' goal.
But after that it was all France.
Moussa Sissoko blazed a volley a long way over the bar in the sixth minute and a minute later Griezmann fired wide after more good work by Sissoko put him clear behind the Portugal defence.
Portugal then faced a major setback when captain Cristiano Ronaldo fell to the ground screaming in pain and clutching his left knee after a clumsy challenge by Dimitri Payet near the halfway line.
___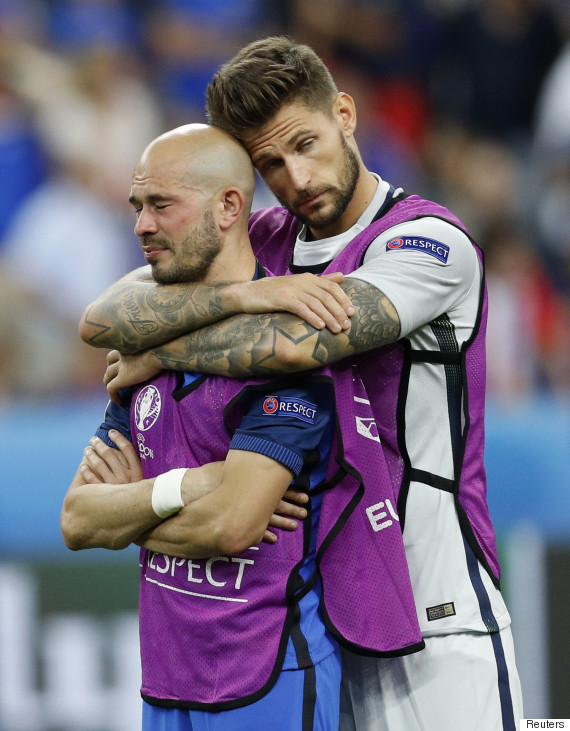 France's Christophe Jallet and France's Benoit Costil react at the end of the 2016 UEFA European Football Championship game on Sunday. (Photo: Darren Staples/Reuters)
9:05 p.m.
Nani has kicked off the final of the European Championship for Portugal against France at the Stade de France. Nani beat Olivier Giroud before passing the ball backward.
Portugal quickly lost possession and France opened its home final on the attack.
Portugal keeper Rui Patricio is defending the goal in front of the largest section of Portugal supporters.
Barely four minutes later, Nani had the first scoring chance of the match when he collected a long ball forward and fired his shot over the top.
___
8:50 p.m.
Spanish midfielder Xavi Hernandez has brought the European Championship trophy onto the pitch at the Stade de France, holding it aloft four years after Spain won the cup in Kyiv, Ukraine, by beating Italy 4-0.
Xavi lofted the silverware alongside a giant inflatable version of the cup in the centre circle that subsequently towered over French DJ David Guetta during the match's opening ceremony.
Earlier, French and Portuguese fans around the stadium joined forces for the "Huh'' Viking chant that Iceland made famous at the tournament.
Both sets of fans clapped their hands, rhythmically building to a crescendo of applause as their teams continued their warmups.
___
8:30 p.m.
The official team sheet handed out by UEFA for Sunday night's European Championship final contained a surprise weather forecast.
At the bottom of the sheet, under the lists of players, UEFA wrote: "Weather conditions: Snow.'' Temperatures, it added, would be a far-from-freezing 28 degrees Celsius (81 Fahrenheit) with humidity at 38 per cent.
The only blizzard in sight at the Stade de France in Saint-Denis was the huge swarm of moths that descended on the playing surface.
___
8:15 p.m.
France captain Hugo Lloris has run onto the pitch at the Stade de France to begin his pre-match warmup ahead of the final against Portugal.
Lloris was greeted by a wall of French tricolour flags behind his goal as he took to the field with his team's two reserve goalkeepers, Steve Mandanda and Benoit Costil.
Next onto the Stade de France pitch was Portugal goalkeeper Rui Patricio and his two understudies, Anthony Lopes and Eduardo.
The French goalkeepers were followed a few minutes later by the rest of the team, who jogged onto the pitch to a rousing chorus of "Allez Les Bleus'' from flag waving French fans at both ends of the stadium. The players ran to the fans massed behind Lloris's goal and applauded them.
Last to arrive for their warmup were the Portugal players, led out by captain Cristiano Ronaldo, who also led his players in applauding the Portugal supporters.
___
8:05 p.m.
Clouds of moths in the Stade de France are bugging players and officials ahead of the final.
In 28-degree (82 Fahrenheit) heat in the stadium, the moths are at field level and dozens of birds are circling about the roof.
Referee Mark Clattenburg of England was seen swiping at the moths as he tested the goal-line technology equipment at each end of the pitch before the France vs. Portugal game.
France coach Didier Deschamps stayed on the field only briefly with members of his staff 90 minutes before the kickoff
Members of UEFA's executive committee, including former Croatia forward Davor Suker, were also flapping their hands at the insects as they posed for a team photograph near the entrance to the players' tunnel.
Stadium staff with vacuum cleaners were gathering up moths in each of the technical areas in front of the dugouts.
___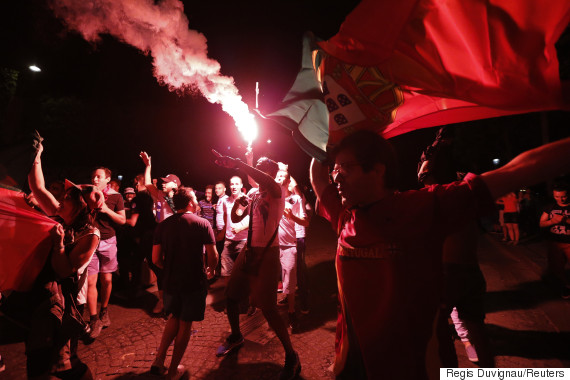 Portugal fans react on the Champs-Elysees after their team beat France in the 2016 UEFA European Football Championship Paris on Sunday. (Photo: Regis Duvignau/Reuters)
7:55 p.m.
Key central defender Pepe and holding midfielder William Carvalho return to the Portugal side to face France.
Pepe sat out the semifinal against Wales with a thigh muscle injury, while Carvalho missed it through suspension. Pepe replaces Bruno Alves, while Carvalho comes in for Danilo in a 4-1-3-2 and will sit in front of the back four.
Cristiano Ronaldo spearheads the attack.
France coach Didier Deschamps has kept the same side that beat Germany 2-0 in the semifinals.
Moussa Sissoko lines up on the right of midfield in a 4-2-3-1 formation, with the tournament's six-goal top scorer Antoine Griezmann playing just behind centre forward Olivier Giroud.
Attacking midfielder Dimitri Payet keeps his place wide left, despite a poor game against Germany, while Paul Pogba and Blaise Matuidi will anchor the central midfield.
Centre half Samuel Umtiti makes just his third international appearance and lines up alongside Laurent Koscielny.
___
7:45 p.m.
Here are the lineups for the final between Portugal and France at Stade de France:
Portugal: Rui Patricio, Cedric Soares, Jose Fonte, Pepe, Raphael Guerreiro, William Carvalho, Joao Mario, Renato Sanches, Adrien Silva, Nani, Cristiano Ronaldo.
France: Hugo Lloris, Bacary Sagna, Samuel Umtiti, Laurent Koscielny, Patrice Evra, Paul Pogba, Blaise Matuidi, Moussa Sissoko, Antoine Griezmann, Dimitri Payet, Olivier Giroud.
___
6:55 p.m.
Mark Clattenburg, who will referee the final, has paid tribute to the behaviour of players at the tournament, saying their desire ``to get on with the game'' has made matches more entertaining and easier to referee.
"There have been a lot of positive comments across the footballing world about the standard of refereeing at the final tournament,'' Clattenburg said in an interview with UEFA's website. "There's always room for improvement, but the behaviour of the players has been fantastic - on the whole, the players have just got on with the match.''
Clattenburg said advance contact with teams had paid dividends. "There's been no dissent, no mobbing of the referee. It's been a wonderful sight to see.''
He said UEFA's Referees Committee had sent match officials to see each team before the tournament, listening to them and explaining what would happen during games.
___
5:55 p.m.
France or Portugal will top the European Championship prize money table with at least 25 million euros ($27.6 million) from UEFA.
UEFA created a prize fund of 301 million euros ($333 million) for football federations from the 24 competing countries.
All get a basic 8 million euros ($8.8 million), plus results bonuses from group-stage games — 1 million euros ($1.1 million) for a win and 500,000 euros ($550,000) for a draw — then payments on a rising scale for each knockout round.
France has already earned 18.5 million euros ($20.4 million) and can add 8 million euros ($8.8 million) more for winning the final on Sunday. The runner-up gets 5 million euros ($5.5 million) more.
Portugal currently has 17.5 million euros ($19.3 million).
Players should get bonuses totalling several millions from the prize money.
Germany — which got $35 million from FIFA for winning the 2014 World Cup — added 18.5 million euros ($20.5 million) from UEFA for reaching the semifinals.
Euro 2016 surprise teams Wales and Iceland go home with, respectively, 18 million euros ($19.9 million) and 14 million euros ($15.5 million).
Ukraine, the only team to lose all three group games, received the least amount of 8 million euros ($8.8 million).
Also on HuffPost
10 Most Valuable Soccer Teams In The World