Parti Québécois leadership hopeful, and one-time spokesman for the party's controversial secular charter, Jean-François Lisée has taken one of his fellow candidates to task for having wished Muslims a Happy Eid.
Eid al-Fitr is the Muslim holiday that marks the end of the holy month of Ramadan. Alexandre Cloutier, considered by many to be the front-runner in the race, took to his Twitter feed the day after, offering his "best wishes to all Quebec Muslims."
That prompted criticism from several internet users, who asked if Cloutier had done the same for Easter. At that point Lisée joined the conversation.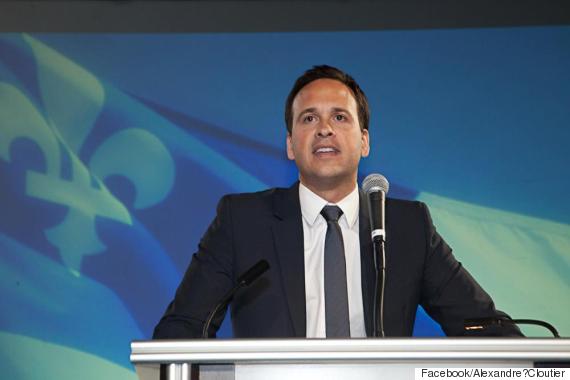 Alexandre Cloutier, shown here in a Facebook photo, has been criticized for a Happy Eid message. (Photo: Facebook)
"With all due respect for liberty of religion, I've asked myself the same question. And what about a day for celebrating atheists?" Lisée tweeted.
Cloutier, in an interview with Radio-Canada, said he was surprised by Lisée's response to his tweet.
"It was only a message of openness filled with good faith," Cloutier said. "Myself from the Catholic religion, I offer my Christmas wishes. I record them in the National Assembly."
Lisée did not respond to an interview request from Radio-Canada.
All quiet on the identity front?
Identity issues have not been a central feature of the PQ leadership race thus far, in contrast to the short-lived minority PQ government that tabled the secularism charter in 2013.
The charter would have prevented Quebec's public sector employees from wearing religious clothing and symbols at work.
Both Cloutier and Lisée had cabinet positions in that government. But Lisée, alongside Democratic Institutions Minister Bernard Drainville, was commonly tasked with defending the charter in public.
The two notably co-authored a letter to the New York Times vaunting its merits.
During his current leadership campaign, Lisée has reiterated the need to secularize Quebec's public service. He has also speculated the province's immigration threshold is too high.
He has called too for a "cultural alignment" with immigrants in the province. It would outline core Quebec values that newcomers would be expected to adopt.
Cloutier, for his part, distanced himself from the charter after the PQ lost the 2014 election, though he also calls for state neutrality to be maintained.
The new PQ leader will be announced Oct. 7.
ALSO ON HUFFPOST:
Least, Most Popular Premiers (May 2016)