Residents living near the site of a blast that rocked Mississauga less than two weeks ago say aggressive door-to-door salespeople are trying to capitalize on the disaster to push home-energy products to an already fearful and vulnerable neighbourhood.
Roman Stasiw lives just blocks away from the explosion that killed two people and left several homes in the area severely damaged. He told CBC News he was having dinner with his family last Tuesday when a young man with a clipboard knocked at his door, saying he represented an energy company whose name Stasiw didn't recognize.
"He starts bringing up the incident, the explosion that happened a couple blocks away and all of a sudden he has concerns for my furnace," Stasiw said, adding that the man said he would need to come in and take a look at the appliance.
Stasiw said he caught on to the sales tactic immediately and confronted the man before slamming the door.
'You're really low'
"You're using a disaster? People are possibly dead and you're using this to your advantage?" he asked the salesperson. "You're really low."
Ontario Liberal MPP Yvan Baker has heard similar reports and says the incidents only add fuel to a private member's bill he introduced earlier this year to ban door-to door sales of products such as air conditioners, water heaters and furnaces.
"It's beyond reprehensible that people do this on any day… that people go in and use misleading and aggressive sales tactics to sell products to people who are vulnerable. To me, there are no words to describe what's happening in Mississauga," he told CBC News.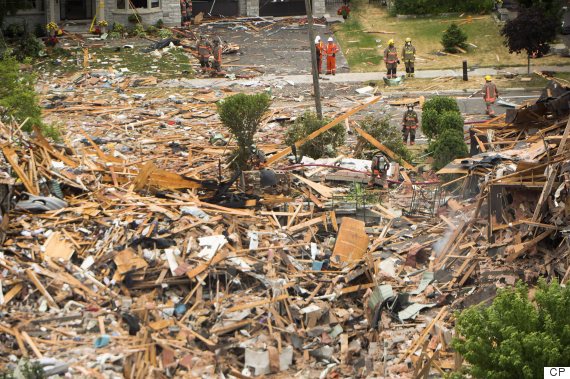 Residents near the site of an explosion in Mississauga say door-to-door salespeople are trying to capitalize on the disaster. (Photo: CP)
Baker says Door-to-Door Sales Prohibition Act, 2016 or Bill 193, first tabled in May, would ban such activity. The bill has yet to be approved by an all-party committee. If it is, Queen's Park could put it to a vote this fall.
But while the bill can't stop salespeople from knocking on doors, if that person tries to sell products listed on the bill at a consumer's home and successfully convinces them to sign a contract, the contract would be void. The consumer would be entitled to any money paid under the contract and the return or replacement of any product taken as part of the contract.
And if the company doesn't comply, consumers have the option of taking their cases to court and could receive double the amount owed to them plus the cost of legal fees.
Individual sellers could face fines ranging from $500 for a first offence, $1,000 for a second offence, and $2,000 for a third and subsequent offences. Businesses could face fines of $5,000 for a first offence, $10,000 for a second offence, to $25,000 for a third and subsequent offences.
'They're going to fool somebody'
That's good news to Stasiw who says the sales tactics are an "invasion of privacy."
In April, Mississauga city councillors passed a motion urging the provincial government to ban door-to-door sales. They have since been followed by a long list of municipalities including Brampton, Hamilton, Markham, Oakville, Oshawa, Pickering, Richmond Hill and Toronto.
Stasiw says English isn't a first language for many residents in his neighbourhood and that many elderly people also live there, making them easy targets.
"It's long overdue and I'm glad the government is going to try to pass this bill," Stasiw said, adding that he hopes more residents call on their local politicians to let them know if they experience such tactics.
And while he didn't give in to the pushy salesman at the door last week, he says, "My big concern was they're going to fool somebody."