CALGARY — Alberta Premier Rachel Notley says the do-si-do taking place between Alberta's two right-of-centre parties hasn't changed how the NDP plans to tackle the next election.
She says her party's strategy won't change if longtime Alberta MP Jason Kenney succeeds in making willing dance partners of the Progressive Conservative and Wildrose parties.
Notley made her remarks after flipping and serving up pancakes at the premier's annual Stampede Breakfast in downtown Calgary.
The event drew a crowd even though it was raining hard.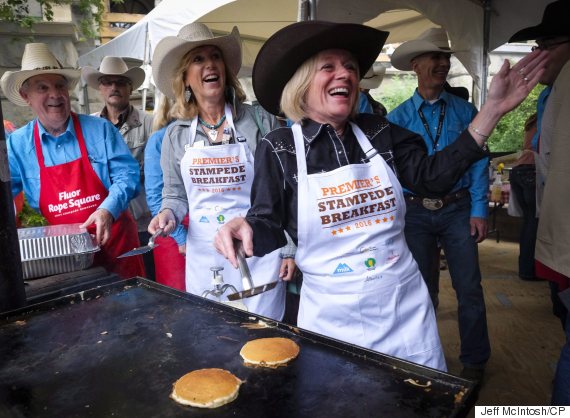 Alberta Premier Rachel Notley laughs while flipping pancakes at the annual Premier's Stampede Breakfast in Calgary. (Photo: Jeff McIntosh/CP)
Notley says the focus leading up to 2019 will be winning over Albertans who share the values the NDP stand for.
She says when politicians like Kenney leave Alberta and come back several years later, they run the risk of making unfortunate assumptions about what Albertans care about.
"My focus as the premier of the province is to move forward on governing on the basis of the values that I presented to Albertans in the last election, which they endorsed,'' she said.
"In the next election, regardless of how many different parties have popped up or disappeared or come together or done the little do-si-do with each other, it won't matter because we'll run on our record, the same record that Albertans chose in the last election and that's my focus.''
Also on HuffPost:
Least, Most Popular Premiers (May 2016)