When it comes to the "plus size" debate, sometimes you just can't win.
The label itself has been a topic of discussion as of late, with some curvy models fully embracing the term and others rejecting it.
U.K. retailer ASOS found itself in the middle of the debate when it posted an image of model and filmmaker Naomi Shimada, a U.K. size 16, wearing an ASOS slip dress, dubbing her "plus size."

Commenters were quick to call out the retailer for the label, leaving messages such as "Plus size !?!? How about just model. Why label her plus size? Just lost a lot of respect for you guys" and "I wouldn't exactly call her plus size-more average."
Following the backlash, ASOS swiftly edited the caption to just "model and travel film-maker," and responded to the angry customers, writing "Industry labels aren't cool and we've removed them from this post."
However, this caused fury to those on the other side of the debate, particularly when ASOS referred to the label as "whack" — which is especially bizarre considering ASOS has a "plus size" section on its site.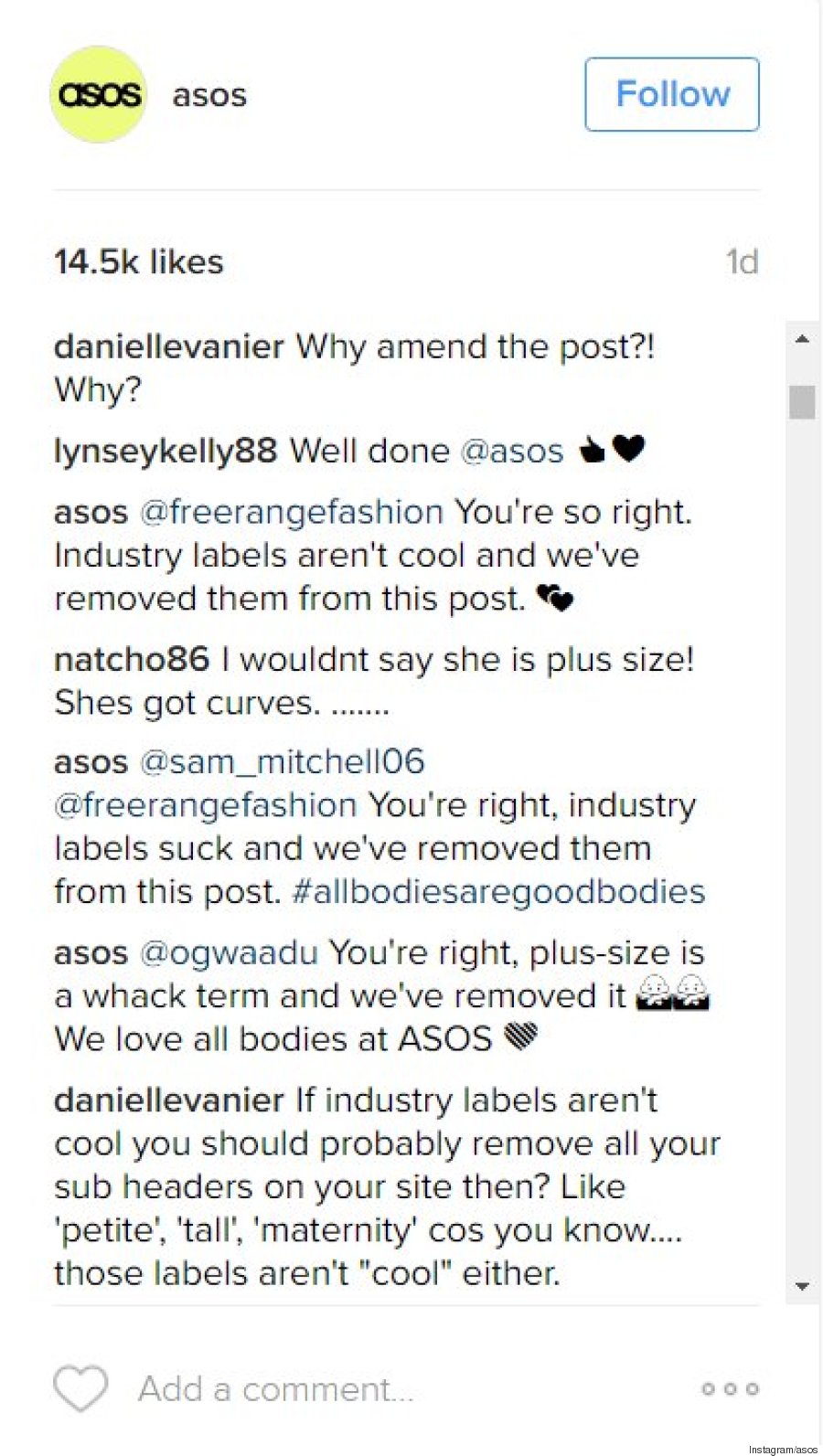 "What is "un cool"/"whack" about the term? You should probably look into removing the term 'plus size' from your site then if it's so whack," commented one angry customer.
"Good to know that labelling someone 'plus size' sucks, sends a great message to all of us who are plus size and buy plus size clothes on your site," wrote another.
And the rage was just as strong on Twitter.
For actual fucks sake @ASOS, you might be uncomfortable with the plus size term, but plus size women aren't? 💁🏻💁🏻💁🏻 https://t.co/KbkYZCq56F

— Lottie L'Amour ✨ (@Lottie_Lamour) July 11, 2016
Oh @ASOS you f-d up! I've been spending my plus size money with you for 10 years, but I guess I'll take my whack plus size 💷 elsewhere ✌🏾️

— Christiana (@christiana_gabi) July 11, 2016

ASOS is currently trying to do damage control, telling customers the whole thing is an "interesting debate" and inviting them to continue the discussion and share their thoughts via direct message.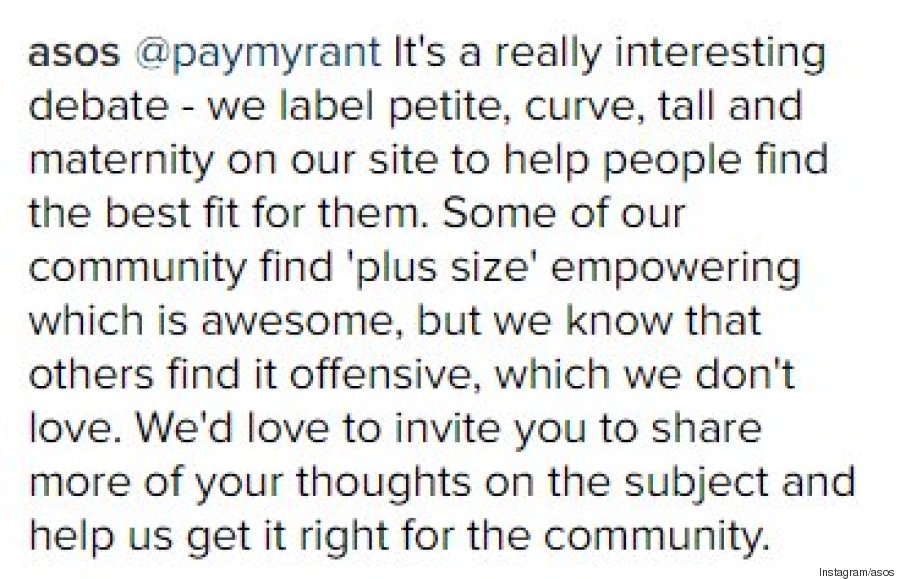 @christiana_gabi Some find 'plus size' empowering, but others find it offensive. Please DM us with your view on this to help us!

— ASOS Here to Help (@ASOS_HeretoHelp) July 11, 2016

So far, Shimada hasn't commented on the controversy, though she did pen a post for the Guardian in 2015, speaking openly about her thoughts on the term.
"I'm 28 and a size 16, and 'plus' still feels like a dirty word in the fashion world. There's such fear and paralysis and shame and confusion associated with anything size-related. And within the plus industry, too," she wrote.
"Let's not make plus size a token thing. It shouldn't be a trend. It shouldn't be a joke. There just needs to be more of everything and more of everyone," she concluded.
Follow Huffington Post Canada Style on Pinterest, Facebook and Twitter!
Also on HuffPost
Photo gallery
We Exist: Diversity In Plus Size Bodies
See Gallery