Facebook
CALGARY — A cloak of silence was imposed Tuesday on an Alberta Review Board hearing for a Calgary man found not criminally responsible in the stabbing deaths of five young people.
The two-day hearing for Matthew de Grood, 24, is the first step in a process which could eventually see him back on the streets.
De Grood was found not criminally responsible in May on five counts of first degree murder stemming from a house party two years ago marking the end of the school year.
According to court testimony, de Grood heard a voice he believed to be the devil telling him to kill. De Grood said he believed the end of the world was coming when he grabbed a knife from the kitchen in the northwest Calgary home and stabbed the victims to death.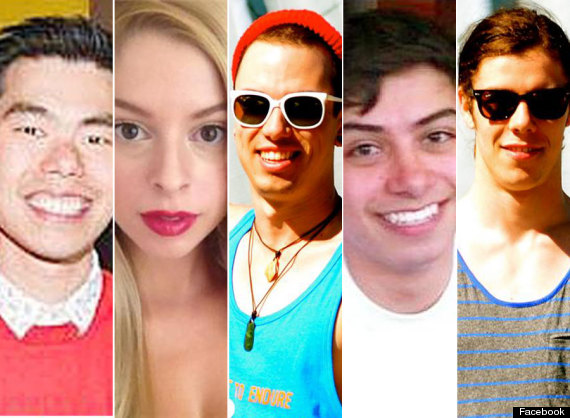 The five victims of the mass stabbing in Calgary in 2014. (Photos: Facebook)
Kaitlin Perras, who was 23, 27-year-old Lawrence Hong, 23-year-old Josh Hunter, 21-year-old Zackariah Rathwell and 22-year-old Jordan Segura were killed in the April 15, 2014 attack.
The review board consists of Alberta provincial court Judge Allan Lefever, two psychiatrists, a member of the legal community and a layperson. The board will hear updates on de Grood's treatment, any progress he has made, privileges he may be entitled to and victim impact statements from friends and families of the five victims.
"Mr. de Grood has been confined to a secure medical facility and within that facility he has been treated and is being treated by a treatment team,'' said LeFever, in an introduction to the dozens of family members sitting in the courtroom.
"They will be responsible for the development of a risk management plan which means a gradual reintegration of the individual into the community, if and when it is safe to do so.''
Four factors considered
Lefever said the board considers four factors during a review including the safety of the public, the mental health of the patient, the reintegration of the patient into society and any other needs of the patient.
However details from Tuesday's hearing were subject to an interim publication ban after objections from groups including Alberta Health Services and de Grood's lawyer, Allan Fay, who argued evidence may be introduced that could interfere with his client's treatment.
"Release of such information may interfere with the treatment process to a degree that my client does not receive the full benefit of that treatment process and, in my respectful submission, would be significantly prejudicial to him,'' said Fay.
Lefever imposed an interim publication ban until arguments could be heard Wednesday morning. The board has to balance the issue of confidentiality with the public interest in the case, he said.
"We have to recognize the interest of the public in this proceeding,'' Lefever said. "The media really are the eyes and ears of everybody in Calgary and Alberta who couldn't be here today.''
Follow @BillGraveland on Twitter
Also on HuffPost: