Summer is in full force, so why not opt for a mani that reflects the hot temperatures? This simple manicure combines white and neon polishes for an eye-catching look.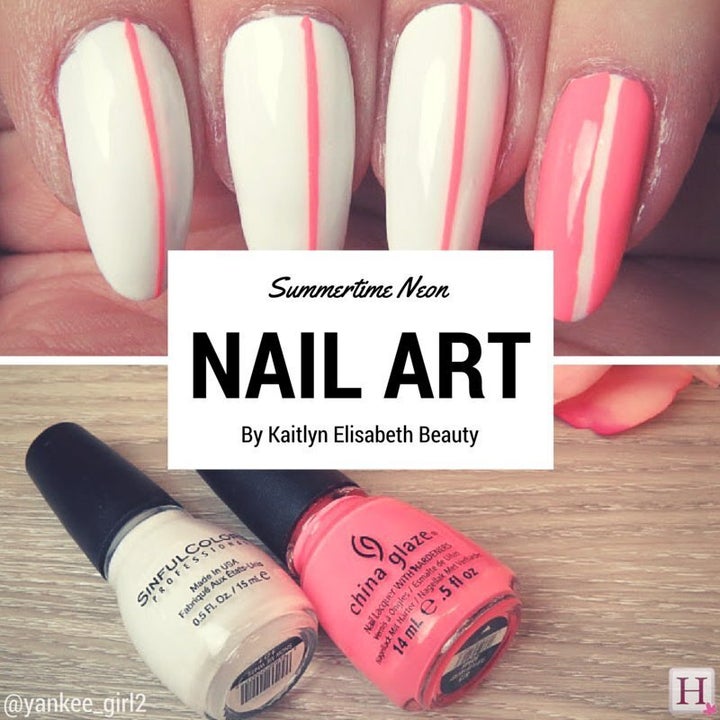 There are two ways you can achieve these nails, and any neon shade will do.
1. To begin, paint two coats of white polish on all nails. Or, if you want the neon shade to be the base colour, apply one coat of white polish (allow to dry), followed by the neon colour. This makes the neon shade pop even more and helps prevent streaking.
2. Once the base colour is applied, there are two ways you can achieve this design: either freehand the vertical lines or use striping tape (or clear tape). If you are freehanding, allow the base colour to dry for a few minutes before creating the line with a thin-tipped nail art brush.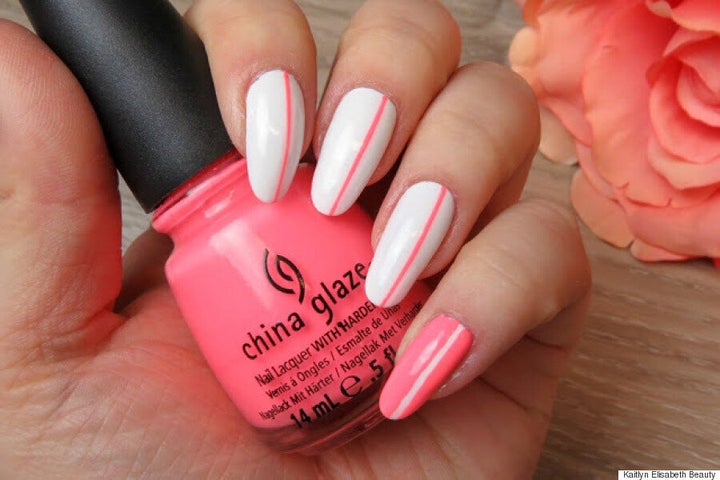 If you don't trust your shaky hands, you can use tape to achieve this look. After applying your base colour, apply a fast-drying top coat (Seche Vite or INM's Out The Door are great options). Once the top coat is dry (after five to 10 minutes), take clear tape or nail striping tape and tape off a thin, off-centre line on the nail. Ensure the tape is applied down the entire length of the nail, so that no polish gets underneath. Apply your accent colour in the middle of the taped-off section, and then immediately remove the tape. Work nail by nail for this part to ensure you get crisp, clean lines.
3. Allow the design to dry for five to 10 minutes, and then apply top coat.
Polishes Used: Sinful Colors Snow Me White and China Glaze Flip Flop Fantasy