As Pokemon Go continues to enthrall legions of the franchise's fans around the world, the popular game is also sending sending players to places they probably would have never set foot in.
And we're not talking about obscure intersections or alleyways.
Players taking the game's "gotta catch 'em all" mantra with utmost zealotry are finding themselves at graveyards, police stations and even large bodies of water marked as targets to either catch or fight Pokemon.
One player in the U.S. even found a dead body while playing the game on her phone.
Here are some of the bizarre spots the game is sending players:
United States Holocaust Memorial Museum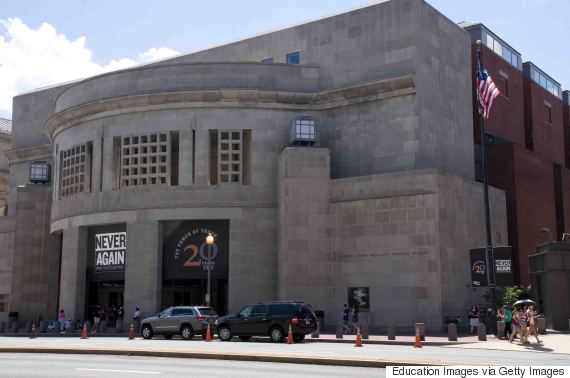 The United States Holocaust Memorial Museum in Washington, D.C. (Photo: Getty)
The Washington Post reports parts of the museum have been labelled as a "PokeStop" — an area players can visit to score in-game items.
"Playing the game is not appropriate in the museum, which is a memorial to the victims of Nazism," the museum's communications director told the paper. "We are trying to find out if we can get the museum excluded from the game."


A strip club
Looks like there's a PokeStop at the strip club by work. Don't think this stop was meant for all ages... #PokemonGO pic.twitter.com/PDdLh0gKsa

— Gajan Kulasingham (@gogogajman) July 8, 2016
A police station
Players went to the Darwin police station in Australia so much that the force posted a message on Facebook saying they don't actually have to go inside.
"It's also a good idea to look up, away from your phone and both ways before crossing the street. That Sandshrew isn't going anywhere fast. Stay safe and catch 'em all!"


Graveyards and memorials
My nearest Pokemon Gym is right through this overgrown thicket. It's....oh....ohhhh... pic.twitter.com/0u6lJurY4U

— Minovsky (@MinovskyArticle) July 7, 2016
Gizmodo reports that, in addition to strip clubs and churches, some Pokemon Go players are finding themselves in front of graveyards.
YouTube user Beware The Flood posted a video showing the game directing him to a cemetery, while Twitter users shared screengrabs of memorials labelled as points in the game.
The ocean
Yeah, we kayaked out to the fountain to claim this gym for #teamblue #pokemongo pic.twitter.com/vKyWMK4bsN

— Kelsey Thomson (@Kelchup) July 10, 2016
This New Zealand duo is unstoppable.


Some dude's house
Boon Sheridan, a designer in the U.S. saw that his house was labelled as a "gym" in the game, a place where a players' own Pokemon can duke it out with others.
Living in an old church means many things. Today it means my house is a Pokemon Go gym. This should be fascinating.

— Boon Sheridan (@boonerang) July 9, 2016
Sheridan shared his experiences on Twitter. Check out his profile for more.
Woohoo! I met the owner of my gym. Nice guy. pic.twitter.com/uujdC3JYbA

— Boon Sheridan (@boonerang) July 10, 2016
And last but not least, a box of McNuggets:
Better run before you end up like the rest of your family... #pokemongo pic.twitter.com/iGMDGFIBRw

— IG: PeteyPlastic (@PeteyPlastic) July 7, 2016
With the game not officially released worldwide yet, we have a feeling these ridiculous locations will only increase very soon.
Also on HuffPost