OTTAWA — Sen. Patrick Brazeau and his lawyer took direct aim Wednesday at the RCMP, calling the force's investigation of the Quebec senator wrongheaded and a waste of public money.
Lawyer Christian Deslauriers said Brazeau was considering his options — which include taking the Mounties to court — after the Crown withdrew fraud and breach of trust charges stemming from his Senate housing expenses.
Brazeau would likely face a hard time taking the Senate to court if he wanted to recoup the expenses it made him repay, or the salary he lost after having spent the last two years being suspended without pay, his lawyer said.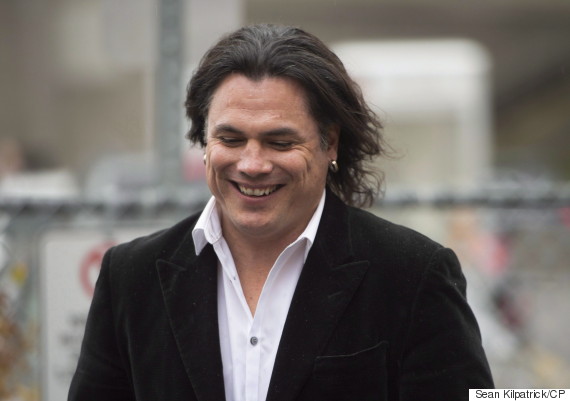 Senator Patrick Brazeau leaves the Gatineau Courthouse on Wednesday, Oct. 28, 2015. (Photo: Sean Kilpatrick/CP)
"Quite frankly, it's a big waste of money," Deslauriers said of the investigation.
"There were a lot of resources that were put on this for no reason and quite frankly, this destroyed Mr. Brazeau for three years now. He's been having a hard time with this."
Brazeau did not attend Wednesday's brief hearing in person, although he did express himself on Twitter shortly after the charges were dropped.
"I wouldn't wish false accusations on my worst enemy," Brazeau tweeted. "It almost ruined my life. I was thrown under the bus, but I survived."
The RCMP did not immediately respond to a request for comment Wednesday.
I wouldn't wish false accusations on my worst enemy. It almost ruined my life. I was thrown under the bus but I survived. #cdnpoli

— Patrick Brazeau (@senatorbrazeau) July 13, 2016
Having seen the RCMP's "proof" against me, what a waste of time and taxpayer's money. Perhaps that is the real scandal. #cdnpoli

— Patrick Brazeau (@senatorbrazeau) July 13, 2016
During the length of the investigation and subsequent court case, Brazeau came to face separate assault, drug and drunk-driving charges, none of which resulted in a conviction. In one of his darkest moments, he made an attempt on his own life.
Deslauriers said Brazeau still has stress-related health issues, although he didn't elaborate. On Twitter, Brazeau said he was finally returning to the gym after a three-year, health-related layoff.
It was only a matter of time before the charges against Brazeau were withdrawn.
In April, Mike Duffy was acquitted on 31 criminal counts related to the Senate expense scandal, prompting the Crown to abandon its case against former senator Mac Harb. In May, the RCMP also closed the books on its three-year-long investigation of Sen. Pamela Wallin, which resulted in no charges.
During Wednesday's hearing, the Crown cited the Duffy decision — and the subsequent decisions on Harb and Wallin — as reasons why there was no longer a reasonable prospect of conviction in Brazeau's case.
'Brazeau did nothing wrong'
Jacqui Delaney, a spokeswoman for Sen. Leo Housakos, chairman of the Senate's internal economy committee, confirmed Brazeau is now back in the Senate in full standing with access to all the resources of his office.
Brazeau's troubles with the law stemmed from housing expenses he claimed for a secondary residence in Gatineau, Que., across the river from Ottawa, which the RCMP alleged was his primary home and not in Maniwaki, Que., as Brazeau had told the Senate.
A Senate committee deemed the expenses illegitimate, despite the fact independent auditors decided the rules were too vague to conclude whether they'd been broken by Brazeau. The senator was ordered to repay about $49,000, money the Senate has since recouped by withholding his salary.
The RCMP should have looked at the audit results and realized "Brazeau did nothing wrong," Deslauriers said.
In November 2013, at the height of the expense scandal, Brazeau, Wallin and Duffy were suspended without pay from the Senate for two years until August 2015, when Parliament was dissolved for the fall election.
That election ended with Justin Trudeau's Liberals handily defeating the Conservative government of Stephen Harper, who faced pointed questions throughout the campaign about the way his office tried to manage the controversy.
Also on HuffPost