The only official Opposition critic who does not have a seat in the House of Commons says Liberals can't grasp that Atlantic Canadians want a "hand up, not a hand out."
Former Conservative MP Scott Armstrong, who was defeated by Liberal Bill Casey last fall in the Nova Scotia riding of Cumberland-Colchester, released a statement Wednesday criticizing changes to federal employment insurance rules.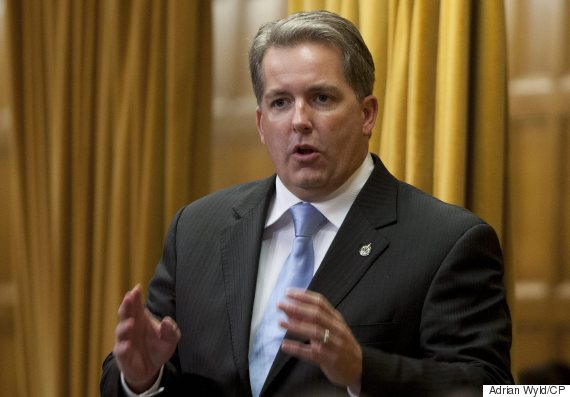 Former Conservative MP Scott Armstrong rises during question period in the House of Commons in February 2012. (Photo: Adrian Wyld/CP)
But the statement also served as a reminder that all 32 seats in Atlantic Canada are currently held by Liberals, and that the region's main federal critic is unelected.
Interim Tory Leader Rona Ambrose raised eyebrows in November by appointing Armstrong her party's critic for Atlantic issues and the Atlantic Canada Opportunities Agency less than a month after he lost his seat in the so-called "red tide."
Armstrong's full-time position in Ambrose's office is covered by the Conservative Party, The Chronicle Herald reports, and his time is split between the region and Ottawa.
Liberals turning backs on Atlantic Canadians: Armstrong
The ex-MP took issue this week with the Liberal government's plan to "weaken the requirements for fishermen's EI" and reduce the hours claimants must work before qualifying for regular benefits.
He said in the release that it is "extremely discouraging" the Liberal government is "turning its back on Atlantic Canadians" by not introducing new skills programs and apprentice grants.
He also blasted the feds for not lowering the small business tax rate to nine per cent — as Prime Minister Justin Trudeau promised on the campaign trail.
'Petty politics'
Armstrong said in the release that Liberals were making it easier for Atlantic Canadians to work less and still draw EI.
"At a time when lobster prices are higher than ever, captains are struggling to get people on the back of their boats because the Liberals are making it equally profitable to stay home," he said.
He accused Liberals of playing "petty politics" with Canada's EI program and urged the government to invest more in regional job creation initiatives.
Ambrose courts Atlantic Canada
While Armstrong's shadow cabinet job is unorthodox, longtime MP and Tory finance critic Lisa Raitt told The Canadian Press last fall that it makes sense.
"You can't ignore what happened east of Quebec," Raitt said.
Ambrose has made it clear that she wants to rebuild what has been broken in Atlantic Canada so that Tories win back seats in Nova Scotia, New Brunswick, Newfoundland and Labrador, and Prince Edward Island.
She toured the region in the winter and spring, posting video clips and photos to Facebook.
In resource-dependent Newfoundland and Labrador in March, Ambrose pledged that Conservatives will stand fully behind the natural resource sector and fight for jobs in the region.
She also posted a clip of her chat with John Crosbie, a former federal Tory cabinet minister and one-time lieutenant-governor of Newfoundland and Labrador. Crosbie's son Ches was not permitted to seek a Conservative nomination in the last election.
Crosbie said at the time that his son's participation in a fundraising skit poking fun at then-leader Stephen Harper was the reason his bid was quashed.
"In recent years the relationship between Conservatives here in Newfoundland and Conservatives on the mainland, there have been differences and difficulties," Crosbie said.
Quebec MP Guy Caron was named the NDP critic for Atlantic Canada shortly after his party was shut out of all four provinces in the region.
With a file from The Canadian Press
ALSO ON HUFFPOST:
Harper Cabinet Ministers Ousted In 2015