If the stunning native art, or expansive mountain view weren't enough to let travellers know they were in the Vancouver International Airport, maybe free yoga will do the trick.
YVR announced Monday it's offering a space in the domestic terminal for passengers to practice "self-guided" yoga before their flights take off.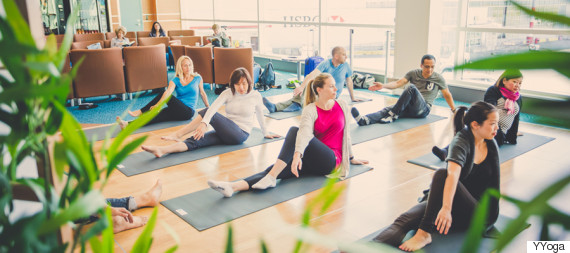 People can also use the space — which has a wooden floor, mats, and partitions for privacy — to meditate or simply stretch.
An instructor from YYoga, a chain of yoga studios, will be available to welcome users and offer tips on best poses for travel, but there are no structured classes.
Carleigh Oude-Reimerink, a master's student in the UBC planning program came up with the idea after her own stressful travel experiences, reported CBC News. She said yoga can help ease people's anxieties over flying and security.
Her research identified about a dozen airports with dedicated yoga spaces, but YVR is the first in Canada, said CBC.
We made it happen @yyoga! The first yoga space at a #cdn airport @yvrairport #gratitude #vancouver #vancitybuzz pic.twitter.com/ykNo9PZagB

— Berk Kansu (@TrueNorthTurk) July 12, 2016
Sitting in cramped seats for long durations can be bad for your health; in fact, passengers are at risk of developing fatal blood clots because of low blood flow in the legs. Yoga and stretching can improve circulation and limber up one's muscles.
The program is available every Friday between July 15 and Aug. 26 from 10 a.m. to 2 p.m. across from Gate 46 in the domestic terminal.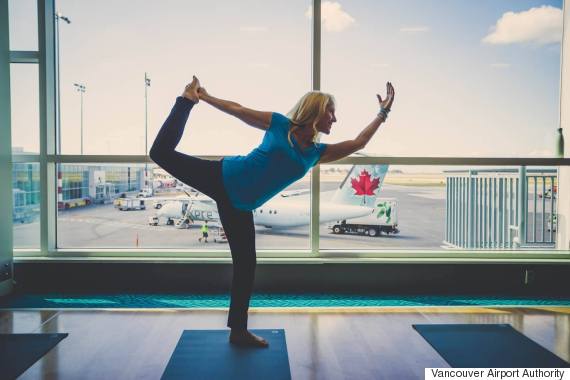 YVR regularly ranks high on lists of best airports in the world.
Last month, YVR unveiled a new "washroom" for pets, which includes artificial grass.
Follow The Huffington Post B.C. on Facebook, Twitter, and Instagram.
Also on HuffPost