Calgary Stampede revellers might want to keep a firm grip on their cowboy hats after reports a hawk has been swooping down to attack passersby.
A Swainson's hawk is nesting with her two babies north of Stampede grounds, near the Remington parking lot just outside one of the park's entrances.
A man in his 50s was treated at a clinic on Tuesday after a close encounter with the protective mom, CBC News reported.
Organizers have posted warning signs around the area and sent an email to staff warning them about the bird.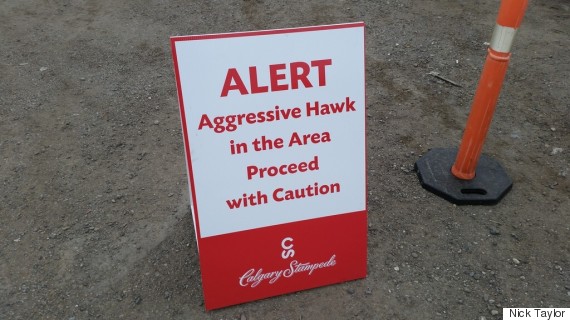 A sign warns Stampede attendees to watch out for the protective mama hawk. (Photo: Nick Taylor)
The Swainson's hawk is a protected bird in the province, under the Alberta Wildlife Act. The hawks are late nesters, with young not usually leaving the nest until late July.
"The mom is doing very well, but it seems she's in a protective state and has firmly requested that we not disturb her nest," Stampede spokeswoman Jennifer Booth told the Calgary Herald.
It's not the first time in recent years a Calgary hawk has made the news for defending its territory.
In 2013, The Huffington Post Alberta reported a Lake Bonavista mailman took to arming himself with a tennis racket after birds made it tough for him to finish his route.
Also on HuffPost:
Calgary Stampede Parade 2016