A member of a Canadian music group who added the phrase "all lives matter" to "O Canada" says he meant no disrespect to Black Lives Matter activists.
Remigio Pereira, a singer with The Tenors, shared an audio statement on SoundCloud Wednesday saying his performance was not political.
"I don't agree with killing," he says in the clip. "So if I don't agree with killing, it means that I don't agree with black people dying."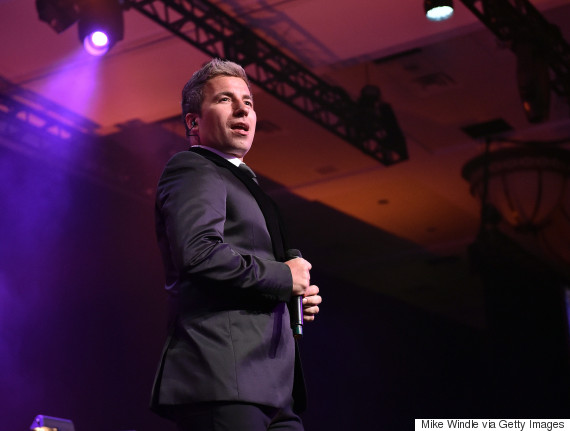 Remigio Pereira will not be performing with Canadian musical quartet The Tenors until further notice. (Photo: Getty Images)
Pereira says he weeps when he sees videos of black men like Alton Sterling getting killed, as well as police officers. His cousin is a cop, he explains, so he knows "they put their lives on the line every single day for us."
"No disrespect whatsoever to Black Lives Matter because black lives do matter. They most definitely do," he says.
Listen to the full clip below:
The singer says society moves ahead by exchanging ideas and culture, and not by segregation.
"There is no hierarchy. Who can be higher than God? No one on this Earth. Not one person has the right over God's creation, and that is why everybody's life matters," he says.
'Living nightmare' for tenors
Pereira faced swift backlash on Tuesday for replacing the lyrics, "With glowing hearts we see thee rise, the True North strong and free" with "We're all brothers and sisters, all lives matter to the great."
The "all lives matter" phrase has been blasted by Black Lives Matters activists and supporters, who say it diminishes their struggle for equality.
Shortly after the performance, the other members of The Tenors said in a statement that Pereira acted as a "lone wolf." They added he would not be performing with the group until further notice.
On Wednesday, two members of the quartet spoke to CBC News and said their experience after their now-infamous "O Canada" performance has been "a living nightmare."
"I don't think we can see ourselves performing with Remigio again," said The Tenors' Fraser Walters.
Also on HuffPost
'O Canada' Sung On Top Of Mount Seymour, B.C.